Build Quality and Features
There aren't many changes in the build quality department. The PT-F200U still maintains the Auto Rolling Filter (ARF) system whereby a dust-collecting filter auto-winds into a casing as it electrostatically pulls particles out of the path of the light engine. Panasonic specifically designed the airflow path to allow for particles to collect on the filter. This is a very cool system and since the ARF is a user-replaceable part it makes a lot of sense. The menu system even has a running "Filter Remaining" bar under the Options menu that shows how much is remaining.
They also maintained the same rear-entry lamp compartment, meaning that you'll be able to replace the lamp without removing the projector from a ceiling mount. The projector is housed in an aluminum enclosure that is very sleek. The lens is positioned about 1/3 the way into the unit and the entire front panel swings up on a hinge to reveal the lens shift, zoom, and focus controls. You can also access the menu system, input selection and soft power button. What's nice about this is that with the front panel closed, the projector takes on a very clean look while simultaneously protecting the lens and user controls from any dirt or interference. You can simply dust the front glass with traditional cleaning materials with no worries about ruining the lens coating or scratching any sensitive optical glass.
Inputs
Next to the user-replaceable lamp compartment lie the inputs. Rear-mounted inputs seem to be standard now and typically make for a more convenient and flexible connection method.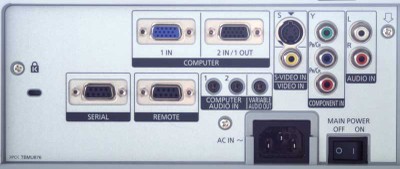 Like its predecessor, the PT-F200U has two RGB/PC (HD15) inputs, one of which can be configured via software to be a pass-through output (HD15 male-male adapter or cable required). There are two audio inputs (1/8-inch mini jacks) which are permanently assigned to the HD15/PC inputs. A single 1/8-inch variable audio output lets the projector control the output levels for a presentation via the remote's volume button. Component video, S-video, and composite video are also present, along with a stereo RCA input which can be configured to any of the analogue video inputs. You may ask where the HDMI input is and the answer would be: not present. This projector is analogue only and you will not be able to use digital video sources without first converting to analogue. Most sources contain at least one analogue output so we don't think this is a big issue, especially given the target market for this projector.
Features
Panasonic's didn't lose any of the great features present in the PT-F100U. In fact it provided some upgrades. The new unit still possesses the Auto-Rolling Filter (ARF) which, as we mentioned above, removes a lot of dust away from the optical system, reducing the chances of getting any visible "dust blobs" on the LCD panels. The ARF is inexpensive to replace (about $85 retail) and can be coordinated with lamp replacement periods. It resembles a fax roller system that automatically feeds new material which collects dust via electrostatic principles. Everyone seems to attack this problem differently, from blower vents, to self-cleaning fan systems. In defense of Panasonic, this method at least seems to be one that focuses on "removal" rather than the simple displacement of particles.
Panasonic kept the RS-232C serial control port on the PT-F200U and, though not the easiest file to locate on the Panasonic website, provides the actual programming codes to integrate this projector with complete home control systems. The projector continues to be AMX compatible and comes with a Certified Crestron Integrated Partner label. Installers should not have any trouble making this work with their custom installation, despite the odd lack of a 12V trigger output.
The 2x zoom lens on this projector makes for an almost unlimited throw distance - within reason. Add to that a 50% vertical and 32% horizontal lens shift (or "optical axis shift" as Panasonic refers to it) and you've got a VERY flexible system. I especially liked seeing lens shift in a business projector as it meant that presentations will be much clearer due to the ability to place the unit on a tabletop and not have to angle it up to the screen with digital keystone adjustment. We found that if the projector was just about anywhere within the screen top or bottom and reasonably centered, the image was beautiful.
Panasonic upped the output of the new PT-F200U projector to 3500 ANSI lumens, which is considerably bright and very usable indoors without having to throw your clients or parishioners into complete darkness. In addition to the lumen output, Panasonic uses a brand new Daylight View 4 technology which I found to be very efficient and practical. Using the ambient luminance sensor (ALS) located on the top center of the projector, the PT-F200U can automatically adjust gamma and edge enhancement to allow images to adjust with changing ambient light conditions. While you can turn the function On or Off, I located at least 4 individual steps when using the Auto feature - and I'd recommend that setting for any conceivable business or house of worship use of the system.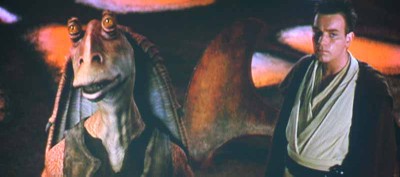 Daylight View OFF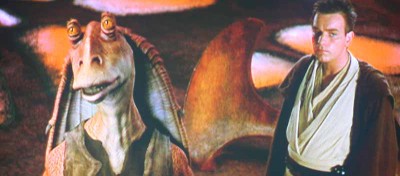 Daylight View ON
A 3-year/3000 hour limited warranty accompanies the PT-F200U, along with a 90-day/500 hour bulb warranty. That's a solid warranty for commercial use and one that will put many minds at ease when deciding on a sound business expenditure.
See also: