PT-F100U Remote, Viewing Evaluation, Conclusion

The remote is unremarkable and performs all the functions necessary. It does not have discrete on/off commands and is not backlit. It does, like most projectors in this class,  sport an integrated laser pointer. You can cycle between Computer and Video inputs, and if you have the auto-select feature enabled that should work perfectly for most installations. Like other Panasonic projectors, there is a Freeze function which I find incredibly useful as a reviewer (I'm not sure how much use this gets in the "real world"). There is also a Digital Zoom function which could absolutely find itself being very useful in a boardroom setting where you want to zoom in on a particular area of an image for emphasis. Overall, nothing fancy, but it certainly isn't a terrible remote.
Comments on Use as a Theater Projector
Often it's neat to think that a projector can be utilized for both theater and commercial uses. After all, isn't it nice to only have to buy one unit and not two and be able to truly get a dual-use function out of a single purchase? The Panasonic PT-F100U is most certainly not a dual-use model. It won't self-destruct if you force it into 16:9 mode to play a DVD movie, but the unit is simply not equipped for it. For one, the projector has no deinterlacing ability or 2-3 pull-down to speak of, meaning that all those 24p source DVDs will produce lots of jaggies and moire when displayed on the screen. Additionally, with no lap power setting, you will have a difficult time getting blacks to look black. I could not even detect the Brightness patterns on the Avia Pro disc we utilized to set the correct black levels – the resolution is simply not there at the lower IRE levels. With this said I don't think this makes the PT-F100U any less of a product, in fact it may make it a stronger commercial venue system that doesn't compromise in order to appeal to both scenarios. After all, I don't buy an SUV for its ability to fit into a tiny parking space.
Viewing Tests
We viewed a lot of material on this projector, most of it to test it's "dual-use" functionality and capability. While the PT-F100U will absolutely delight in commercial and house-of-worship installations, it simply isn't much of a multi-purpose product. We're OK with that and wanted to show, through the use of screen captures and commentary, what to expect when putting moving images up on the screen as opposed to static presentations.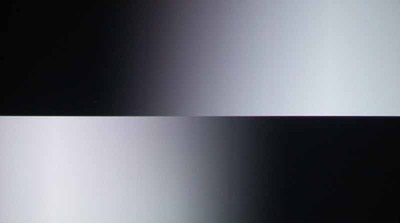 Right off the bat we see that black levels are going to be crushed. Regardless of what I configured in the Picture Settings menu there was no way to get sufficient black level detail. The upside is that there was also no banding, this projector is simply tuned to provide excellent bright images on larger screens.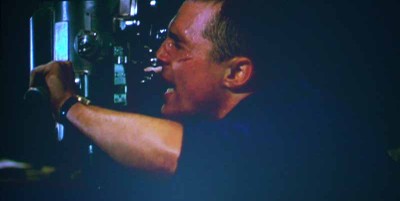 If we take the above and lend it to a practical example, you'll note that darker scenes will seem to have large swaths of black with little detail or resolution. OK, so we won't be using it to show horror movies on Sunday morning or in the board room...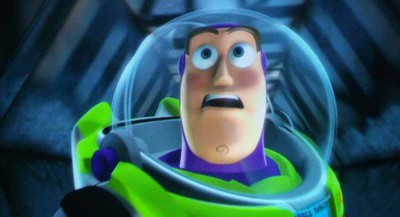 As soon as brighter images filled the screen we saw the upside of the projector as it came into its own and worked up its strengths.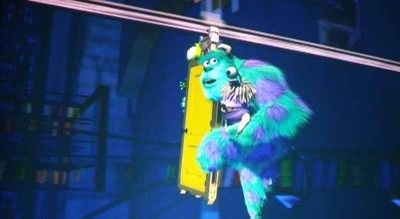 This is about as real-world an example as you will find for why proper 2:3 pull-down and deinterlacing is important. Note the dramatic stair-stepping on the rail that Sully and friends are sailing by on (you may need to click the image to better see it).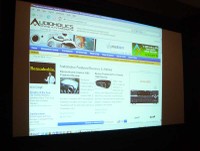 This system absolutely excelled at PC/Data use. In fact, while I was unable to get a photo that truly demonstrated what I witnessed in my room, the system was superbly bright and readable with full ambient light hitting the screen. If you are using the PT-F100U with a PC (PowerPoint presentations or worship lyrics with an application like MediaShout) then you will be pleased to note that dimming the lights will be more of a creative decision than one that must be undertaken in order to allow your projector to be visible.
Conclusion
I actually got very excited about this projector. While it isn't suitable as a dual-use home theater product it absolutely excels at what it does. Lens shift, high lumen output and an automatic ambient luminance sensor means that this projector will provide solid performance in almost any house of worship or commercial installation. I found the custom installation features to be outstanding – the Auto Rolling Filter (ARF) is simply genius and will likely result in far less maintenance to clean dust from LCD panels as the system is used over extended periods. It's already well protected with the flip-down front panel, so everything else is icing on the cake. This is a nice, bright, full-featured projector that is sure to please. With a common street price of well under $2000 it's the electronics equivalent of dangling a juicy steak in front of a starving man.
Panasonic PT-F100U LCD Projector
MSRP: $3,599
Panasonic Corporation of North America
One Panasonic Way
Secaucus, NJ 07094
http://www.panasonic.com/
About Panasonic
Best known by its Panasonic brand name, Matsushita Electric Industrial Co., Ltd. is a worldwide leader in the development and manufacture of electronic products for a wide range of consumer, business, and industrial needs. Based in Osaka, Japan, the company recorded consolidated net sales of US$81.44 billion for the year ended March 31, 2005. The company's shares are listed on the Tokyo, Osaka, Nagoya, New York (NYSE:MC), Euronext Amsterdam and Frankfurt stock exchanges. For more information on the company and the Panasonic brand, visit the company's website at http://panasonic.co.jp/global/index.html.
The Score Card
The scoring below is based on each piece of equipment doing the duty it is designed for. The numbers are weighed heavily with respect to the individual cost of each unit, thus giving a rating roughly equal to:
Performance × Price Factor/Value = Rating
Audioholics.com note: The ratings indicated below are based on subjective listening and objective testing of the product in question. The rating scale is based on performance/value ratio. If you notice better performing products in future reviews that have lower numbers in certain areas, be aware that the value factor is most likely the culprit. Other Audioholics reviewers may rate products solely based on performance, and each reviewer has his/her own system for ratings.
Audioholics Rating Scale
— Excellent
— Very Good
— Good
— Fair
— Poor
| Metric | Rating |
| --- | --- |
| Detail and Resolution | |
| Deinterlacing & Scaling | |
| Contrast and Black Levels | |
| Color Reproduction | |
| Noise Reduction | |
| Calibration Options | |
| Build Quality | |
| Ergonomics & Usability | |
| Ease of Setup | |
| Features | |
| Remote Control | |
| Fit and Finish | |
| Performance | |
| Value | |

Jim Robbins posts on November 08, 2007 15:33
My office just recently purchased the Network version of this same projector. I was really quite surprised at how well it works. The menu system resembles that of my Panasonic AX-100U and it can scale down from high res computer screens pretty good. My boss often likes to leave his screen at 1280x1024 while forcing us to try and read his code on the native 1024x768 screen. On the old BenQ projectors we had, this was just awful! But on the new panasonic unit, it worked really well! Also, the networking stuff seemed to work pretty cool, too. You could have an index page showing 12 screens of computers connected to it, then select any of them for full screen, or even do a 4 screen version with equal divisions. The networking worked well with both ethernet and it had built in wireless, as well. In any case, a very impressive projector for the office, as well as the church. Later all!