PT-F100U Build Quality and Setup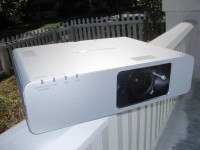 Houses of worship are faced with many challenges when considering projectors. Ambient light conditions, placement, input requirements, and resolution are just some of the things that grace the top of the list. It was with surprise that I began a journey with the PT-F100U, discovering that many of the features I associated with and loved about home theater projectors were present on this commercially-targeted product. As multimedia needs advance in both the corporate and house of worship venues, technology seems to be ready to oblige our needs in the form of products willing to cross over and provide features previously thought to be distinct.
Description and Build Quality
The Panasonic PT-F100U immediately impresses with its protective front panel cover that not only guards against dust and smudges on the front of the lens assembly, but also hides the functions you would not want accidentally altered such as zoom, focus, lens shift, input select and menu functions. For a commercial installation such as a church or office board room this is invaluable and, to put it simply, downright practical. Within the first few minutes, the PT-F100U had already aligned itself on a path to score a couple of 5's on my rating checklist.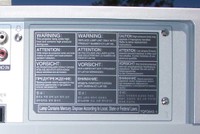 Taking a look at the rear of the projector you will notice a few things that will stand out clearly to anyone who has dealt with a commercially-installed projector. The lamp replacement compartment is located at the back of the projector. This means that there is no need to remove the system from a ceiling mount just to replace a bulb. Any projector intended for ceiling mount would do well to take this simple factor into consideration, especially with some of the 20-foot-plus ceilings I've seen in my time.
Inputs
The lamp unit compartment sits next to the input panel. This projector is set up to handle all major analogue inputs types commonly utilized in the US. While HDMI is taking over the US consumer market I do not see this very often in strictly-commercial environments so I would not count this against the projector in the least. The inclusion of HDMI would simply result in increased cost due to the requirements it brings.
The PT-F100U has two RGB/PC (HD15) inputs, one of which can be configured, via software, to be a pass-through output. There are two audio inputs (1/8-inch mini jacks) which are permanently assigned to the HD15 inputs. A variable audio output allows the projector to control the volume level for a presentation via the remote. A component video input, S-video, and composite video is also present, along with a stereo RCA input which can be configured to either of these three analogue inputs.
Essential Features
Panasonic's PT-F100U is a robust unit that has the features required for a heavy duty installation in most environments where you want to make sure the projector is going to remain trouble-free and function uninterrupted for as long as required.
Auto-Rolling Filter (ARF) Technology
The ARF system looks like a small fax cartridge that is simply designed to collect dust which is generated from the heat/cooling air exchange which causes dust to naturally collect over time. The ARF system forces air intake through a single entry point. It collects the dust on the electrostatic filter and winds automatically into the casing as dust is collected. The filter life is estimated at between 3000-5000 hours and is replaceable.
RS-232 Control
Panasonic not only supplies RS-232 control for the F100U, but also puts the codes on its website for easy reference and control coding. The projector is AMX compatible and comes with a Certified Crestron Integrated Partner label. Installers should not have any trouble making this work with their custom installation, despite the lack of a 12V trigger output.
Lens Shift and 2x Zoom
Having lens shift on a super bright projector is a great feature. Often, the commercial systems are simply not designed to be installed off-center. As I've personally found in my own church, however, this is often desired in order to avoid physical obstructions and create a cleaner line-of-sight to the screen from all positions (especially when balconies are involved). Because the PT-F100U can handle 50% vertical lens shift, it can be placed as far off-center as the top or bottom of the projection screen. Horizontally, it can vary up to 32% off-center, though both extremes cannot be utilized together. The 2x zoom lens also means that you can have near-extreme ranges of throw distance, giving you even more options for placement.
3200 ANSI Lumens
Take my word for it, this is bright enough for you to fill a 144-inch screen with a large amount of ambient light, provided you are smart with your images and aren't attempting to view dark, detailed backgrounds. You can vary the screen size with the amount of expected ambient light accordingly should your needs differ.
Basic Setup and Installation
Setting up the PT-F100U is a snap. This isn't the networkable model (PT-F100NTU) so you're really just dealing with the physical configuration and inputs. We utilized component video for our review, though HD15 inputs abound as do other standard definition options. I suspect that many locations will be plugging desktop PCs or laptops into this system.  I won't go through the menu features entirely as they are largely similar to most other Panasonic projectors I've reviewed save for the lack of any User-level calibration options.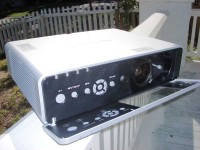 Physically-speaking, the front panel on the projector flips down and reveals access to the lens shift, manual zoom and focus functions as well as power and the Menu controls. This is a nice feature as it gives the unit an extra level of security (though the front panel doesn't have a locking feature) and keeps dust from accessing the front of the lens. It's also a beautiful way to streamline the unit and make it look like a very sleek box.
The primary setup task is making sure the correct input is assigned and deciding whether you want the projector to have Signal Search enabled, so that when another input is activated in place of the one you are using it automatically selects it. This can be a blessing or a curse depending upon your setup, but you have the option to enable/disable it. The next thing to do is select your Picture Mode. While Standard seems to be the default for a more neutral picture, Natural seemed to be my favorite choice for a light-controlled room where you want more accurate color. If you're in a commercial environment and you want to activate this torch for all it's worth then Dynamic is your friend. Don't expect blacks to be anything other than blue-gray, however.
Despite the User Manual saying otherwise (they incorrectly inverted it) you'll want to select Low color temperature for a more ISF picture, and High if you want your whites to pop out as brightly as possible. To eek out the most brightness (lumens) you'll want to simply verify that you have the correct Picture Mode (Dynamic) and that the Color Temp is set to High. There are no user-configurable lamp power settings in this projector.
I placed this projector in my church and fired it across the sanctuary at a cream-colored wall. The throw distance was at least 30 feet and the projected image size was around 200-inches. Placing the unit in Dynamic mode and with a High color temp, we were able to view animated movies like Pixar's Cars with all of the lights on. While I don't recommend leaving the sanctuary lights on during a short film clip, it was certainly nice to find that this projector has the power to handle the task.
Technical Note: The PT-F100U has a Daylight View function that reacts to ambient light as it is picked up by the projector's Ambient Luminance Sensor (ALS). When set to Auto, the system will automatically adjust the projector to handle brighter room conditions when they occur (for example when someone opens a door that floods the room with light.) This is actually a very nice commercial feature.
Throw Chart for 16:9 applications
Screen Size
Diagonal (inches)

Size (Inches)

Distance (Feet)




width

height

wide

tele

70

61.0

34.3

7' 6"

15' 1"

80

69.7

39.2

8' 6"

17'

90

78.4

44.1

9' 6"

19' 4"

100

87.2

49.0

10' 9"

21' 3"

120

104.6

58.8

12' 9"

25' 11"

150

130.7

73.5

16'

21' 1"

200

174

98

21' 7"

42' 11"

250

217

122

27' 2"

53' 9"

300

261

147

32' 5"

64' 7"
Jim Robbins posts on November 08, 2007 15:33
My office just recently purchased the Network version of this same projector. I was really quite surprised at how well it works. The menu system resembles that of my Panasonic AX-100U and it can scale down from high res computer screens pretty good. My boss often likes to leave his screen at 1280x1024 while forcing us to try and read his code on the native 1024x768 screen. On the old BenQ projectors we had, this was just awful! But on the new panasonic unit, it worked really well! Also, the networking stuff seemed to work pretty cool, too. You could have an index page showing 12 screens of computers connected to it, then select any of them for full screen, or even do a 4 screen version with equal divisions. The networking worked well with both ethernet and it had built in wireless, as well. In any case, a very impressive projector for the office, as well as the church. Later all!