PT-DW7000U Viewing Tests and Conclusion
For our video source we utilized an Oppo DV-983H which has Anchor Bay's (ABT) VRS scaler/processor. It was a great fit and gave us an excellent source to mate with this powerhouse projector. The PT-DW7000U provided 2/3 pull-down conversion for a 1080i source, which we sent from the Oppo's component video outputs. Lens shift worked flawlessly and the electronic Zoom and Focus really made this projector stand out as a professional cinema product. Panasonic's Digital Cinema Reality engine was left at Auto (the 30p mode is for video that was never stored at 24p film speed) and did an excellent job at deinterlacing film content for video presentation. We noticed reduced judder effects and a lack of any jaggie artifacts in the picture.
The Florida event featured independent film videos from all over, and a couple of them were beautiful animated films that just amazed us - especially given the fully-lit room: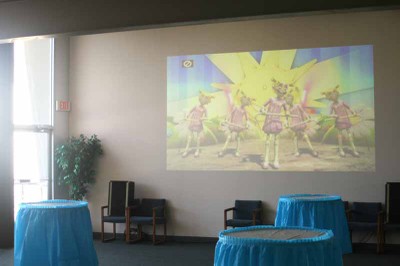 Don't try this at home with your puny 1600 lumen projector!
As mentioned, we started off with the projector in Dynamic Mode which activated both lamps and set a high color temperature for maximum light output. In the photo above you can see that we got an insane amount of light output even in the midst of a fully lit room. This isn't how we'd recommend you use a projector like this, but it was great to see that it would work for us even before the sun went down.
As the night went on we saw better and better picture and were eventually able to put the projector into its optimal single-lamp Cinema Mode:
Dialing in the projector was certainly no problem. Brightness and Contrast were easily accessible from the Picture Menu and it was quick work to set the correct levels for our room. We especially liked how easy it was to access the menu from the rear panel of the projector. While the remote served us well with quicker access to some functions, the close proximity we had with the unit made it easy to experiment with picture modes and make adjustments to the picture during the setup process.
There is a lot more to this professional projector - exceptional access to RGB gain and cut values, clamp controls for correctly tweaking and adjusting the black levels, custom edge blending controls, and even raster controls for moving the digital image around inside the frame. We didn't have this projector long enough to go into too many of these features, but we were dazzled by what was available to installers for getting just the right image in nearly any scenario.
Conclusion
We abused the light output capabilities of the PT-DW7000U as much as we dared. Never before had I been so bold as to run a projector in near-full daylight - even with 6000 lumens of output. But here we were, with the Panasonic 3DLP projector egging us on to do more. This is an exceptional projector with an above-average picture. The availability of custom lenses for this machine gives it limitless placement potential in any commercial, residential, or house of worship application. While we would recommend it primarily as a medium-to-large venue cinema projector, the PT-DW7000U is nearly infinitely adaptable for any situation. This product is top-notch and would be a good purchase for anyone working under this level of budget. Highly recommended.
Panasonic PT-DW7000U 3DLP Projector
MSRP: $25,000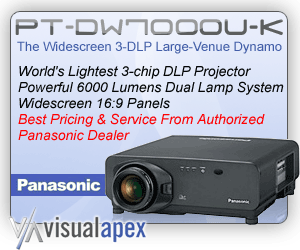 Panasonic Corporation of North America
One Panasonic Way
Secaucus, NJ 07094
http://www.panasonic.com/
About Panasonic
Panasonic is a worldwide leader in the development and manufacture of electronic products for a wide range of consumer, business, and industrial needs. Based in Osaka, Japan, the company recorded consolidated net sales of US$81.44 billion for the year ended March 31, 2005. The company's shares are listed on the Tokyo, Osaka, Nagoya, New York (NYSE:MC), Euronext Amsterdam and Frankfurt stock exchanges. For more information on the company and the Panasonic brand, visit the company's website at http://panasonic.co.jp/global/index.html.
The Score Card
The scoring below is based on each piece of equipment doing the duty it is designed for. The numbers are weighed heavily with respect to the individual cost of each unit, thus giving a rating roughly equal to:
Performance × Price Factor/Value = Rating
Audioholics.com note: The ratings indicated below are based on subjective listening and objective testing of the product in question. The rating scale is based on performance/value ratio. If you notice better performing products in future reviews that have lower numbers in certain areas, be aware that the value factor is most likely the culprit. Other Audioholics reviewers may rate products solely based on performance, and each reviewer has his/her own system for ratings.
Audioholics Rating Scale
— Excellent
— Very Good
— Good
— Fair
— Poor
| Metric | Rating |
| --- | --- |
| Detail and Resolution | |
| Deinterlacing & Scaling | |
| Contrast and Black Levels | |
| Color Reproduction | |
| Noise Reduction | |
| Calibration Options | |
| Build Quality | |
| Ergonomics & Usability | |
| Ease of Setup | |
| Features | |
| Remote Control | |
| Fit and Finish | |
| Performance | |
| Value | |
See also:

BMXTRIX posts on December 03, 2008 19:14
Bluesmoke;491184
How does a $25000 projector in late 2008 get 5 stars for features without having HDMI..
I'm not totally sure I would have an issue with the 'features' being 5 stars, but I do agree that the lack of standard digital input - which is becoming VERY common on almost all decent projectors in bothe the business and residentail settings, is poor form. Likewise, the fact that this isn't a 1080p projector is a real issue to me.
Don't get me wrong, there are value leaders in a lot of categories, but I have to wonder if this is a 'value' leader really? It is crazy bright, but it isn't 1080p, so I would not be looking to it for any digital cinema or home theater setup... it is dated. Instead I would lean towards the less bright 1080p single chip models... or even the similarly priced, brighter single chip...
http://www.projectorcentral.com/projectiondesign-cineo30_1080.htm
[projectorcentral.com]
But, there's no doubt that ultra bright HD projectors are in incredibly short supply in the market, so it SEEMS like a deal to get it for 25 grand.
I think it's ridiculous personally. It's NOT a deal - it is NOT a value. It is extremely over priced for what you get, and they are ripping consumers off instead of finding a way to put it together for a reasonable price.
3 Panasonic AE2000 projectors? $7,500, and you can stack them... and they are probably quieter.
3 BenQ W5000s? $7,500 street.
I know it sounds negative, but I have seen ultra bright projectors from Projection Design and others, and while they do look very good, they are an incredibly long ways from 'value'. They also tend to have limited zoom range within any lens, a lack of ultra short throw lenses, limited zoom range, and a requirement to buy the lens separately which immediately adds $1,000 or more to the projector price... Don't forget the grand for the digital input also.
I get it, but I definitely don't agree. If you all are psyched on it, great. But, I think there is room to be a fair bit more critical of projectors that come across the desks.
Clint DeBoer posts on December 03, 2008 11:28
It's not really targeting you as a consumer and there are optional input cards available. The features that matter are the lens options, dual lamps, powered lens shifting/zoom/focus, calibration, etc.
Bluesmoke posts on December 02, 2008 22:15
How does a $25000 projector in late 2008 get 5 stars for features without having HDMI..