HD70 Projector Setup and Installation
Mounting the HD70, like any entry level DLP system, is going to take some research and planning. You'll want to mount it so that you don't have to engage the vertical or horizontal keystone function. Keystoning is great for presentations and office use, but if you're shooting for the best clarity possible, leave it off for home theater use. The Optoma user manual gives a horrendously underwhelming formula for calculating the correct mounting position, but since they do deliver the required projection angle information, doing your own basic trigonometry shouldn't be too difficult.
Throw Chart for Distancing the Projector from the Projection Screen*
16:9 Screen

Screen Size
Diagonal (inches)

Size (Inches)

Distance (Feet)




width

height

wide

tele

70

61.0

34.3

8.4

10.2

80

69.7

39.2

9.6

11.6

90

78.4

44.1

10.8

13.1

100

87.2

49.0

12

14.5

110

95.9

53.9

13.2

16.0

120

104.6

58.8

14.4

17.4

130

113.3

63.7

15.6

18.9

150

130.7

73.5

18

21.8

170

148.2

83.3

20.4

24.7

200

174.3

98.1

24

29.1
Note: The calculator at ProjectorPeople.com does not (as of this writing) appear to have the correct formula for the HD70, For example, it claims the throw distance for a 100" screen is 11.5' to 13.8' but at that minimum distance the max screen size is about 84" (diagonal). The numbers above are from the closely-related H31 which shares the same 1.2x zoom lens.

As is typical, we did all testing and evaluation on a 100" (diagonal) Stewart Studiotek 130 screen. This is a very bright projector that almost seemed brighter than the 2000 lumen Panasonic PT-AX100U we just completed reviewing a short time ago. Again utilizing datacolor's ColorFacts Professional software, we were able to take some basic measurements in preparation for our final calibration and viewing sessions on the HD70 projector.
To get the unit into position for our review we utilized our multi-configurable projector stand and set it to about 7' tall so that the unit was centered and able to function as a ceiling-mounted unit to better align the image to our screen. As mentioned above, our 100" screen could only be partially filled from 11.5 feet away (the maximum distance we could achieve in this room with the custom rig). Regardless, we lined up the top of the image to the screen and moved on with the review.
We utilized HDMI cables (from DVIGear ) for the majority of our testing and also sent 480i signal to the Optoma via component video (courtesy of Impact Acoustics ) from our reference Denon DVD-3930CI DVD player. I noted that the Optoma correctly handled and identified the incoming 480i signal via HDMI with no problems.
We did all of our final testing with the projector set to the Cinema mode and post-calibration. Daytime viewing was performed in Bright Mode with the unit running "full out" in high brightness and max lamp mode.
Keystoning, Part Deux
Still not convinced that keystoning is bad for home theater? Let's take a look at some quick "before" and "after" shots of a medium-case scenario and see if we can't convince the "hold-outs" that the keystone function should really be avoided if at all possible: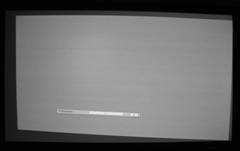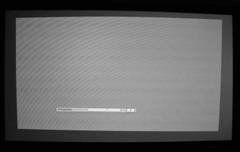 The first example above is a dramatic, off-center, projected image showing an EOL (every other line) Horizontal pattern. With only a slightly diuscernable camera artifact, the image is clean and clear. Now let's add in some Horizontal keystone and watch what happens. In the immortal words of Keanu Reeves (oh, just pick any movie he's in): Whoa! Moire has crept in significantly as soon as ANY level of Horizontal keystone was enabled. It's so obvious, you can even see it on the small image pictured here (click to enlarge it in all of its glory).
OK, ok, so no Horizontal keystone - but Vertical isn't that bad, right? Well, yes and no. It certainly doesn't tend to moiré as badly, but the effects are deleterious nevertheless. Let's take a look at that as well: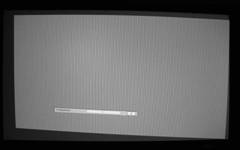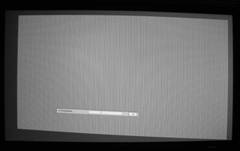 The left image is clean, while the right image (with Vertical keystone engaged) shows a distinct artifact throughout the image. Keep these functions off, folks, if you're looking for the best possible picture.
Connections
Optoma went all out and included composite, s-video and component cables with the HD70. That's pretty cool, and the projector certainly has the inputs to make use of all those free cables. In addition to the connections found on the H31 (what I consider the 舠 predecessor 舡 to this model) the HD70 splits off the secondary component/SCART/VGA connector into an HD15 input (the HD70 had a DVI-I connector that served all of these needs along with HDCP-enabled digital video). Present is a +12V relay, but absent is the RS-232 serial port that the H31 possessed. Essentially, you won't see too many people installing this unit if they demand serial control, but I think Optoma provides plenty of other solutions for higher end budgets.

Connections are laid out in a completely horizontal path. It's unique and I think it works very well, though I'd like to see the HDMI connector centered since it will be the most-often used in a modern system and you'll want to run it straight up the mounting pole if you're doing a ceiling installation.
Remote Control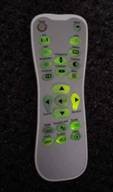 I love the remote. It's like suddenly everyone is 'getting it' and producing backlit remotes that function well and have the necessary functions to make them very useful. Present are direct-access input buttons for HDMI, D-sub, YPbPr, s-video and composite as well as a "Source Lock" button that will keep the unit from moving to search for active inputs when the projector loses signal (very handy if you have a single HDMI or component video run going to the unit). The backlight (now a very visible green) is cool in that it slowly fades away. The effect is transfixing and you'll want to watch it dim over and over again - OK, not really, but your friends will think it's nifty. There's no "Light" button so the first button you hit will simultaneously light up the remote and activate the function - as a tip, hit the 'Enter' button to light up the remote without doing anything.
Rounding out the inputs and menu functions on the remote are the Format buttons (4 of them covering 16:9, 4:3, Letterbox and Native) as well as a 'Mode' button that rotates you between the 4 presets and User setting. Overscan will eliminate any cable TV or satellite service edge artifacts that may be present and Brightness and Contrast controls will allow your significant other or children to completely mess up your calibrated settings (oops, did I say that out loud?) Overall this is an excellent remote and I liked the feel of it in the hand as well as the layout of the buttons. Based on my strict calculations and formulas I can give it 4.6897542 stars out of 5 - no wait. I'll tell you what, I'll let you pick the number of stars just this once - go ahead, it's OK.
The Menu System
The HD70's menu system is immensely better than the oddly-configured H31. Instead, it closely resembles the menu system of the HD72 (OK, it's basically identical) and has four main areas: Image , Display , Setup and Options . Navigation is easy, except that it is sometimes cryptic as to how to exit a submenu. On some there is an 'Exit' button which needs to be pressed, and on others you simply cursor up or down until you are back at the top menu navigation. These eccentricities are quickly mastered and overcome with just a small amount of continued use - but then again, I utilize a LOT of menu and navigation systems. We've covered all of this in our HD72 review, so I'll gloss over the functions here just to make sure they are at least covered. See the Optoma HD72 review for more in-depth info.
IMAGE Menu
The first three items in the Image menu are present on the remote control: Mode (Cinema, Bright, TV, Photo, User), Contrast, and Brightness. Other options include Color Tint and Sharpness. An Advanced menu gets into the 'nuts and bolts' of the unit with access to Degamma settings (Film, Video, Graphics, PC) as well as BrilliantColor, TrueVivid and Color Temperature. This is also where you'll find the configurable RGB Gain/Bias settings and where you can enable/disable input sources for the auto source lock feature.
DISPLAY Menu
This covers all of the image- or dimension-sensitive functions such as Overscan, Edgemask, Keystoning and Image shift (both horizontal and vertical). You can also select the format mode (4:3, 16:9. Letterbox or Native).
SETUP Menu
This menu merely configures the language and projection type (desk, ceiling, frontrear). It also shows the Firmware version (which was C.0.4 for this review in case you were interested).
OPTIONS Menu
The final menu sets the Menu Location, Source Lock (whether the projector will 'autosearch' for inputs), altitude (prepare for turbo fan speed and increased noise), Lamp Settings (submenu with options for Bright Mode, timer reset, reminders, etc) and Auto Off mode. You can also Reset the projector from here (handy when doing reviews and wanting to start from a clean slate.
Hey, I Can Even Watch TV During the Day!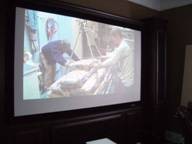 Between the Bright Mode, Brilliant Color, and 1000 lumen output, this projector is more than able to provide some very excellent images in moderately ambient rooms. I snapped a picture here that of course doesn't do it justice, but you can get the idea that I certainly do not have the room completely darkened (in fact I only have a sheer curtain over one of the room's windows and the side doors leading to the fully lit living area are wide open.) This is a Sunday afternoon NFL-fan's dream rig. Set it up, dial up a tweaked 'Bright' mode and you'll be set for hours and hours of fun.
If you're hoping to watch horror movies at 9am with an open window facing East then I think you may need to reconsider some light control options - but for a theater projector this system has a pretty good torch mode.
patriciogac posts on May 22, 2007 17:31
Clint:
Great review!
I tryed using Avia for calibration, but i did not like the results. can you publish the calibration numbers for the optoma d70 that the datacolor showed? Thank you!
nucoolmint posts on February 24, 2007 11:36
This was a problem with the DVD player. I now have the oppo 970HD and the component cables work fine.
billnchristy posts on December 20, 2006 18:09
What kind of time frame does it take for this to happen?
nucoolmint posts on December 20, 2006 11:18
phidelt
Great review, what led me here was a problem with my HD70 that I think may be easily corrected. I have 25FT runs of both SCART/Component and straight component cables - each of which I have hooked up to my 5-7 year old Sony DVD player (dont have model # handy). My issue is that during indiscriminate times or scenes, the HD70 will "drop" the image completely with its blue splash screen, 2-5 seconds later, the image comes back. I have tried it with a SCART/Component cable as well as the straight component port and the same thing happens, even at the exact same moment in the scene on the DVD. I ran DVD over SVIDEO and no signal problems at all. My HDMI source (cable TV) has never dropped either.

Is this a cable problem? A signal degradation problem? a projector problem? If I had a spare DVD player that was easily removeable, my plan was to move it closer to the projector and test a different DVD player with a shorter cable, but I haven't been able to do that yet. It seems to happen with action scenes/sequences, and less on dramatic slightly moving images.

Any ideas would be greatly appreciated.
I have the same problem it drops in and out. I have the Sony DVD S5550D and the HD70. It works fine on S-Video. My cable run is aprox 33 feet. The image on component when present looks great. Is this a cable problem or HD70 not being able to hold on to the sync or maybe just the DVD player.
Cheers
Lou223 posts on December 12, 2006 10:35
Clint, after reading your article I went to BBUY to pick up my HD70 but when I arrived they had the Sony Cineza HS51A for the same price on sale. Should I go for the new DLP technology in the HD70 or for last years model Sony? Which would give me a better picture? Many thanks for your help!