EP749 Menu System and Remote Control
Scrolling through the menu settings I found a great deal of depth in its capabilities and was again, pleasantly surprised to see it packed with many image control and enhancement features. Features such as; Standard Brightness, Contrast, White Intensity, Color Temperature, Saturation, Sharpness…and even a De-Interlace control. All of these standard functions are found in the "Image – 1" menu.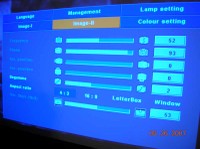 The "Image II" menu began to get deeper into image control, offering features such as; Frequency, Phase, Horizontal Position, Vertical Position, Degamma, Aspect Ratio control (4:3 / 16:9 / Letterbox and Window) and a digital Vertical Shift control to top it off.
The aspect ratio control settings in the Image II menu were useful and appreciated. As my review continued I found myself very pleased with this relatively low level data projector. The Optoma EP749 was already proving itself to be a formidable competitor to other data projectors, some of which aren't as inexpensive as this one.
Cycling through the other menu options you'll find tools such as the Lamp Setting window which shows you the lamp life, lamp usage, allows you to reset both of those controls as well as a lamp reminder, ECO mode, High Altitude, Auto Power ON and OFF along with a handy Sleep Timer to boot!
Another menu option is the Color Setting menu. This menu option is all about more specific color adjustments which give you the ability to adjust color in; global Red, Green or Blue settings. This also allows you to adjust those same colors independently and, going a step further, gives control for Yellow, Cyan and Magenta as well.
The Language menu option is self explanatory. It simply gives you the option to choose various dialects such as English, French, Spanish and others.
Remote Control
Included with the Optoma EP749 is a very basic but still comprehensive remote control that includes a laser pointer function for giving those presentations at the office. The remote gives you all of the basic functions such as access to the Menu settings, direct input selection, Re-Sync, AV Mute, Freeze control, a zoom function, volume control and Keystone controls. Unfortunately there is no remote control illumination. The buttons do not glow in the dark and there's no back light to see the buttons in dimmed environments, making its use in a dark room somewhat of a challenge. It's a good thing it's a small and relatively simple remote so it's not a terrible hassle to use regardless. I do like its small form factor and the laser pointer function, so it gets definite plus' for those features.
BrianATS posts on August 29, 2011 12:26
Wow, it has been a while . Just thought I'd comment because it's been a projector that lasts for years.
BrianATS posts on August 29, 2011 12:22
Wow, it has been a while . Just thought I'd comment because it's been a projector that lasts for years.
BMXTRIX posts on August 26, 2011 15:35
Holy Necrobump!

Had to go back 4 years to dig this one out of the gutter.
AcuDefTechGuy posts on August 26, 2011 10:11
When I see the name "Optoma", I run the opposite direction!

It doesn't matter if it is a projector or a projector screen.

I run the heck in the opposite direction!
BrianATS posts on August 26, 2011 09:32
I agree with the performance on this model, it's been reliable for years for us. The connections on it are great for a lot of different devices.. laptop, dvd player, etc. I wish there was an HDMI input or the adjustable foot was a little better constructed, but still an overall great choice for presentation. Good review!