EP749 Calibration, Viewing Tests and Conclusion
Out of the box, this projector was ready to put on a presentation without the need for too many adjustments. This is just fine for the weekly office meeting or the one off presentation that you may need to give. With the projector being a good "plug and play" unit, it is nice to not have to fuss with many controls to get it set up and ready to perform. I've worked with projectors in the past that required at the very least several minutes of adjustments right out of the box just to get a fair image produced. So once again, the EP749 was proving itself to be a top shelf budget projector.
After all of that, I did however decide to do some relatively low level calibration on the projector to see just how good I could get the image with tools that an average consumer might have access to. To calibrate this projector I used an Avia DVD. The Avia disc I used is one intended for Home Theater setup by the average consumer.
In order to get the most out of this projector I had it connected to a digital cable box and an Xbox 360. The Xbox allows for high definition gaming as well as progressive scan DVD playback.
The calibration functions I used from the Avia disc were; Advanced Audio and Video Calibrations from the main menu of the disc. From this menu I used the following test patterns: Standard color bars (SMPTE), Sharpness Control and Needle Pulse + Steps.
I also used, Black Bars and 1/2 Gray, Multiburst and the Blue Bars tools for calibrating this projector. Once I had the projector adjusted as well as it could get with these tools. I switched over to a standard definition input from the cable box and watched a few different channels of regular television programming. All of the images looked decent - as decent as the image can look at 80 inches and standard definition, that is. So while it wasn't high definition, it still looked good. And that's saying a lot for taking a standard definition image and blowing it up to 80 inches. So overall the standard definition NTSC television viewing showed a good result.
Daytime Viewing
When I used the projector in the daytime, having a large bay style window casting light directly onto the screen, the EP749 did a decent job. But I did have to bump the Brightness settings to get it to look fairly decent (alternatively, you can select a different Display Mode). Ambient light is normally an issue with most all projectors and this one is no exception to that. But even with a lot of light sunlight directly on the screen, it was still able to cast a viewable image.
Although the projector was able to perform in a high ambient light setting, it's still recommended that you use this projector in a location with as little light as possible. A darkened room will still always give you a better quality image to look at on screen.
Viewing Tests
I then switched over to the Xbox 360 and put in a DVD. The first movie I put in and tested was 300.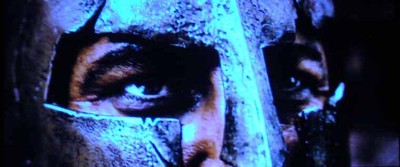 This film has outstanding imagery and color control as well as a lot of fast paced action, which would all be pushing this entry level projector to its limits. I was very happy to see that this projector performed quite well with a film like this. The blacks were great, and the color was vibrant. Some of the fast action was a little lacking due to the scaling and processing capabilities of the EP749. So there were some jaggies in the images and visible processing issues. But to an untrained eye, I feel that it passed very well with this particular film as a test of its abilities.
The next film I viewed was Shrek 2.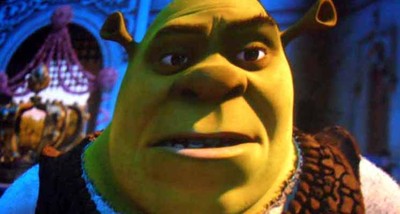 I used this movie for its vibrant color and clean computer generated graphics. Here again, the EP749 performed very well, showing all of the vibrant color in the film and giving great image detail.
While I was using the Xbox 360 as a DVD player, I decided to throw in a couple of games as well to see just how well the EP749 produced video game graphics in high definition. The games that I put in for the test were Madden 07, and Oblivion. Both games have incredible imagery and color. The resolution was outstanding for such an entry level projector. I was truly impressed. As with the movies that I tested, the colors in the video games were shown to be very vibrant and as realistic as a video game could be. Image detail was great and fast motion was actually better with the video games than with movies or standard definition television.
Conclusion
The Optoma EP749 is an entry-level multimedia data projector that does its job very well. It also can double as home theater projector when it's not being used at the office for the big presentations. Out of the box, this projector was ready to perform its intended function (presentations), but with a little tweaking and adjustments it proved itself to be a great consideration for the family looking to get into a projector for the home and not have to invest a lot of money. This projector provides decent quality on a budget. One downside I did find that I just couldn't shake was the amount of heat that the projector emits. In a room size of 18 feet long by 13 feet wide, this small projector could serve as a space heater. So using the AC was a necessity when using the projector. Also keep in mind that picking the right screen is always a good thing, so even if you come down a little in money to get into this projector, keep in mind that the screen is also a highly important piece to the puzzle.
With the Optoma EP749's entry level stamp and it's somewhat limited capabilities, I will recommend this projector for the small business owner who may have to give frequent business presentations but wants to have the flexibility to utilize the unit as a home theater video projector. The EP749 performs very well for its modest price point and offers a great deal of function and features for not too much money. You're definitely getting a great entry-level projector in the Optoma EP749.
Optoma
715 Sycamore Drive
Milpitas, CA 95035
www.optomausa.com
About Optoma
Optoma Technology, Inc. is a leading manufacturer of award-winning digital display products and home entertainment projectors for consumers, businesses, education, professional audio/video (Pro AV) and CEDIA (Custom Electronic Design and Installation Association) channels.
Optoma has quickly become a global leader in the manufacturing of high resolution projection and digital display products. Optoma's product line-up includes: multimedia projectors for mobile, fixed installations and home theaters, as well as HDTVs and plasma displays.
The Score Card
The scoring below is based on each piece of equipment doing the duty it is designed for. The numbers are weighed heavily with respect to the individual cost of each unit, thus giving a rating roughly equal to:
Performance × Price Factor/Value = Rating
Audioholics.com note: The ratings indicated below are based on subjective listening and objective testing of the product in question. The rating scale is based on performance/value ratio. If you notice better performing products in future reviews that have lower numbers in certain areas, be aware that the value factor is most likely the culprit. Other Audioholics reviewers may rate products solely based on performance, and each reviewer has his/her own system for ratings.
Audioholics Rating Scale
— Excellent
— Very Good
— Good
— Fair
— Poor
| Metric | Rating |
| --- | --- |
| Detail and Resolution | |
| Deinterlacing & Scaling | |
| Contrast and Black Levels | |
| Color Reproduction | |
| Noise Reduction | |
| Calibration Options | |
| Build Quality | |
| Ergonomics & Usability | |
| Ease of Setup | |
| Features | |
| Remote Control | |
| Fit and Finish | |
| Performance | |
| Value | |

BrianATS posts on August 29, 2011 12:26
Wow, it has been a while . Just thought I'd comment because it's been a projector that lasts for years.
BrianATS posts on August 29, 2011 12:22
Wow, it has been a while . Just thought I'd comment because it's been a projector that lasts for years.
BMXTRIX posts on August 26, 2011 15:35
Holy Necrobump!

Had to go back 4 years to dig this one out of the gutter.
AcuDefTechGuy posts on August 26, 2011 10:11
When I see the name "Optoma", I run the opposite direction!

It doesn't matter if it is a projector or a projector screen.

I run the heck in the opposite direction!
BrianATS posts on August 26, 2011 09:32
I agree with the performance on this model, it's been reliable for years for us. The connections on it are great for a lot of different devices.. laptop, dvd player, etc. I wish there was an HDMI input or the adjustable foot was a little better constructed, but still an overall great choice for presentation. Good review!