Optoma EP7150 Menu, Viewing Evaluation & Conclusion
The menu system of the Optoma EP7150 is simplistic in use, but robust enough to deliver all of the basic functions you'd need or expect in an ultra-portable unit. The system is divided into 6 sections: Image-I, Image-II, Audio, Language, Management, and Lamp Setting. Here is the basic layout:
The key items that will come in most handy are the Display Mode, White Peaking and Color Temp settings under the Image-I menu. White Peaking is great when you have a lot of ambient light in the room, but it will also result in your oranges being converted to brown due to the artificially high contrast. If you get some light control, dialing this setting down will give you much more accurate colors. If you do happen to utilize a source that is 16:9, you can go under the Image-II menu and switch to 16:9 mode.
Under the Audio menu you can raise or lower the volume and mute the projector. As we mentioned previously, this is not directly available on the remote – a potential problem if you frequently need to adjust or mute audio output in your presentations. Calibration is also not something you can do handily with this unit – but then again I'm not sure why you'd bother with anything beyond basic color controls (and universal RGB adjustments are available if needed.)

Viewing Evaluation
This is not a hybrid or home theater projector. You could certainly hook it up to a DVD player and enjoy movies – it has 16:9 aspect ratio support and is certainly bright enough to entertain. I didn't feel, however that taking this unit and running it through DVD viewing tests was the correct use of the product. Instead, we connected up a Dell laptop and ran through several "presentation-style" applications.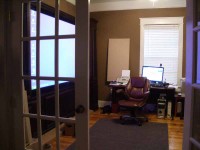 Lights On? No Problem
One of the continuing themes of this review is brightness and lamp output. The EP7150 is so bright that I had a hard time, with digital photography, getting the concept across using a picture. Finally, I snapped a shot from outside the viewing environment after I removed all drapes and light blocking material from the room. With full lights on you can see the results here – a super-bright image that can be easily seen. It's almost unreal how much light output you can get from this tiny projector.
The rest of the pictures you'll see in this review were also taken with the room lights on. There simply was no reason to dim the room for photos.
PC: Website Navigation
We wanted to show a typical website – a very common navigational item to be displayed on a projector of this type, so we queued up the Beta version of Audioholics 2.0. If you look closely, you'll see that the orange subnav bar is almost brown. This is due to the White Peaking setting being set at maximum. The result is an incredibly bright white level, but at the expense of color accuracy. The increased Contrast turns colors darker – especially reds and yellows. Backing down the White Peaking setting will bring things back to normal, but you may want to decrease ambient light if doing so. These are the compromises you make when attempting to project images in lit rooms.
PC: Charts, Microsoft Office and MusicMatch
Charts look pretty colorful and text is, of course, extremely legible at the native resolution of this projector. I always recommend flipping the source PC to the projector's native resolution. When you're projecting on to a screen, you don't want to match the laptop screen – it's all about 1:1 pixel mapping onto the projector. The result is clean, clear, readable text that isn't "fuzzy" or artificially anti-aliased. When utilizing Windows Media Player and MusicMatch, all information was easily viewable on our oversized screen.
Conclusion
I remember switching from a full-sized 15-inch laptop to a more portable 12-inch model over a year ago. When I did this, I entered a brave new world of portability and convenience. Sure, I gave up some screen real estate, but I gained so much more in terms of flexibility and ease-of-use. With the Optoma EP7150 I believe users will experience the same thing. If you're still lugging around a 7 pound projector and having to dim the lights for your presentations it's time to step up. This Mighty Mouse projector is here "to save the day" – and do it without making your clients or associates have to take notes in the dark.
The Score Card
The scoring below is based on each piece of equipment doing the duty it is designed for. The numbers are weighed heavily with respect to the individual cost of each unit, thus giving a rating roughly equal to:
Performance × Price Factor/Value = Rating
Audioholics.com note: The ratings indicated below are based on subjective listening and objective testing of the product in question. The rating scale is based on performance/value ratio. If you notice better performing products in future reviews that have lower numbers in certain areas, be aware that the value factor is most likely the culprit. Other Audioholics reviewers may rate products solely based on performance, and each reviewer has his/her own system for ratings.
Audioholics Rating Scale
— Excellent
— Very Good
— Good
— Fair
— Poor
| Metric | Rating |
| --- | --- |
| Detail and Resolution | |
| Contrast and Black Levels | |
| Color Reproduction | |
| Calibration Options | |
| Build Quality | |
| Ergonomics & Usability | |
| Ease of Setup | |
| Features | |
| Remote Control | |
| Fit and Finish | |
| Performance | |
| Value | |

Clint DeBoer posts on January 06, 2007 14:13
<A href="
http://www.audioholics.com/productreviews/avhardware/optoma-EP-7150p2.php
[audioholics.com]"><IMG style="WIDTH: 103px; HEIGHT: 100px" alt= hspace=10 src="
http://www.audioholics.com/news/thumbs/mightymouse_th.jpg
[audioholics.com]" align=left border=0></A>This is one of our first projector reviews that falls into the "ultra-portable" category. Weighing in at just under 3 pounds and measuring less than 9-inches in width, the EP7150 is in a class all by itself. This is the type of unit you'll want if you are traveling place to place or want a projector to easily set up and take down in an office or teaching environment. It's the "Mighty Mouse" of projectors in a sense and the 2000 lumens are "real" – we've seen a lot of overstated specs, but this isn't one of them. Let's attempt to dress down this superhero and see if he can stand up under the scrutiny.