WD8200U Remote, Menu,Viewing Evaluation & Conclusion
We liked the remote control for the WD8200U and the way it intelligently laid out all of the controls. The incredibly helpful Lens Shift and Powered Zoom/Focus controls are just below the navigation control pad and the inputs are all accessible at the top of the remote. It was also very simple to navigate the menu and change settings, including basic Brightness and Contrast calibration of the projector. We especially enjoyed working with the Geometry functions and the Arc control, having never used a projector that facilitated such an easy method to compensate an image when projected on a curved surface.
All of the menu functions are easy to access, and the interface, while not fancy, is straightforward - with the major categories across the top and the subsequent submenus accessible below. Everything can be controlled with the remote's directional control pad and the entire system is intuitive and simple to use.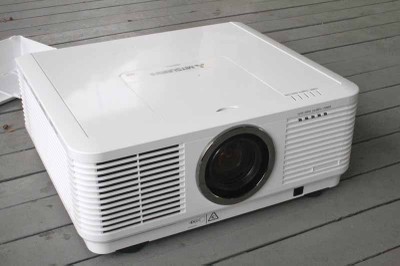 Physically, one of the nice features of the Mitsubishi WD8200U is the inclusion of a terminal cover, a plastic shroud that clips on to protect and cover the input and power connections. We have this on our Epson 9700UB reference projector and it really makes for a cleaner installation.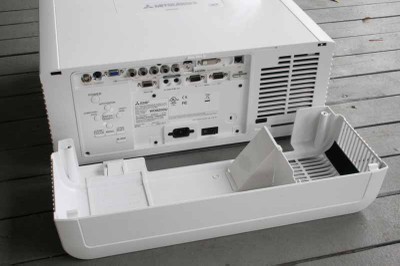 Viewing Evaluation
As they say, the proof is in the pudding - and the Mitsubishi WD8200U creates an excellent image. It's extremely bright, but with color accuracy that is often difficult to reproduce at high lumen output. Even with both lamps firing, the Mitsubishi made our test material look absolutely stunning.

Though there was a ton of light output, black levels were still reasonable

These buildings showed absolutely no moire affect during this test scene we use often for testing such things


Batman Begins looked fantastic and the contrast was impressive

Super Bowl XLV came through with vibrant colors, though we waited until the Post Game show to take our pics
Conclusion
I have been having a great time lately reviewing commercial projectors and experiencing the features and advantages of really powerful display devices. In particular, the Mitsubishi WD8200U is designed to deliver incredible flexibility, superb color and brightness, and allow for easy installation into the most difficult scenarios. Curved surface? 24/7/365 performance requirements? No problem. The best thing about this projector is that it just works. And at a street price under $7k it's actually a great deal for those who need powerful output, accurate color, and flexible placement options. This is a real winner and a project CE professionals are going to jump on once they see what it can do. We've got high recommendations for this one.
Mitsubishi WD8200U DLP Projector
MSRP: $8,995
Mitsubishi Digital Electronics America
9351 Jeronimo Road
Irvine, Calif., 92618
www.mitsubishi-presentations.com
About Mitsubishi Digital Electronics America Presentation Products Division
Mitsubishi Digital Electronics America's Presentation Products Division markets an extensive line of professional presentation, front-projection, high-definition home entertainment, and rearprojection video wall cube display systems and digital signage monitors that are designed with DLP® or LCD technology, and is known for its award-winning, high-quality, accurate color reproduction technology. Products are sold through authorized distributors, resellers, retailers and system integrators throughout the United States and Mexico. Mitsubishi Digital Electronics America is located at 9351 Jeronimo Road, Irvine, Calif., 92618. For more information, please call 888-307-0312 or visit http://www.mitsubishi-presentations.com.
The Score Card
The scoring below is based on each piece of equipment doing the duty it is designed for. The numbers are weighed heavily with respect to the individual cost of each unit, thus giving a rating roughly equal to:
Performance × Price Factor/Value = Rating
Audioholics.com note: The ratings indicated below are based on subjective listening and objective testing of the product in question. The rating scale is based on performance/value ratio. If you notice better performing products in future reviews that have lower numbers in certain areas, be aware that the value factor is most likely the culprit. Other Audioholics reviewers may rate products solely based on performance, and each reviewer has his/her own system for ratings.
Audioholics Rating Scale
— Excellent
— Very Good
— Good
— Fair
— Poor
| Metric | Rating |
| --- | --- |
| Detail and Resolution | |
| Contrast and Black Levels | |
| Color Reproduction | |
| Noise Reduction | |
| Build Quality | |
| Ergonomics & Usability | |
| Ease of Setup | |
| Features | |
| Remote Control | |
| Fit and Finish | |
| Performance | |
| Value | |