WD8200U Build Quality and Pro CE Features
Mitsubishi introduced its ultra-bright, dual-lamp WD8200U projector last summer, but we weren't able to come up with an excuse to review it until Super Bowl weekend. The DLP projector uses 1280 x 800 (WXGA) 0.65" DMD chip with Dark Chip 3 technology. What really separates this "man" from the boys, however, is the use of its dual 330W UHP lamp, which can operate the projector in dual-lamp mode for maximum brightness (in this case 6500 lumens) or non-stop sequential mode. With each lamp needing only one hour of shut-down time every week, this feature enables users to configure their lamp settings appropriate for applications that run non-stop 24/7/365 operation or in areas with variable ambient light.
The projector is also equipped with Mitsubishi's "Super Resolution", an exclusive menu-driven Mitsubishi Electric algorithm where the user can enhance the sharpness of a projected image. While we don't typically advocate software image-sharpening DSP modes, this one actually looks pretty great. The projector also offers user-interchangeable color wheels that can be swapped out for either brightness-intensive or color-intensive applications. The WD8200U comes with the high-brightness color wheel and users have the option to purchase the exchangeable six-segment color wheel that emphasizes richness and depth of colors.
Inputs abound on the WD8200U, with HDMI, DVI-D, component, composite, S-video, VGA (HD15) and connections for RS-232C and wired remote controls. While all the "flavors" are represented, there aren't any multiples of each of the input types. All this means is that those who are looking to use multiple sources may need to engage a video processor or switcher in conjunction with the system.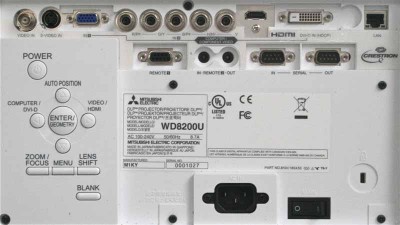 Professional CE Features
For commercial integrators who are going for placement flexibility and custom screens, Mitsubishi's WD8200U also offers geometric warping so images can be created on curved screens or surfaces, in either front- or rear-projection mode without the typical blurring at the edges. Mitsubishi actually designed the feature with museums, planetariums, malls and casinos in mind - it allows almost limitless applications. The WD8200U also brings new edge-blending and color matching technology, which allows you to stack projectors side-by-side or vertically to create a single large image from multiple images. This is actually a very efficient method CE professionals use to create super-sized screens with high brightness.
The WD8200U offers a unique "heat pipe" cooling system that serves to absorb heat and funnel it away from the projector. Since the system uses no moving parts to do this, the cooling is accomplished with the addition of no noise, allowing the WD8200U to operate at around 28 dBa SPL in low mode.
For aligning an image to the screen, a motorized horizontal and vertical lens-shift gives you near-infinite placement options (though the shift limits are somewhat restricted) and a motorized focus and zoom make final adjustment quick and easy. You can always tell the truly pro models as they don't involve having to use a ladder when focusing and zooming the final image. Continuing the professional focus, the company also added a new self-cleaning filter system that includes an automated rotating filter that allows users to schedule filter rotations automatically or manually on an as-needed basis. The filter itself is a reusable mesh that has an estimated maintenance span of up to 10,000 hours (under normal operating conditions). That's about 5 lamp cycles at maximum usage, or 2.5 lamp cycles in low output mode. When the filter needs cleaning, you simply rinse and dry it, reinstall and reuse the filter, which generates less waste, saves money and decreases overall cost of ownership.

So what if you want to use this projector in a long-throw scenario? How about a short-throw scenario? What if it needs even more flexibility and requires Zoom functionality? Mitsubishi has it covered. The company offers multiple optional lenses (in additional to the Standard Zoom) that supports various room configurations and throw distances. These interchangeable lenses support a throw ratio range of 1.3 up to 9.0 front projection, plus a zero-axis 0.8 rear throw distance. We used a wide angle lens which screwed onto the included Zoom lens, giving us the ability to project an image onto the rear projection screen for our Super Bowl party. The lens-exchange process on the WD8200U was extremely simple and when necessary, even removing the entire lens assembly is a very straightforward process.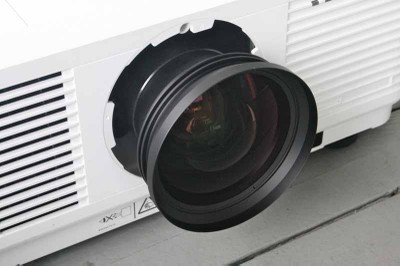 For professional installers, the WD8200U includes an RJ45 connection for networking control that supports Crestron as well as AMX remote management solutions. For service, the projectors come with Mitsubishi's three-year limited warranty on parts and labor plus a one-year/500-hour limited warranty on the lamp. As with all Mitsubishi installation projectors, each is covered by the Express Replacement Assistance (ERA) Program, a nationwide comprehensive service that offers next business-day replacement for down units under warranty coverage.