Mitsubishi HC5000 Projector Calibration
Getting Those Black Levels Right!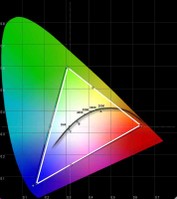 I was all set to calibrate the Mitsubishi HC5000. In fact, I was looking forward to it. I broke out our trusty datacolor ColorFacts Professional software and connected the Spyder2 sensor to begin measuring color temperature, build my CIE color chart and start the process. When I completed my grayscale measurements I sat back and shook my head. This projector, at least my evaluation unit, didn't really require calibration out of the box. The numbers I got were good enough that exercising a full ISF calibration seemed pointless - the gains would be too small (or likely, I'd make it worse). I can't say with utter certainty that everyone else's experiences would be the same (we've been burned before by "golden units") but my understanding is that this is stock performance for the HC5000. With that being the case, kudos to Mitsubishi for setting up their projector properly and making it easy for custom installers to get a great picture up front and hassle-free.
Speaking of doing it correctly, get a load of the CIE chart! The HC5000 has almost flawless color, with no saturation deficiency in either red, green, or blue. I have not seen color this good in a projector in a long time and am happily surprised by what I found in this model.
The Measurements
Check out the color temperature from 30 to 80 IRE. It's not flat as a ruler, but you can see that it varies by less than +/-100K across the board. I can live with that kind of tolerance and, unless your name is Joe Kane, so can you. RGB and luminance graphs told me instantly that I was going to leave this beauty alone and 'let it ride' as far as the performance was considered.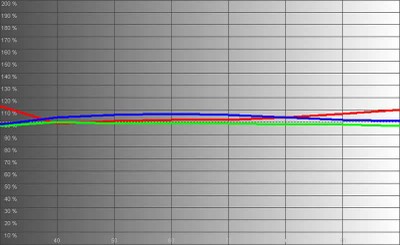 Now, getting the color temperature correct only happened with the right settings, and I'm going to give those to you. After setting black and white levels I proceeded to measure color temperature in the various modes. I found that having the projector set to Cinema Mode with color Temperature set to 'Medium' produced the best result (around 6600K at 80IRE). We also measured the color temperatures in various modes (again using an 80IRE field as our reference point):
Cinema Mode (Warm) - 5700K, perfect for black and white movies!
Cinema Mode (Medium) - 6600K, the preferred setting
Cinema Mode (Cool) - 9050K, definitely bluish in hue and much brighter (perceptually)
Cinema Mode (High Brightness) - 14000K, use this mode if you plan on using your projector for a Bat Signal
There are perceived contrast ratios and there are real contrast ratios. In my room I measured 680:1 in Low lamp Cinema Mode. Maxing out the system I attained 1425:1 using the High Brightness modes and Standard lamp power. I also measured the ability of the projector to hit the screen in the Cinema and max modes. I got 12.4 fL in the desired Cinema mode with low lamp and Medium color temperature. Powering up to maximum we achieved around 28.5 fL. Both measurements were to a 100-inch Stewart Studiotek 130 screen (1.3 gain) from 11.5 feet away.
As I mentioned above, the golden settings are Cinema gamma and Medium color temperature. Put your lamp in low mode if you have total light control in your room. If you feel you aren't getting enough light to the screen, then put the lamp into Standard mode and see how that does for you. Over time the bulb will decrease in intensity, so if you're like me you may not want to wait until the last second to replace it. By that time you may be watching around 7-8 foot-Lamberts and missing much of the picture detail.
raneil posts on July 08, 2007 02:09
Are you sure that the projector that you reviewed has HDMI 1.3? Yours is the only review to make such a claim. If so, it sounds like a production upgrade that potential buyers should inquire of prior to making a purchase,
hdfansv posts on June 28, 2007 13:13
Hi Clint,
Just a few nitpicking in your review so that it does not confuse your readers.
"Whether it was pin-striped shirts, or city skylines that would make any jaggie-reduction scream in terror, Batman Begins is a movie that you can test nearly all aspects of a projector's video processing system with."
This sentence is incorrect. The Jaggie-reduction algorithms are not activated when the deinterlacer is in film mode. Edge adaptive interpolation switches on for video deinterlacing NEVER for film mode. The reason for that is you have all the pixels from the complete frame and there is no need for anti-aliasing filter.

Also
"We also confirmed results with 1080i upconversion."
The film mode tests are not valid when you upsample from 480i --> 1080i. In that case you are evaluating the film mode handling of the upsampling DVD player.
Clint DeBoer posts on June 27, 2007 19:14
My guess is it was the transmitter (remote). It certainly improved with new batteries but was never stellar like some other remotes I've used.

I've packed up the unit, so I missed my window to troubleshoot it further.
djoxygen posts on June 27, 2007 16:27
Do you know if the poor IR reception was the fault of the transmitter or the receiver? If it was the transmitter's fault, wouldn't the issue disappear for those who use universal remotes?