HC5000 Inputs, Remote and Menu System
I liked my options on the HC5000. Typically a person isn't going to run multiple component video cables to a projector, so having one option for each connection type seemed very practical and reasonable. Notably, neither the DVI-D or HDMI are shown to support 1080p/24 (at 48Hz) in the user manual, however Mitsubishi claims that it is supported. Unfortunately, my Toshiba HD-XA2 HD DVD player doesn't (yet) so we'll have to pass on this test for now.


Mitsubishi HC5000 rear connections
The all-important 12V trigger is present on the rear panel of the HC5000 as is a functional RS-232C which will make this projector fully compatible with higher-end control systems. The component inputs are for use with a maximum of 720p/1080i, so if you've got your Xbox ready to output 1080p, downshift it to 1080i or get the new version with HDMI outputs. Either way I'm betting it still looks great… and since I'm not a betting man, I'll toss up the screenshots to prove it.

Mitsubishi HC5000 Remote Control

I liked the layout of the HC5000's remote. All buttons were easily accessible and the backlit function came on when ANY button was pressed - a feature I appreciate and request in any projector remote. The backlight stays on for about 6 seconds which is reasonable, and I liked the arrangement of buttons. What I didn't like was the range and effectiveness of the remote. I was very difficult to control the HC5000, even though I was only about 11.5 feet form the screen. At times I found myself doing contortions to get the remote positioned just right, even aiming it backwards at times when I finally got frustrated. There is no excuse for this type of remote control behavior given the price of this unit and beta testing which certainly must have revealed this prior to release. The reason it is so frustrating is that it takes all of the positive features like motorized zoom, focus and lens shift and turns them into "mini-hassles" which must be endured. Had the remote controlled the system better, then I'd be spending all this energy and literary real estate gushing about how cool it is to use a remote to focus and dial-in the picture.
The Menu System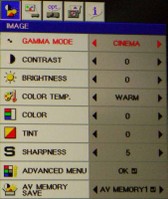 With the exception of getting in and out of the sub-menus, the menu system on the HC5000 is straightforward and easy to navigate. Sub-menus are somewhat anti-ergonomic and annoying because they force you to scroll all the way to the top to exit a particular area or hit the Menu button rather than the far more intuitive 'left arrow' exiting I see in many other projectors. All whining aside, I was at least happy to see that most of the functions I look for were present and there was a great deal of customization available in the User menu.
Image Menu
This grants the user access to Gamma (picture) modes and the typical adjustment settings for the projector like Contrast, Brightness, etc. You can also save your settings to Memory positions which can be recalled from the remote directly. This is very handy if you decide to set up unique modes for difference types of viewing (daytime, nighttime, black & white movies, etc.) AV Memory settings also work across different inputs.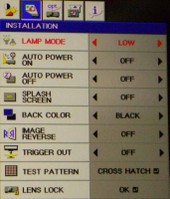 Installation Menu
The Installation menu is simply where you configure the most basic functions of the display such as auto on/off, background color (when no signal is present), front/rear projection mode (called "image reverse") and the trigger output. You can also call up a test pattern and lock the lens so that adjustments cannot be made which would throw off the picture (handy for once a system is installed in a ceiling mount configuration).
Feature Menu
This menu is a catch-all for such controls as aspect ratio, Menu Dimmer/Position, Setup (a black level mode that we found works best when in Auto or Off), Language and Cinema (deinterlacing) modes.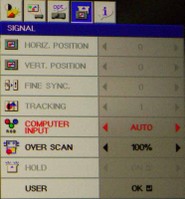 Signal Menu
Primarily for PC interfacing, this menu gives you the ability to access vertical and horizontal positioning, Fine Sync and Tracking adjustments. Users will also find the Overscan function here - be sure to set it to 100% for best scaling results.
Information Menu
This provides info on the currently active source input, delivering signal frequency and resolution. It also shows the lamp hours which will let you know when you're getting close to the time when a new lamp should be ordered.
raneil posts on July 08, 2007 02:09
Are you sure that the projector that you reviewed has HDMI 1.3? Yours is the only review to make such a claim. If so, it sounds like a production upgrade that potential buyers should inquire of prior to making a purchase,
hdfansv posts on June 28, 2007 13:13
Hi Clint,
Just a few nitpicking in your review so that it does not confuse your readers.
"Whether it was pin-striped shirts, or city skylines that would make any jaggie-reduction scream in terror, Batman Begins is a movie that you can test nearly all aspects of a projector's video processing system with."
This sentence is incorrect. The Jaggie-reduction algorithms are not activated when the deinterlacer is in film mode. Edge adaptive interpolation switches on for video deinterlacing NEVER for film mode. The reason for that is you have all the pixels from the complete frame and there is no need for anti-aliasing filter.

Also
"We also confirmed results with 1080i upconversion."
The film mode tests are not valid when you upsample from 480i --> 1080i. In that case you are evaluating the film mode handling of the upsampling DVD player.
Clint DeBoer posts on June 27, 2007 19:14
My guess is it was the transmitter (remote). It certainly improved with new batteries but was never stellar like some other remotes I've used.

I've packed up the unit, so I missed my window to troubleshoot it further.
djoxygen posts on June 27, 2007 16:27
Do you know if the poor IR reception was the fault of the transmitter or the receiver? If it was the transmitter's fault, wouldn't the issue disappear for those who use universal remotes?