HC1500 Inputs, Build Quality, Remote and Menus
There are sufficient connections on the back of the Mitsubishi HC1500 to satisfy anyone I know. You have HDMI and component, with another available component input via the HD15 (VGA) connection. For those of you who don't have any HD sources and feel the need to blow up 480i imagery to ridiculous sizes there is a composite and s-video input as well. The surprise on the back of this unit, for me at least, was the presence of a serial RS-232C connection. With an 8-pin DIN to D-sub adapter you can fully control the HC1500 with an advanced system such as those from AMX, Crestron or similar.


Mitsubishi HC1500 rear connections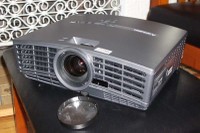 The HC1500 is really a great little box. With this many inputs and the ability to handle both 1080p/60 input signals (and with a 720p native panel resolution) it's going to be very hard to beat for value. The physical box itself has the same look of the HD1000 and HD4000 models. There is a manual focus and zoom adjustment just behind the lens as expected and much of the front and side panels are devoted to airflow and venting. As a result, there is a significant amount of light leakage from the front and right side of the unit. Fan noise was consistent but not terribly loud, though it did have a soft whine attached to it rather than a gentle whisper. An attached lens cap keeps the dust from settling on the lens when not in use. Aside from the remote, there are 7 buttons atop the unit for power, menu control, input selection and keystone correction. These buttons are multi-function and allow you to get the system up and running even if you are unable to access the remote.
Remote Control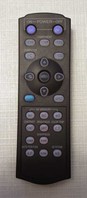 The HC1500 remote is pretty good, especially given the low cost of entry for this projector. You have direct access to input sources (all 5 input options) as well as some ways to immediately interact with many of the primary picture controls (BrilliantColor isn't one of these, however). Discrete On and Off buttons/commands are available on the remote as well – and which enabled this remote to land a healthy 4/5 score. One of my favorite features was the presence of three AV memory setting buttons. Selecting one of these buttons allows configuration and/or recall of the Image Menu settings for that selection. In this way I was able to configure a setting for nighttime Cinema viewing, one for Daytime viewing and another for black & white films (with a slightly lower/warmer color temperature). These are excellent features to have and the Mitsubishi puts them right at your fingertips which is very nice.
The remote was also very easy to use and the signal bounced from the screen to the projector in almost any position. I tried pretty hard to point the signal in places where it might not reach the unit and most of the time I had to quite deliberately aim away from anything in order to allow the remote to file to reach its target. The only thing keeping this remote from attaining a 5/5 was the fact that the backlight was so dim it was at times difficult to read the buttons. All remotes should work this well.
The Menu System
Simliar to other Mitsubishi projectors that share nearly identical software, the menu system on the HC1500 is straightforward and easy to navigate. I still don't like exiting interior levels of the submenus by either scrolling all the way to the top or by pressing the Menu button, but its certainly something one gets used to and the menu system will not be used all that much once you have everything configured to your liking. I went over most of the Menu functions in my review of the Mitsubishi HC5000 as well as our reviews of the HD4000. Not too much has changed so feel free to look up those reviews for more details. You can now access BrilliantColor from the Image menu, which also makes that feature part of the AV Memory functionality and Vertical Location adjustments can be made for those who may have devices which require adjustment of the vertical image.
E-A-G-L-E-S posts on October 09, 2007 13:28
My HC1500 does 480i SD from D* via HDMI just fine?
Maybe Cons: Significant rainbow effect if you are succeptible....as I went from a 180P DLP to this and still see none.
montag451 posts on September 23, 2007 13:51
I recently purchased this projector and am very happy with the picture through the HDMI connection. However, anytime I run a 480p,720p, or 1080i source through the component cables I get an incredibly unclear image. Did you experience this same problem? And can you help? Thanks

Stephan
Clint DeBoer posts on September 10, 2007 08:27
I think Mitsu's LCD projectors look WAY better overall. But I'm susceptible to their DLP's rainbows. LCD is getting much better in terms of black levels.
TVJon posts on September 08, 2007 11:49
Well, Mitsubishi did announce some new 1080p projectors - unfortunately, LCD and not DLP. And no sign of the company budging on bringing the HC3100 to the U.S. I don't understand. Maybe I'll have to switch to LCD. Several new ones announced under 3k. The new Panny sounds especially nice.

TVJon
TVJon posts on September 06, 2007 22:19
Nice review. As a frustrated "why won't Mitsubishi sell the HC3100 in the US" potential buyer, this one has a lot to like for its price/performance.

I'm hoping and wondering if Mitsubishi will release something at CEDIA that makes me happy I haven't bought my new PJ yet... a DLP at 1080p and a realistic price point.

TVJon