VP-15S1 Setup, Overview and Menu System
I installed my Peerless PRG-UNV Precision Gear universal mount to the projector in about 30 seconds flat and eased it into my ceiling mount. From there it was a simple matter of dialing in the manual vertical lens shift and then fine tuning the mount to get the picture perfectly centered onto the screen. If you don't have a way to line up the center of the image horizontally, you will undoubtedly incur some keystoning since the VP-15S1 has neither horizontal lens shift nor horizontal keystone correction. This is rarely an issue in most installations, but triple check your placement prior to fixing the projectors in place.
Once the projector is physically installed, you'll want to dial in the image as best you can. Best practice for this is to use the Pattern button on the remote. In this way you will be able to see every square inch of screen real estate and ensure your image isn't out of focus on the edges due to not being properly squared (aligned) to the screen. You'll also be able to set the desired physical overscan for your screen by physically configuring the manual zoom lens to where the image only slightly overlaps the edge of the screen. Hopefully you have some kind of light-absorbing velvet material surrounding your screen. Work the zoom and focus controls until the image is pristine and crisp. We used to discuss methods of defocusing slightly when you sit too close to the screen, but 1080p resolution has truly made that unnecessary.
To get up and running immediately, the only settings you'll need to configure are the Installation mode, which sets front/rear and ceiling/desktop. In my case, I adjusted from the default "Front" to "F + Ceiling" to accommodate my ceiling mount (essentially flips the image upside-down). Beyond this, you'd want to watch out for the Aspect button on the remote to ensure you're properly viewing the material on the screen. We get into the advanced calibration settings later in the review.
Throw Chart for Distancing the Projector from a 16:9 Projection Screen
The Konika Minolta's ample zoom lens allows for a reasonably flexible placement of the projector. In our room we had the unit positioned back around 11 feet via ceiling mount and projecting onto a 100-inch diagonal Stewart Studiotek 130 screen.
Screen Size
Diagonal (inches)
Size (Inches)
Distance (Feet)


width
height
wide
tele
70
61.0
34.3
7.3
10.8
80
69.7
39.2
8.4
12.3
90
78.4
44.1
9.5
13.9
100
87.2
49.0
10.6
15.4
110
95.9
53.9
11.6
17.0
120
104.6
58.8
12.8
18.6
130
113.3
63.7
13.8
20.1
150
130.7
73.5
16.0
23.2
170
148.2
83.3
18.1
26.4
200
174.3
98.1
21.4
31.0
Menu System
The menu system for the Marantz was easy to navigate and its structure seemed to make sense. The picture mode is always located at the top left of the menu, and below are the 9 (count 'em) menu sections: Picture Adjust, Fine Menu 1, Fine Menu 2, Input Signal, RGB/HD Adjust, HDMI, Display, OSD/Blanking, and Config. We'll pretty much ignore Input Signal, which allows the manual configuration of what resolution the inputs will be accepting (always set this to Auto - the default). We'll also bypass making much ado about the RGB/HD Adjust menu which allows HTPC users to really tweak the resolution, position and phase of the incoming signal. If you have an HTPC and a propeller hat, you'll likely spend a lot of time here.
Picture Adjust
Your basic picture controls are here, including Contrast Brightness, Color Tint and Sharpness. You can also adjust the global Color temp for the particular input and set the lamp mode to Economy (recommended for theater use) or Normal. Keep in mind that the lamp will also be adjusted automatically based on the Picture Mode you have selected. As with most (but not all) projectors we've reviewed, Sharpness (almost a dummy control in this projector) is best left at 0, and the Color and Tint controls can be left where they are for best performance.
Fine Menu 1
This is where you will return again and again if you are calibrating this projector. The Marantz VP-15S1 is one of the easiest projectors we've ever had the pleasure of calibrating, and the easily accessible Gain and Bias (cut) controls are largely responsible. We'll discuss Noise Reduction settings later and Luminance Gain and Chroma delay are not for use with HDMI (our primary utilized input for calibration and testing).
Fine Menu 2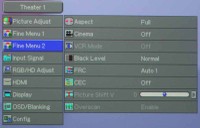 This menu allows control over the aspect ratio of the displayed image. You can choose from Full, Normal, Zoom, V-Stretch and Through. These are becoming more and more familiar to most viewers, so I'll just say to leave it on Full for 16:9 (and 4:3 if you like your images stretched to take up the whole screen) and Normal for 4:3 aspect ratio content. I honestly have no use for the other modes, but feel free to experiment as you see fit. Should you actually make use of the Zoom or V-Stretch modes, realize that the "Picture Shift V" control unlocks to allow you to vertically move the picture to optimize the screen presentation. As for the Black Level setting: Set this to 'Expand' . Typically we always recommend leaving this to 'Normal', however with this projector 'Expand' is the only way to achieve Blacker-than-Black response via HDMI. A CUE (Chroma Up-sampling Error) mode is provided for 1080i input signals. You can leave this to 'Off' unless you encounter a source requiring it (doubtful). Lastly, for standard definition signals (up to 480/576p) you can enable or disable Overscan to eliminate the outermost edges of the picture.
HDMI
This menu allows configuration of color space and color bit-depth settings. You'll want to keep these on Auto unless you have a source component that isn't sending the proper flags to the display via HDMI.
Display
Here you can set the vertical Keystone (ridiculous given the presence of physical lens shifting), Scale the image down (up to 70% its original size) and even change the Width of the image apart from height. The Scale function is actually helpful in the event that you cannot get the projector far enough away from your screen using the wide angle lens. Apart from these features, you can adjust the horizontal and Vertical position of the image on the DLP panel. This is also the place you'll go to configure the type of installation you'll be using (Front/Rear Desk/Ceiling).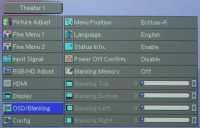 OSD/Blanking
The OSD/Blanking menu is set up to allow you to control the menu function (Language and Position) and adjust Blanking, or the amount of "underscan" of sorts is provided on each edge of the image. This is helpful if you consistently have issues with artifacts along one or two of the edges of the picture. You can store up to three different Blanking configurations in the memory slots provided. There are a couple more functions such as Power-OFF Confirm and Status Info, but they are self explanatory.
Config
The final menu primarily controls functions related to the Trigger and Remote Control functions. The Trigger 2 function allows you to send a 12VDC trigger signal during particular Aspect ratio/modes. I enabled Auto Power Off as it is a sensible setting that automatically powers down the projector if no signal is received for 10 minutes.
See also:
Bluesmoke posts on April 06, 2008 22:14
It looks like such a great projector. Wish Marantz made it a little more affordable.
AndrewLyles posts on March 24, 2008 22:42
admin;377661
Passion is what drove me to become a videoholic. I love good quality video - be it HDTV or high definition DVD. It doesn't matter if the subject matter is retarded African pigmy elephants, a great picture will glue me to the screen. With that said, this review of the Marantz VP-15S1 DLP projector started off as any other except that after a while I began to become obsessed with how well this projector integrated into my room. I found that I more quickly became drawn into the story lines of films and my ability to forget I was sitting in my theater room instead of being a part of the on-screen content became greatly diminished. In short, this projector made me covet...


Discuss "Marantz VP-15S1 DLP Projector Review" here. Read the article [audioholics.com].
Anybody want to weigh in on how this compares with the JVC RS-1 and RS-2?
Thanks!