VP-15S1 Calibration, Remote Control, and Recommendations

I really like the remote supplied with the Marantz VP-15S1. Aptly named the RC-11VPS1, this is a fully backlit remote with direct access to all primary functions, including Input selection and video modes. After initial calibration it would be unlikely you'd ever need to actually enter the Menu system to make any adjustments since the remote gives you direct control over Blanking, Black Level, Aspect Ratio and even Iris, Color Temperature, Gamma and Lamp control. The backlight function isn't automatic, but an easily accessible side switch puts the light on for 10 seconds at a time. In addition to simply providing backlighting, the remote actually separates various areas of the remote by utilizing both green and amber coloring. There are four User/Gamma modes (only the first three buttons work and they toggle up to 9 settings overall) which allow you to store custom Picture Modes. With these modes you can literally customize Picture settings until you have one for every day of the week… and then a couple more.
Calibration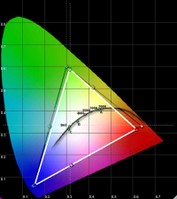 We took some before measurements after resetting the projector to its Factory defaults. We then calibrated the system and compared the end results to the original. For calibration we utilized datacolor's ColorFacts Professional software with a Spyder2 sensor (tristimulus colorimeter). I have to say, this was one of those projectors that really only needed to be set to the correct menu configuration. Calibration was not something that dramatically improved the already excellent picture.
To begin with, and this is something I try to do with all projectors, we analyzed the various default Picture modes and took a look at how that related to color temperature. Using an 80IRE full field gray screen, we received the following results:
Dynamic - 8700K
Standard - 6400K
Theater - 5300
Now, the default Theater 1 mode ran the projector with the lamp set to normal. With the Iris set to 1 and the lamp on Economy color temperature jumped to 5800. Select Color Temp 2 in the menu system and the results fall in line at 6400K. With that said, we recommend Theater 1 mode with an Iris level of 1 and Color Temp set to '2' for your default theater mode. This will give you excellent color as well as the deepest Black levels this projector is capable of delivering. The color reproduction of this projector is nothing short of brilliant for HD signals per our CIE chart which displayed our RGB measurements.
As indicated in the menu section, Black Level is a setting we typically tell everyone to leave at 'Normal', however with the VP-15S1 you will need to set this to 'Expand' if you are using HDMI and want to be able to view (or calibrate with) Blacker-than-Black signals. With this setting I made an adjustment to the Brightness control which placed it at -10 for optimal results in my room. The calibration images below came from the settings indicated above and were viewed on a 100-inch Stewart Studiotek 130 screen.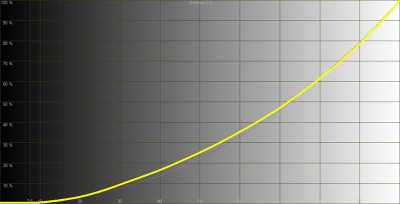 Gamma was a solid 2.2 and had a nice smooth response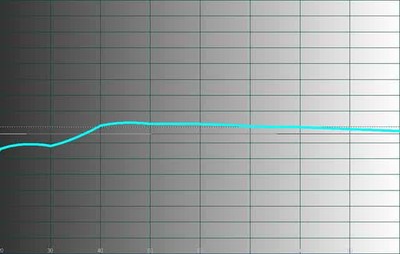 Color temperature was generally excellent across the board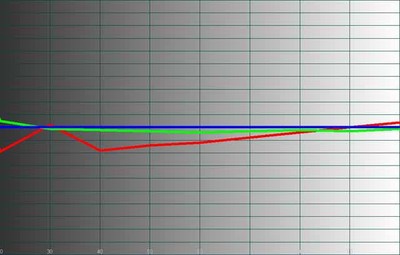 RGB levels showed very respectable tracking and calibration only pulled in the values a little bit more than the default
Audioholics/HQV Bench Testing Summary of Test Results
Perfect Score is 130
Marantz VP-15S1 Benchmark Score: 95 (Respectable and will satisfy nearly any videophile)
Test
Max
Points
Component
Results
Component
Pass/Fail
Color Bar
10
10
Pass
Jaggies #1
5
5
Pass
Jaggies #2
5
5
Pass
Flag
10
10
Pass
Detail
10
10
Pass
Noise
10
10
Pass
Motion adaptive Noise Reduction
10
10
Pass
Film Detail
10
10*
Pass
Cadence 2:2 Video
5
0
Fail
Cadence 2:2:2:4 DV Cam
5
0
Fail
Cadence 2:3:3:2 DV Cam
5
0
Fail
Cadence 3:2:3:2:2 Vari-speed
5
0
Fail
Cadence 5:5 Animation
5
0
Fail
Cadence 6:4 Animation
5
0
Fail
Cadence 8:7 animation
5
0
Fail
Cadence 3:2 24fps film
5
5
Pass
Scrolling Horizontal
10
10
Pass
Scrolling Rolling
10
10
Pass
Total Points
130
95


*with 480i sources on HDMI you'll need to set Cinema mode to Auto
Comments on Bench Testing
In running our multitude of benchmark tests I found the VP-15S1 was indeed an excellent performer. For one, this is the first single-chip DLP projector that really exhibited no practical rainbow effect to my eyes. When viewing a Rainbow Dither pattern I could strain and see the telltale red, green and blue smearing, but in typical viewing they were completely absent. Moving Zone Plate tests performed well in 2-3 modes, but did poorly in Video and 2-2 modes, which always prove difficult for every system I've tested to date. Clearly, the Gennum VXP GF9351 processor is no slouch and a respectable system to have on-board in a projector of this price class.
Recommendations
There aren't a lot of recommendations to make for a projector that does things as well as the VP-15S1. Other than requesting Texas Instruments lift the price blockade on 3-chip systems, my recommendations for this system would be limited to things that would make this even more of a luxury product. Primarily, I'd love to see horizontal lens shift in addition to the vertical. I also believe it would be a good thing to have motorized zoom and focus at this price point. For around $9000 on a single-chip system this would be a nice perk indeed.
See also:
Bluesmoke posts on April 06, 2008 22:14
It looks like such a great projector. Wish Marantz made it a little more affordable.
AndrewLyles posts on March 24, 2008 22:42
admin;377661
Passion is what drove me to become a videoholic. I love good quality video - be it HDTV or high definition DVD. It doesn't matter if the subject matter is retarded African pigmy elephants, a great picture will glue me to the screen. With that said, this review of the Marantz VP-15S1 DLP projector started off as any other except that after a while I began to become obsessed with how well this projector integrated into my room. I found that I more quickly became drawn into the story lines of films and my ability to forget I was sitting in my theater room instead of being a part of the on-screen content became greatly diminished. In short, this projector made me covet...


Discuss "Marantz VP-15S1 DLP Projector Review" here. Read the article [audioholics.com].
Anybody want to weigh in on how this compares with the JVC RS-1 and RS-2?
Thanks!