InFocus IN3108 Viewing Evaluation & Conclusion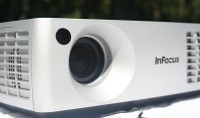 Overall, we were very impressed with the picture from the InFocus IN3108 DLP Projector. The image was crisp and clean with very little rainbow effect. In fact, the only time we noticed RBE is when we were moving more than the images on the screen. As long as we were relaxing and watching the screen, RBE was completely absent. The projector wasn't silent but not overly loud. From our seated position about one foot in front of and five feet below the projector, we only noticed it during the quieter moments of playback. For presentations is should be just fine. We used the projector with a number of sources including Comcast High Definition cable, DVD, and Blu-ray. For all, the IN3108 presented a convincing and lifelike picture. Colors were well saturated and generally look realistic after we changed the BrilliantColor setting to Normal Look and the Color Temp to Warm. We found that the anywhere from 40 to 50 on the brightness setting was about right depending on the source (Blu-ray looked better closer to 50 while DVD looked better closer to 45) with Contrast about right a few points within 50.

If the InFocus IN3108 had a weak point, it was black levels. In the below picture from the Blu-ray version of Serenity, you can see how the blacks are really gray. Even then, some of the detail in the dark areas is still being lost. As we bumped up the brightness, the detail came through but at the expense of washing out the picture. We had to compromise between seeing the detail that we knew was there and having darker blacks.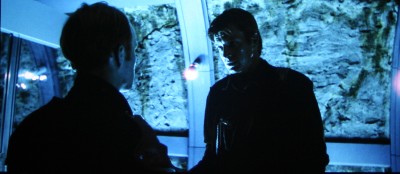 You can also see, however, the detail that the InFocus IN3108 can produce. With a decent signal, you get stunning detail with little to no pixel blur. We were shocked at how crystal clear the picture was. Brightness was also not an issue. Even with lights on in the room, the picture was easily discernible and quite enjoyable. Changing the bulb to low power reduced the overall brightness but not significantly. Even in well lit environments you won't have much of a problem viewing most content.

One movie we love to test color saturation with is the Pixar classic, The Incredibles. As you can see, colors were well saturated and vivid. Detail was sharp and crisp. The IN3108 can accept virtually any source and is compatible with NTSC, PAL, SECAM, 480i, 576i, 480p, 576p, 720p, 1080i, and 1080p/60 all via HDMI. With a 480i stream across HDMI, the picture was jittery and unstable. accurate deinterlacing is virtually non-existent on this projector. You'll want to mate it with as clean a source as possible. As it is really designed to be paired with a computer, this shouldn't be much of a problem.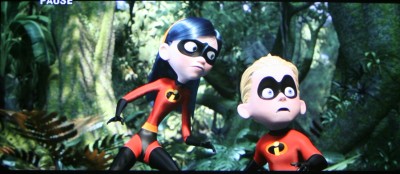 Conclusion
It isn't hard to see that the InFocus IN3108 is a very nice business projector. While it doesn't offer the lowest price, you are getting a lot of features for your money. For those looking for a flexible projector that can be controlled and fed a signal via USB over great distances or just a projector they can break down in 13 seconds, the IN3108 has what you need. The picture was bright and detailed with well saturated colors. Dark detail was lacking but in a business setting, this isn't really much of a con. With side panel access for the lamp, you've got a projector that will be easy to service even in great numbers.


InFocus IN3108
$1,799
InFocus Corporation
27500 SW Parkway Avenue
Wilsonville, OR, 97070-8238
503-685-8888
www.infocus.com
About InFocus Corporation
InFocus is the industry pioneer and a global leader in the digital projection market. The company's digital projectors make bright ideas brilliant everywhere people gather to communicate and be entertained – in meetings, presentations, classrooms and living rooms around the world. Backed by more than 20 years of experience and innovation in digital projection, as well as 240 patents, InFocus is dedicated to setting the industry standard for large format visual display. The company is based in Wilsonville, Oregon with operations in North America, Europe and Asia. InFocus is listed on NASDAQ under the symbol INFS. For more information, visit the company's website at www.infocus.com.
The Score Card
The scoring below is based on each piece of equipment doing the duty it is designed for. The numbers are weighed heavily with respect to the individual cost of each unit, thus giving a rating roughly equal to:
Performance × Price Factor/Value = Rating
Audioholics.com note: The ratings indicated below are based on subjective listening and objective testing of the product in question. The rating scale is based on performance/value ratio. If you notice better performing products in future reviews that have lower numbers in certain areas, be aware that the value factor is most likely the culprit. Other Audioholics reviewers may rate products solely based on performance, and each reviewer has his/her own system for ratings.
Audioholics Rating Scale
— Excellent
— Very Good
— Good
— Fair
— Poor
| Metric | Rating |
| --- | --- |
| Detail and Resolution | |
| Deinterlacing & Scaling | |
| Contrast and Black Levels | |
| Color Reproduction | |
| Build Quality | |
| Ergonomics & Usability | |
| Ease of Setup | |
| Features | |
| Remote Control | |
| Fit and Finish | |
| Performance | |
| Value | |

finishers posts on June 24, 2010 12:04
Ahan.. good review post..