PJ-TX100 Connections, Remote, Menu System & Calibration
Whether you are connecting analogue or digital to this projector, the Hitachi comes prepared for anything you might need. While I like DVI-D connectors in projectors for their screw-down terminals and secure connections, they may be a pain if you are planning on running your cables through a mount. Just be sure to measure or check it out prior to making a projector mount purchase to see if everything will fit. In addition to DVI-D (with HDCP compatibility) you can plug in a component video cable or even choose to go "low-fi" by using s-video or composite cables (please don't do that!) If you have an HTPC, the HD-15/VGA input is available and should deliver excellent quality results in 1280x720 resolution.

We did all of our testing using the DVI-D inputs with the exception of the HQV tests, where we needed to utilize the component video inputs in order to get a clean 480i input signal to the projector. While the DVI-D inputs handled both 1080p and 480i, at 480i resolution, the projector converted the incoming signal to 240p and removed about 1/2 the resolution in the process. Not a big deal, but something to note in the event that you want to check out the deinterlacing capabilities of your own unit. To circumvent this issue we fed 480i to the component inputs which seemed to work very well and you can read about the results later in the review.
Remote Control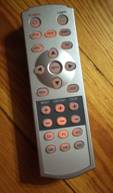 A plus on the remote. The Hitachi remote passes my minimum requirements by providing a backlit unit with direct input access. I don't really ask for much more in a projector remote. The presence of an "Aspect" (ratio) button on the remote, along with a sensibly-placed menu and enter button round out the unit - making it one of the better remotes I've utilized this year. I found it fit comfortably in the hand. It was easy to light (the light button is located on the top right - which is almost becoming a standard), and all of the buttons were easily accessible with one hand. Kudos and amen.
The Menu System
The Hitachi menu system is a bit enigmatic in the sense that there are 6 main sections, plus an "Easy Menu" that gives you access to a different, simpler, view of the main features. What was confusing was the presence of an "Optical Black" mode which affected both the Iris setting and "Whisper" mode of the projector. I don't want to belabor the menu system - it wasn't all that confusing, but it actually took me some time to figure out how to get the blacks as deep as they could go (crank down the Iris to "0" and enable "Whisper" (low lamp) mode in the Easy menu). Hitachi never fully explains how "Whisper" mode reduces the brightness specifically, but we are under the assumption that it reduces lamp output (thus enabling a lower fan speed in the process). Rather than go through all of the menu items, I'll focus on some of the more prominent ones that you'll need to address to get optimal results.
Picture menu
This, and its submenu, is where you will spend most of your time while calibrating the projector's display output. The Picture menu grants access to Brightness (black level) and Contrast (white level) controls as well as Color, Tint, Sharpness and Memory Settings recall and storage. Selecting a "Custom" Color Temp will get you into the RBG Gain/Cut settings where you can really fine tune the Grayscale tracking of this projector to near perfection. We found the Sharpness controls to be near-useless (as usual for digital technology) and I'd recommend a setting no greater than 2-3. The Progressive setting should be set to "Film" if you are using the projector to deinterlacer 480i input signals.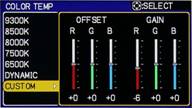 In the Custom Color Temp settings submenu you'll have direct control over the color temperature and a custom configuration for adjusting RBG Offset (cut) and Gain. With these controls we quickly dialed in the PJ-TX100 to what we felt were very respectable settings. This is a feature I expect to see now on most projectors and I was pleased that it was so easily accessible with the Hitachi. A Custom Gamma adjustment is also available which will allow you to dial in the Gamma for even better control over light to dark. We actually left that setting alone due to time constraints, but it is possible that it could help alleviate some of the s-curve gamma response we found in our luminance testing shown later in the review.
Image menu
This menu allows setting of overscan (most significant) and vertical/horizontal positioning of the image within the LCD panels (for use with DVI-D only).
Setup menu
Within the Setup menu you can control Keystone settings as well as the Whisper (lamp) and Iris modes. This is also the location to set up the unit for front rear, floor or ceiling mounting using the Mirror submenu. Keystoning is still not recommended as the image quality will decline. Whenever possible change the projector location or use the manual lens shift options to get the image square to the projector screen.
Option menu
The Option menu is the place to find controls for setting the sleep timer ("Auto Off") and checking the lamp and filter time. In addition, the Service submenu allows you the ability to set the Fan Speed to high (high altitude), Normal or Low and perform a Factory Reset of all menu settings (something I do before any calibration or review).
Easy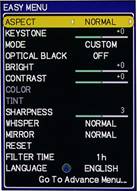 menu
The Easy menu is an aggregation of settings from the Picture , Image , Setup and Option menus. It provides a very easy method of adjusting many of the key features of the projector and is certainly the way to go for most entry-level users. You can always jump to the bottom and return to the Advanced menu, so nothing is lost by using this rather convenient, simplified interface.
My confusion with the menu system stemmed from the presence of a setting called "Optical Black" (Off/Natural/Deep Black) which is present in the Easy Menu but not referenced in the Advanced menu system anywhere. Basically, it is simply a combined setting that affects both the Iris and lamp (Whisper) settings found in the Setup menu. After realizing this, the menu system cleared up a bit and getting the correct settings became a simpler process of calibration in conjunction with video test patterns.
Calibration - Get Those Black Levels Right!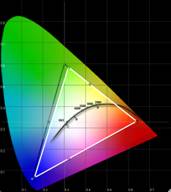 We always encourage users to get their black and white levels set correctly in order to experience the most their projector has to offer. I ran into Joel Silver at CEDIA this year and he handed me one of his new HDTV Calibration Wizard DVDs. This is a product I highly recommend to novice users wanting to find a simple non-technical way to get the best color and detail out of their display devices. It really is almost too simple to use, though we got a kick out of the blatant and hilarious plugs by none other than Noel Lee himself (here's a tip: use the disc, but don't plan on rushing out to buy the certified cables). The DVD is available for just $29.95 direct from the Imaging Science website so consider making it one of your  "reference" DVDs.
The CIE Chart is used to display the colors for the Hitachi PJ-TX100's HDTV color reference, as well as the gamut of colors that it is capable of creating. We observed that the Hitachi LCD projector had slight deficiencies in all three primaries, but Red seemed to be the most affected in practical viewing.
Contrast ratio measured in at 467:1 after calibration - that's pretty good in my opinion. Color temperature varied quite a bit out of the box: Normal (8475K), Cinema (7750K), Music (8850K), Sports (9300K), and Dynamic (7250K). Music? Yeah, we laughed about that one, too - I have no idea what they were thinking there. In either case, the Cinema mode is off more than Dynamic on color temperature, but provides better black levels so it's a great place to start for home theater calibration.
Here are some of the before and after measurements as shown by the DataColor ColorFacts Professional 6.0 system :
| | |
| --- | --- |
| Before Calibration | After Calibration |
| | |
| This looks like a blurred image of three cars going around a NASCAR circuit. We can say that the lack of green as the dominant force in the RGB profile was good, but we wanted to calibrate the unit to perfection if possible. | After calibration, the PJ-TX100 lined up beautifully with our expectations. The results looked incredible and the smooth line seen here lent itself to a practical demonstration of how accurate this projector could be. |
| | |
| The before and after of the luminance graph were disappointing, but in all honesty the Custom Gamma settings might be able to help (we were unable to take the time to adjust the gamma during our review.) | Black levels got a bit better, though we later went back and rechecked the system after making some white level corrections. Gamma correction is almost a necessity on this unit if you want the absolute smoothest response. |
| | |
| Pre-calibration color temperature of Cinema mode was a nice 7750K - not exactly what we were looking for | Bingo, smooth 6500K all the way from 30 to 80 IRE. |
morkys posts on April 03, 2007 10:56
If you're using the low bulb mode the bulb is quiet enough in my experience.
hoofdpijn posts on April 02, 2007 21:17
Projector is plenty bright for HDTV viewing with light on in the room. I have a little clamp on lamp with a 60 watt bulb in it next to the couch and I can barely tell a difference with it off or on. Picture is very nice on this proj.

The fan on this thing is ridiculous and is my only regret in purchasing. Totally unacceptable level of fan noise. Unless mine is defective...Hitachi should be ashamed. It sits about 7 feet above and 5 feet behind my head and the noise is crazy. It's easily twice as loud as my Epson Home 10 which is sitting on a shelf behind my viewing position about 15 inches from my head. I've read numerous reviews of this projector and only the Audioholics review makes any mention of fan noise being an issue. All the rest say it's one of the quietest projectors on the market which makes me think something is wrong with my brand new projector. It's frustrating to have such a nice picture and to not be able to enjoy it.
bri1270 posts on February 13, 2007 09:54
How bright is this projector? I read the review and there isn't much mention of it.
Rob Babcock posts on October 17, 2006 21:31
morkys
What projectors are you used to and how far away will your next projector be from your head when you are in your viewing spot? If you have a chance to see and hear a TX 200 (HDP-J52) in action, try it out. Looks good and is definitely not loud in low mode, which is prefered anyhow.
I've never heard of the TX 200. Unless/until I move, the PJ will be mounted pretty close to where it is now, which is to say between about 12-14 feet from the front wall, essentially right above me. I prefer to stick with a screen size of about 80" or so. Most PJs will project an image of that size in about that distance range. I don't want it much closer (ie in front of me) because I find it visually distracting. Much further back & most PJs don't have the zoom to project that small, plus I don't want to lose light. Lastly, my room isn't huge, so if I go much further back I'll be getting pretty close to the back wall, which I'd like to avoid for noise & ventilation issues.
Right now I use an Optoma H31. I've been thinking of buying an HD70, because I've been delighted with my current Optoma, and the '70 uses the same mount as the H31- that will save me time & money. But I've also been thinking of getting a Mitsubishi. And while I've never cared for LCD in the past, the reviews of the A-100X would indicate it's a serious PJ.
I'm sort of holding off for now, reading reviews and waiting to see the new gen crop of PJs. If 1080P looks feasible on my budget, I'll skip the whole 720 PJ altoghether and go with the higher def machine.
morkys posts on October 17, 2006 20:59
What projectors are you used to and how far away will your next projector be from your head when you are in your viewing spot? If you have a chance to see and hear a TX 200 (HDP-J52) in action, try it out. Looks good and is definitely not loud in low mode, which is prefered anyhow.