PJ-TX100 Benchtesting, Viewing Tests and Conclusion
Audioholics/HQV Bench Testing Summary of Test Results
Perfect Score is 130
Hitachi PJ-TX100 Benchmark Score: 63 (room for improvement, but this is still an excellent performer)
Test**

Max
Points

FILM*
Results

Pass/Fail

Color Bar

10

10

Pass

Jaggies #1

5

3

Pass

Jaggies #2

5

0

Fail

Flag

10

5

Pass

Detail

10

10

Pass

Noise

10

0

Fail

Motion adaptive Noise Reduction

10

0

Fail

Film Detail

10

10

Pass

Cadence 2:2 Video

5

0

Fail

Cadence 2:2:2:4 DV Cam

5

0

Fail

Cadence 2:3:3:2 DV Cam

5

0

Fail

Cadence 3:2:3:2:2 Vari-speed

5

0

Fail

Cadence 5:5 Animation

5

0

Fail

Cadence 6:4 Animation

5

5

Pass

Cadence 8:7 animation

5

0

Fail

Cadence 3:2 24fps film

5

5

Pass

Scrolling Horizontal

10

10

Pass

Scrolling Rolling

10

10

Pass

Total Points

130

63



* "Film" Progressive mode was utilized for all HQV tests since it best handled 2:3 pulldown artifacts.
** All tests were done via Component inputs at 480i (480i via the DVI-D inputs resulted in a half-resolution 240p signal with poor detail results)
Comments on HQV Testing
We did all tests at 480i resolution using the component inputs of the Hitachi PJ-TX100 with an Oppo DV970HD as the source. Jaggie reduction was acceptable, but not stellar and we'd say that this is a unit you want to feed progressive scan to if possible. We also tested 1080p into this projector, which is passed as a (surprisingly) supported format. The scaler on the PJ-TX100 did a very good job of allowing the 1080p/60 to fit into its native display and we noticed only a slight softening of the image overall. Whenever possible, you'll want to give the PJ-TX100 a 720p native source.
Viewing Evaluation
This is a very clean projector. The presence of screen door effect is more pronounced than some units, but the Hitachi makes up for it with a stunningly clear picture. The optics on this unit are simply above-par. Remember, when this unit first came out it was priced at $2,999. Now, for a ~$999 street price, you're looking at a first-class bargain product that is sure to impress.
HDTV: CSI: Crime Scene Investigation
I've shot screen captures of CSI before in my viewing evaluations and the Hitachi provided some of the best pictures I've seen (though my camera certainly isn't the best visual descriptor you'll find). Skin looked natural - not oversaturated or washed out - and texture was abundant. Shadow detail was present provided you were in a light-controlled room. Brighten the lights and, like with any projection system, your black resolution will be lost in the shuffle. Note the vibrant, but realistic colors available from this system - it was stunning to watch - and indeed we viewed a ton of prime time shows, quickly losing track of time.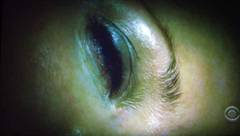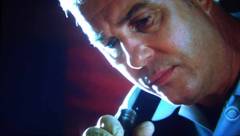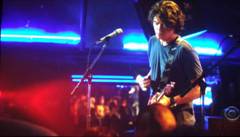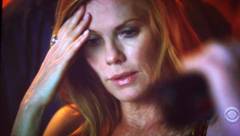 HDTV: Shark
Shark is a new show on network TV and stars one of my favorite actors: James Woods. Aside from lending his voice to numerous animated movie villains, Woods does an incredible job on-screen as well. Of course, having Jeri Ryan (Star Trek: Voyager, Boston Public, The O.C.) as a co-star certainly doesn't hurt the show one bit, either. This show had some pretty poor HD shots (blurry, poor lens choices, etc) but occasionally they'd get a shot right and you could really read the detail in the scene or spy some of the actors - natural facial definition (something that would more than likely bring horror to their publicists' faces if they knew). This is a great show, and don't get me wrong - it looks fine in HD, but it was one of the more difficult screen capture sessions I've had due to there not being a ton of clear footage to select from.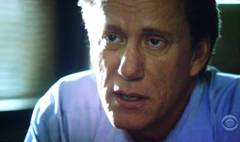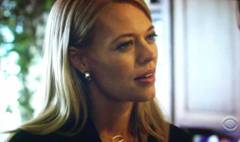 Though the color here appears a bit muted (Woods) and accentuated (Ryan) this is a result of the camera. Overall everything appeared well-saturated, but not overly so, with excellent black level detail (for LCD) and smooth color gradients.
Thursday Night NFL Kickoff Game
This was it - the day we were all waiting for - the opening game of the NFL's regular season. With the Superbowl champions, the Pittsburgh Steelers going up against the Miami Dolphins it was sure to be a good game. We weren't disappointed - with the game that is. As for NBC, I am now declaring them an official "HD-laughingstock" as the problems they experienced throughout pre-season now made their way into the regular season. Consistent throughout the entire game was an apparent resolution/focusing problem that would suddenly, and without explanation, blur the picture nearly every time the camera went to instant replay or showed the teams set for a snap. How no one noticed this is beyond me, but I surveyed enough people to know that it is at least present throughout multiple affiliates here in Florida. The problem was so bad that even "non-videophiles" like my father-in-law questioned what was going on (it's hard to miss the effect sitting 13 feet away from a 100-inch screen). Nevertheless, we grabbed some screen shots of non-blurry moments, which appeared exceptionally detailed and colorful (but without the artificial green push you might see in many uncalibrated "sports mode" settings).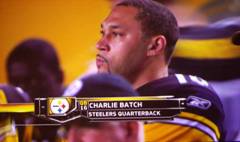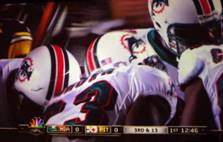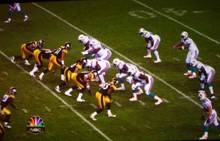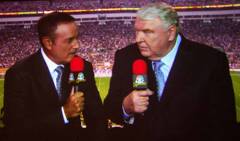 Check out the shot of Charlie Batch. Close-ups like this were outstanding, and watching the tried and true commentary by none other than Al Michaels and John Madden was great. Now, if Joe Theismann would just retire from his tired "overstating-the-obvious-and-getting-his-facts-wrong" Monday Night commentary, all would be well. I swear, the idiot who put Theismann on Monday Night Football should be forced to actually listen to him provide commentary on a game - just once they should do it.
Conclusion
For $2999 this projector would have a TON of competition and would be difficult to recommend - but with a street price of $999 it's a no-brainer. The Hitachi provides lots of features and an incredibly detailed lens system that delivers precise resolution and clarity. This is a projector I think can fit into any entry-level system and provide years of enjoyment. The remote gets our "kudos" award for hitting all of the basic requirements and basic 2:3 pull-down features means that even standard definition video will be passable on this system. The PJ-TX100 is a solid performer, so be sure to put it on your "short list" when shopping for a sub-$1000 projector that works well in the home theater environment.
Hitachi PJ-TX100 LCD Projector
MSRP: $1099
Hitachi Corp
P.O. Box 3900
Peoria, IL 61612
800-HITACHI.
www.Hitachi.us
About Hitachi
Hitachi America, Ltd. markets and manufactures a broad range of electronics, computer systems and products, IT services and industrial equipment and services throughout North America. Hitachi America, Ltd., the administrator of this web site, was established as a wholly owned subsidiary of Hitachi, Ltd. on October 28, 1959. Today, Hitachi America and its 10 subsidiary companies in North America have approximately 4,400 employees.
The Score Card
The scoring below is based on each piece of equipment doing the duty it is designed for. The numbers are weighed heavily with respect to the individual cost of each unit, thus giving a rating roughly equal to:
Performance × Price Factor/Value = Rating
Audioholics.com note: The ratings indicated below are based on subjective listening and objective testing of the product in question. The rating scale is based on performance/value ratio. If you notice better performing products in future reviews that have lower numbers in certain areas, be aware that the value factor is most likely the culprit. Other Audioholics reviewers may rate products solely based on performance, and each reviewer has his/her own system for ratings.
Audioholics Rating Scale
— Excellent
— Very Good
— Good
— Fair
— Poor
| Metric | Rating |
| --- | --- |
| Detail and Resolution | |
| Deinterlacing & Scaling | |
| Contrast and Black Levels | |
| Color Reproduction | |
| Noise Reduction | |
| Calibration Options | |
| Build Quality | |
| Ergonomics & Usability | |
| Ease of Setup | |
| Features | |
| Remote Control | |
| Performance | |
| Value | |

morkys posts on April 03, 2007 10:56
If you're using the low bulb mode the bulb is quiet enough in my experience.
hoofdpijn posts on April 02, 2007 21:17
Projector is plenty bright for HDTV viewing with light on in the room. I have a little clamp on lamp with a 60 watt bulb in it next to the couch and I can barely tell a difference with it off or on. Picture is very nice on this proj.

The fan on this thing is ridiculous and is my only regret in purchasing. Totally unacceptable level of fan noise. Unless mine is defective...Hitachi should be ashamed. It sits about 7 feet above and 5 feet behind my head and the noise is crazy. It's easily twice as loud as my Epson Home 10 which is sitting on a shelf behind my viewing position about 15 inches from my head. I've read numerous reviews of this projector and only the Audioholics review makes any mention of fan noise being an issue. All the rest say it's one of the quietest projectors on the market which makes me think something is wrong with my brand new projector. It's frustrating to have such a nice picture and to not be able to enjoy it.
bri1270 posts on February 13, 2007 09:54
How bright is this projector? I read the review and there isn't much mention of it.
Rob Babcock posts on October 17, 2006 21:31
morkys
What projectors are you used to and how far away will your next projector be from your head when you are in your viewing spot? If you have a chance to see and hear a TX 200 (HDP-J52) in action, try it out. Looks good and is definitely not loud in low mode, which is prefered anyhow.
I've never heard of the TX 200. Unless/until I move, the PJ will be mounted pretty close to where it is now, which is to say between about 12-14 feet from the front wall, essentially right above me. I prefer to stick with a screen size of about 80" or so. Most PJs will project an image of that size in about that distance range. I don't want it much closer (ie in front of me) because I find it visually distracting. Much further back & most PJs don't have the zoom to project that small, plus I don't want to lose light. Lastly, my room isn't huge, so if I go much further back I'll be getting pretty close to the back wall, which I'd like to avoid for noise & ventilation issues.
Right now I use an Optoma H31. I've been thinking of buying an HD70, because I've been delighted with my current Optoma, and the '70 uses the same mount as the H31- that will save me time & money. But I've also been thinking of getting a Mitsubishi. And while I've never cared for LCD in the past, the reviews of the A-100X would indicate it's a serious PJ.
I'm sort of holding off for now, reading reviews and waiting to see the new gen crop of PJs. If 1080P looks feasible on my budget, I'll skip the whole 720 PJ altoghether and go with the higher def machine.
morkys posts on October 17, 2006 20:59
What projectors are you used to and how far away will your next projector be from your head when you are in your viewing spot? If you have a chance to see and hear a TX 200 (HDP-J52) in action, try it out. Looks good and is definitely not loud in low mode, which is prefered anyhow.