Epson Pro Cinema 6010 3LCD Projector Preview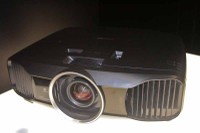 Summary
Product Name:

Pro Cinema 6010 3LCD Projector

Manufacturer:

Epson

Review Date:

September 10, 2011 06:37

MSRP: $3999
First Impression:

Gotta Have It!

Specifications

2D & 3D full HD 1080p
2D-to-3D conversion
Astounding brightness — 2400 lumens color and white light output1
Advanced 3D technology — Epson's Bright 3D Drive for enhanced brightness in 3D mode
Exquisite detail — up to 200,000:1 contrast ratio, Super-resolution technology (2D mode) and superior processing for the most discerning AV enthusiasts
Rich, vibrant color and reliable performance — 3LCD, 3-chip technology
Accurate and exceptional picture quality — built-in cinema filter and THX certification (pending)
FineFrame technology — smoother frame interpolation and sharper video quality (2D mode)
Two anamorphic lens modes (stretch and squeeze) — enables 2.35:1 anamorphic viewing without an external processor1
Outstanding installation flexibility with maximum image quality — Fujinon OptiCinema lens (2.1x zoom ratio) and a manual lens shift of up to 96.3% vertical and up to 47.1% horizontal
Optimum output in any environment — ISF calibration enables you to customize specific settings
Split screen feature (not available in 3D mode) — project two images side-by-side from two different sources
3D glasses — includes two pairs of active shutter 3D glasses
Also includes — spare lamp, cable cover and mount
Outstanding support — three-year limited warranty; next-business-day shipping service
Executive Overview
Among one of the brighter, no pun intended - OK, yes it was!) moments of CEDIA occurred when we witnessed the demo of Epson's new Pro Cinema 6010. This is Epson's newest Pro model (which means it comes in black and is sold through traditional dealers only). The new projector replaces the Pro Cinema 9700UB (currently our reference projector). As you'd come to expect from Epson, the new 6010 comes with a full 3-year service warranty (and there is no limit on hours of use) and that warranty service includes advance replacement (typically within 48 hours from Epson to the client). Like all Epson Pro models the price includes a spare lamp, Chief ceiling mount (this is a new mount style), and a plastic rear cable cover to dress up the connections. New for 2011's Pro Cinema 6010 is the inclusion of 2 pairs active shutter glasses... that's right, the Pro Cinema 6010 is fully 3D compatible. Additional glasses can be ordered at time of purchase and the retail is under $100 (these are consortium glasses and very cross compatible with most IR-based systems).
Since the 6010 projector is 3D, it needs to have emitters for timing the active shutters on the glasses. This is an 18-LED array located just to the right of the lens. The design is that the timing signal would bounce off the screen, but there is also an external emitter option for installations where the projector is hidden or placed within a hush box.
3D traditional lowers the light reaching the viewer, since the glasses are constantly shutting of one eye - the effect is a 50% reduction in light. Epson uses something it dubs "3D Drive Technology" in its new projectors (including the 3010, 5010 and 3010e and 5010e), which drives the panels at 480Hz, essentially doubling the image refresh rate of 240Hz panels and boosting light to the viewer while reducing crosstalk. The other thing we were surprised to hear was that these new projectors crank up to 2,400 lumens (obviously in peak output mode). Epson is using a 230W E-TORL lamp for all of their new projectors and is claiming a contrast ratio of 200,000:1. What we're seeing as a general trend is that manufacturers, in compensating for the effects of 3D on realized light output, are having to use different, brighter technology to achieve the same calibrated performance with 3D content.
Some interesting features that also caught our attention and are worth mentioning:
2D-to-3D conversion upconverts standard video to 3D with variably control over the effect
THX certification pending (presumably while the check clears)
Two anamorphic lens modes (stretch and squeeze) which allows you to achieve 2.35:1 anamorphic viewing without an external processor
Split screen feature in 2D which lets you project two images side-by-side from two different sources
We were very impressed with the demo of the Pro Cinema 6010. It had deep blacks, though it was still obviously a traditional 3LCD system and had its limitations. What's truly impressive is what the effective contrast and color looks like - and for under $4000. In fact, the new Epson Pro Cinema 6010 is shipping in November for $3999.
BMXTRIX posts on July 06, 2012 13:27
The 6010 is identical to the 5010 and should not be readily available as an 'online' purchase. So, you should see things closer to the MAP of that projector across the board. I would recommend you to get the 5010 instead of the 6010 if you want to start counting your pennies, or if your screen size is under 110", I would get the JVC RS45.
BadKnees posts on July 05, 2012 21:48
I been looking for a epson 6010 projector but I get different prices. Can anyone recommend where I could the best price?
Frankzzz posts on June 13, 2012 21:36
Sich selbst als Saubermann verkaufen
Jerod81 posts on June 09, 2012 01:20
Just got my epson 5010 set up a couple of weeks ago. I LOVE it!!! I have control of almost all light where the screen is concerned, but even when the lights, that are 5ft from the screen, are on the picture is still pretty amazing. I watch a lot of tv on it, and it has as good if not better of a picture than my Samsung 1080p LCD tv, and for blu rays it is even better. The only thing I have watched in 3d on it so far is a 3d aquarium that was on sale at best buy, but the quality of that was AMAZING!! The only downside I have noticed is that the glasses for 3d viewing are $100 a piece. But for the price, I highly recommend the epson 5010/6010 projector for any type of use
Patrick G. posts on February 17, 2012 09:56
Good review