Epson 810 Basic Setup, Connections and Remotes
First and foremost, you'll want to get your projector situated as close to an ideal position as possible. What's ideal? Well, hanging from the ceiling with the lens directly in line with the top of the screen and the lens centered. Generally, you will be able to utilize the lens shift function to correct just about anything, provided you can locate the projector lens within the boundary of the screen (and not to an extreme corner). The power cord that comes with the Pro Cinema 810 HQV is just under 10 feet long - that gives you a good amount of leeway for getting to a power outlet. Connections are on the back of the units and with the HQV option you'll merely be supplying HDMI and RS-232 from the TX3 to the Pro Cinema 810 HQV display. The TX3 HQV Processor will take DVI-D or HDMI for a digital signal input and can even handle 1080p at 24/30Hz via the component inputs.
Throw Chart for Distancing the Projector from a 16:9 Projection Screen
Screen Size
Diagonal (inches)

Size (Inches)

Distance (Feet)




width

height

wide

tele

70

61.0

34.3

6.8

14.1

80

69.7

39.2

7.9

16.2

90

78.4

44.1

8.9

18.3

100

87.2

49.0

9.9

20.3

110

95.9

53.9

11.0

22.4

120

104.6

58.8

12.0

24.5

130

113.3

63.7

13.1

26.6

150

130.7

73.5

15.1

30.7

170

148.2

83.3

17.2

34.9

200

174.3

98.1

20.3

41.1
Connections
I actually would like more connections, but then again with modern AV processors and receivers, perhaps the 1 rack space TX3 is all you need. In any case, composite, s-video, component, DVI-D and HDMI are all accounted for and will ensure that whatever source you are sending to the display - it can be entered into the TX3. The argument for additional inputs would be mostly limited to HDMI. In this way, you could connect a PlayStaion3, Digital Cable box, DVD player and even a HD-DVD player to your processor without the use of a switcher (or more importantly, going though any additional video processing before the signal gets to the HQV processor). As it stands now, this $3000 processor may require the use of a separate HDMI switcher or the use of a modern AV processor or receiver. Taking a look at both units, wee can see the available inputs:


TX3 HQV Processor


Pro Cinema 810 HQV (typically only HDMI and RS-232C connections will be used when combined with the HQV processor)
Epson Pro Cinema 810 Remote Control

The Epson remote is rather bulky, though it makes the effort to appear curvaceous and conform to the user's hand. It fails at this, but it does excel at several points. First, the Pro Cinema 810 and remote have the best IR transceiver/receiver system on the planet. The IR control system designers are at Epson should be licensed out to every other manufacturer on the planet (especially the new entry-level display companies) and take the industry to school on how to make remotes communicate to devices. You can just about point the remote anywhere and it will control the unit. In fact, I was actually trying very hard to PREVENT the remote from controlling the Epson and I failed miserably most of the time unless I physically block the IR receiver with my entire hand (a finger wasn't enough). Pointing the remote at the screen works wonderfully (bouncing it back to the projector) and you can do just about anything you want and still retain IR control.
Aside form the bulkiness, the remote has some other positive and negative features in my opinion. The presence of direct input selection buttons is always a plus - as are the discrete power controls. You have access to just about every major function on the projector that would be needed on the fly, including Memory settings, Color Mode, Aspect ratio and even some you don't - like Color Temp, Gamma, Skin Tone and Pattern.
I would love for the backlight button to either be located on the side of the remote or in a state where it could be configured to come on with any button press. As with all projector remotes, the buttons should light up all the time when pushed - after all, this is a home theater projector and it's going to be used in varying levels of darkness. Overall this is a good remote and will be easily programmable into either consumer universal remote controls or a more robust system.
Silicon Optix HQV TX3 Remote Control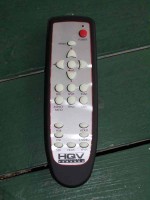 The HQV TX3 remote control made the Epson look even better. Resembling the Westinghouse LVM display series remotes (same Chinese manufacturer), the TX 3 doesn't even sport a discrete on/off switch or any backlighting to speak of. The buttons do glow in the dark, however making this remote suitable for use in any cereal box giveaway.
The remote is separated into three main sections - navigation, source selection and HQV features and controls. These HQV onboard controls include some of the more detailed HQV settings like Film mode and Aspect Ratio. Codec Noise Reduction (CNR), Temporal Recursive Noise Reduction (TRNR), and a split function are also included. Split allows you to compare the noise reduction using a split screen where only half the image is processed. There is also a direct button for Brightness/Contrast Enhancement (BCE) which is essentially a form of Picture Mode for using the projector in Day or Nighttime situations.
Its IR functionality was fine and it got the job done, but for the price of the processor I'm guessing Silicon Optix supposed no one in their right mind would be using this remote for very long - and they are probably right.
nitingdalvi posts on November 17, 2007 20:01
Hi y'all:
New to this site, so I hope someone can help me. I just had installed the Epson Powerlite Homecinema 1080p. I already had a curved, 4:3 ,100" diagonal screen that was installed some years ago. The installer told me that this projector would work best with a flat screen rather than a curved one. Is this true? Are there anysettings that would adjust for the fact that the screen is curved?

Also, how can I change the aspect ratio to 4:3. Is this done through the settings menu?

Does this projector have a keystone correction?

Thanks
Nitin
vcarangelo posts on May 29, 2007 18:41
I'm confused about your reviews on the Powerlite Pro 810 hqv and Powerlite 1080P projectors:
First, does using the HQV processor yield a 1080P pix on the 810 projector even though the projector isn't rated at 1080P?
Second, you gave the 810 HQV a score of 125 and an excellent rating, but the 1080P got a score of 85 and failed most all of the film detail tests. Does this mean that, although the 810 HQV can't display 1080P it delivers a far superior picture compared to the 1080P?
Conversely, although the 1080P can display 1080P natively, it's picture quality is far worse than the 810 HQV combo?
I'm new at this so please excuse how dumb it may sound!

Thanks
Clint DeBoer posts on March 29, 2007 20:22
Oops... I literally had both units in at the same time and did the reviews back to back - sorry about that!
trivee posts on March 29, 2007 13:12
in the section about performance: Clint says "Shrek 2 looked amazing on the Pro Cinema 1080. Blacks were deep and had plenty of depth. Skin and clothing detail was exceptional, being 3D rendered with an absence of any noise or film deterioration."
I figure he meant the 810 but i guess i want to be sure!
Clint DeBoer posts on March 29, 2007 08:18
It's the identical video processor, but you have different access controls, and of course a separate box that takes various inputs, etc. As far as performance potential it measured almost identically to the DVD-3930CI. The difference is that you cannot run your cable box through the HQV processor in your DVD player. See
this article [audioholics.com]
for more info on video processing.