Epson MG-50 and MG-850HD MegaPlex Projectors Preview
Summary
Product Name:

MG-50 and MG-850HD MegaPlex Projectors

Manufacturer:

Epson

Review Date:

September 19, 2011 03:25

MSRP: $699 - $799
First Impression:

Mildly Interesting

Specifications

Display technology: 3LCD
Resolution: 1280x720 (MG-850HD); 960x540 (MG-50)
Brightness: 2,800 lumens (MG-850HD); 2,200 lumens (MG-50)
Microphone input

2 x 10W speakers
Inputs: HDMI, VGA (HD15), composite, component, stereo audio
Outputs: headphone
USB Plug 'n Play instant setup
2-year limited warranty with toll-free PrivateLine priority technical support and free two-business-day exchange with Extra Care Home Service

Executive Overview
Epson America today announced its innovative new line of portable, combo projectors, the MegaPlex MG-850HD and MegaPlex MG-50. Both systems pair a value-priced, bright projector with stereo speakers and a built-in dock that is compatible with nearly all iOS devices (iPod, iPhone and iPad). The MegaPlex projectors specifically target both entry-level home theater enthusiasts and professionals who want a single, integrated solution for presentations or movie-watching.
The MegaPlex MG-850HD and MG-50 make it easy for consumers to watch movies, view presentations, share photos, or enjoy content saved on portable devices on a big screen. You can easily project, play and charge an iPod, iPhone, or iPad, or share high quality imagery from a variety of other media devices, like smartphones, PCs, tablets, or game consoles.
Both solutions are powered by Epson's 3LCD panels. The MegaPlex MG-850HD features native 720p high-definition resolution and 2,800 lumens of brightness (max output), while the MegaPlex MG-50 is a 540p resolution display with up to 2,200 lumens of light output. The projectors each have two 10W stereo speakers built-in, and since there are iOS docks also built-in, you can use the projectors to play music from your iPhone, iPod or iPad at any time - even without video. With the included microphone input, users can also narrate photo and business slideshow presentations, or - dare we suggest - sing karaoke (please don't).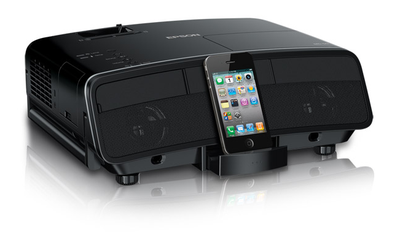 Both models also come with what Epson calls it's "USB Plug 'n Play" instant setup, where you can instantly connect a Mac or PC and project an image without requiring HDMI or HD15 video connections. It essentially integrates display drivers into the projector. For portability, both of Epson's MegaPlex projectors come with a built-in handle, so you can literally pick them up and carry them with you to the meeting.
Both the Epson MegaPlex MG-850HD ($799) and the MegaPlex MG-50 ($699) will be available this month (September) through select retailers nationwide and via the Epson online store. The projectors come with Epson's top-of-the-line service and support, including a two-year limited warranty with toll-free access to Epson's PrivateLine priority technical support and free two-business-day exchange with Extra Care Home Service.
For more information please visit www.Epson.com.