HC8100 Set Up and Remote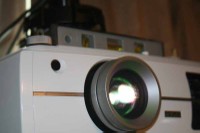 We mounted the Epson 8100 to our Peerless PRG-UNV Precision Gear universal projector mount using its four screw anchor points. I like that this projector has four mounting points. All projectors should, though it often seems like the heaviest ones are the ones that choose to go with just three – go figure. We again leveled the projector by using a simple torpedo level which we placed atop the projector to square it to the screen and apply the manual Zoom and Focus. The 8100 had the same Fujinon 2.1:1 lens that exists across the entire lineup and it produced a flawless 92-inch picture on our Carada Masquerade masking projector screen. Since the Epson has a 96% vertical and 47% horizontal lens shift, you can place it just about anywhere and hit a screen without having to resort to keystoning (which is good, because the 8100 doesn't have any).
The Color modes are the same as with the 6500UB and we really liked that the Dynamic mode delivers much better color than one would expect. Epson has done away with the typical green tinge you will find on most other Vivid or High output modes.
Dynamic - The image appeared bright, but not nasty green like many other projectors. Epson did a great job keeping the color in line while increasing output to its maximum potential. With some minor calibration this can actually be an excellent Daytime mode for regular use.

Living Room – This mode isn't as profoundly bright as the Dynamic mode, but offers a bit more boost with the lamp in Normal mode.

Natural - This is a your best bet for rooms with little ambient light where you'd still like to maintain some semblance of Black level. Color temp is set to 6500K. I actually preferred this mode to Theater mode.

Theatre - This mode also uses the projector's "High" Brightness control but sets the color temp up at 7500K for a brighter, more "white" (Blue) white.

Theatre Black 1 - This is the recommended starting point for a fully light-controlled room. It sets the Brightness Control to Low and puts the color temperature to 6500K. This is where you'll want to begin calibrating the projector for your home theater.

Theatre Black 2 – I recommend using this mode to tweak your black and white movie playback – if you care about such things. It's always nice to have a mode with a bit more red to simulate the way old projector houses used to show them (with warmer bulb temperatures).

x.v.Color - This mode locks out most color adjustment controls and opens up the color depth to the larger "Deep Color" color space. It's not "accurate" to ATSC CIE standards, but it can look nice.

Connections
The Epson Home Cinema 8100 projector has enough inputs to meet almost anyone's needs. Though you'll likely only use one, there are two HDMI inputs and a single component video (YpbPr) input, plus a composite and S-video input for legacy sources. It's nice to know that you don't need to step up to the Pro Cinema line to get RS-232 control and if you want, you can connect any PC to this projector and send it screen resolutions up to 1920x1080.

Remote Control
The remote control is unchanged and features the same, easy-to-use backlit functionality as prior models. This remote is excellent and delivers direct access to each of the projector's six inputs. You also continue to have direct access to such functions as Aspect (ratio), Memory, and Color Mode – which is nice for on-the-fly changes. The backlight is activated by a small button on the top right of the remote and remains on for approximately 10 seconds after the last button press.

This remote is backlit perfectly and easy to use in the dark
mpompey posts on August 24, 2010 12:14
I've got the 8500UB and I love it so much. I am falling in love with some of my older DVD releases thanks to Frame Interpolation. I fainted watching Avatar in full 1080P glory. Who needs 3D when you've got a good projector.
silversmith posts on August 24, 2010 12:00
I am in love with this device, thanks for the advice
davecraze posts on August 18, 2010 23:12
I have contacted Epson and they tell me the 8100 has a Pixelworks processor, not the Reon. Please see below:

-------------------------------------------
Discussion Thread
Response (Jesus A) 08/18/2010 03:25 PM
Dear David,

Thank you for contacting Epson regarding your incident.

The Home Cinema 8100 does not use the HQV processor. It uses a PixelWorks processor. The projectors that use the HQV processor are the units that had the UB designation, like the 8500UB.

Should you require further assistance, please reply and reference incident ID: 100816-002813. If you have a different support issue, submit a request via our U.S. or Canada Support Site and we will respond in a timely manner.

Thank you again for contacting Epson.

Jesus A.

Question Reference #100816-002813
Escalation Level: Manila Unassign Incident
Product Level 1: Projector - Home Theater
Product Level 2: Epson PowerLite Home Cinema 8100
Category Level 1: None
Date Created: 08/16/2010 12:14 PM
Last Updated: 08/18/2010 03:25 PM
Status: Resolved
BMXTRIX posts on May 18, 2010 14:08
Good review. I will continue to complain, with a smile, that I wish the reviews got into a bit more detail on some of the basics...

ie: What does the offset mean when it comes to a 100" diagonal screen? (I know this, but others may not)

What is the actual brightness of the projector and what environments is that amount of brightness, and at what screen size, is it usable?

How well will the remote work within a universal remote system? Sometimes the on/off is really tough to deliver with a single power button.

What models are comparible? The 6500UB is discontinued, so what is the real competition for this model and at what price point? Viewsonic 8100? Optoma HD20? BenQ W1000? Other?

Is there frame interpolation on this model? How does it perform if so?

Really, just a few questions that I think would be good to answer and help people with their buying decisions. This is one of the best reviews overall that I've read and I have no issues with the scoring/rating which I typically like to complain about. I've not installed one yet, but will be doing so hopefully in the next month or so. The 8100, in my opinion, is one of the best super flexible install projectors available. The lamp life is better than average, and it has good brightness. Image processing could be better, but is not inappropriately poor either. Feed it a good source (Blu-ray, high quality upconversion) and you will get a good image.

A blurb on organic vs. inorganic panels is also necessary since most people are unaware that the inorganic LCD panels, as used on the big brother 8500UB and the old 6500UB are designed to last longer compared to the organic LCD panels which the 8100 uses.

I am a bit suprised that the 8100 is being compared so much to the 6500UB, when it is designed as the replacement for the 6100. In almost all regards it's an upgrade on the 6100, which was no slouch either, and comes in for less money there as well.

Good stuff on this review and people really should be putting this projector way up there if they can hit the price point for it. Epson has really been putting out some nice product in the past few years for the home theater market.
jostenmeat posts on May 14, 2010 00:36
mpompey;717371
How big is your screen exactly? Did you encounter any issues with your 8100? Did you get the 8100 or the 8100 UB?
I never said I had an Epson, let alone 8100/UB. I don't want to go too off track in this thread based on the 8100 review; I only jumped in for a moment to lend my help towards a particular post. If you have more questions regarding my setup, please free to continue via PM. FWIW, my PJ is not always known to be exceptionally good with motion, but it's fine for me, and my guests. In fact, I'll send a PM now.