Viewing Tests and Conclusion
I was surprised at just how good 720p looked. While 1080p is all the talk, 720p images still look seamless and beautiful from the right distance. With the Epson Home Cinema 720 that distance is about 11 feet or more, assuming a screen size no larger than 96-inches. From there you can do the math to see how it will affect a different seated distance or screen size. At this distance we noticed absolutely no screen door effect - and we were looking hard for it.
Blu-ray - The Fifth Element (Remastered)
We've run this disc into the ground, but I can't help but continue to bring it back for more as I test projectors to see how accurately they reproduce color and detail. Once Sony fixed this disc and re-released the updated Blu-ray version it once again found a home in my reference list of Blu-ray titles. I focus on several things with this disc - there are so many to choose from. First off, we show the incredible richness of the regeneration sequence and I also included some shots which put forth a great example of high amounts of detail with little to no noise present on the screen.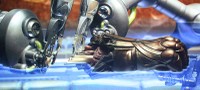 This is for color - it's almost surreal the color quality put out from this box

And this is for Black level and detail, which were superb
Blu-ray: Selections
I grabbed a selection of clips from the Dolby: The Sound of High Definition Blu-ray disc. It was actually tough to find adequate tracks, since the disc was kind of sucktacular in the video department - obviously devoting most of its energy on the lossless TrueHD tracks contained within. Nevertheless, I located some real gems which I felt gave the Home Cinema 720 a chance to preen its features and display its full plumage:

Ghost in the Shell 2 - you could truly peer into the dark areas of this scene without losing all semblance of definition and detail.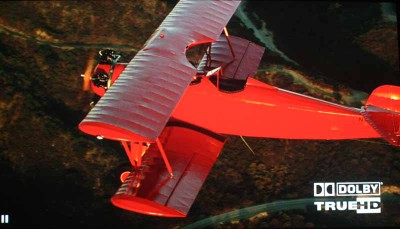 This clip captured the vivid reds as well as a whole host of Black level that cannot be ignored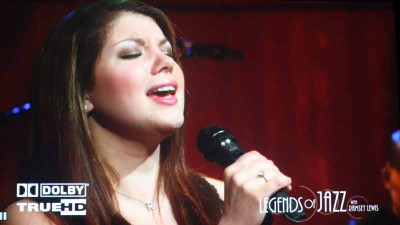 Jane Monheit looked as real as could be singing "You Can't Take That Away From Me" in the Legends of Jazz clip.

And what would an exposition of detail and black levels be without a colorized clip from Harry Potter and the Goblet of Fire?
HDTV: Summerfest
I don't watch much MTV, but their HD channel has a lot going for it. This week they played a Summerfest show that really delivered some nice HD footage directly to my screen in a way that couldn't be ignored:
HDTV: Golf Channel
I'd get specific on which course, event, etc I recorded to capture these golf shots below, but a) who cares, and b) anyone who cares is probably geeky enough to recognize the course and the event. Now that I have alienated all of the golfers let me just say that I have a new measurement for "resolution" and "detail". If you want to know if your HDTV or HD projector is detailed, simply watch golf and see if you can pick out the dimples in the ball when it's lying on the green. If you can, you're in good shape. If you can't, you are either not watching in HD or you probably have a low resolution display: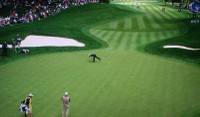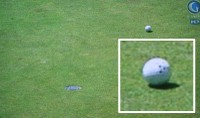 The inset at right is mine, but I could clearly see the dimpled ball lying on the green during these setup shots which appear frequently in televised golf tournaments.
Conclusion
The Home Cinema 720 is a great projector. At $1,299 retail this unit should just about fly off the shelves. There is a sort of stigma surrounding 720p projectors now that 1080p has flooded the scene, but the truth is 720p is often more than sufficient for most people's homes, especially if you ensure that you sit far enough back from the screen. In addition, Blu-ray looks just wonderful on 720p and most PS3 and Xbox 360 games are designed with that resolution in mind. We love 1080p projectors, but for those who are trying to trim their budgets and still get a fantastic picture, Epson is clearing a path to home theater bliss with the Home Cinema 720.
Epson PowerLite Home Cinema 720 LCD Projector
MSRP: $1,299
Epson America, Inc.
One Epson Way
Secaucus, NJ 07094
www.epson.com
About Epson
Epson offers an extensive array of award-winning image capture and image output products for the consumer, business, photography, and graphic arts markets. The company is also a leading supplier of value-added point-of-sale (POS) printers and transaction terminals for the retail market. Founded in 1975, Epson America, Inc. is the U.S. affiliate of Japan-based Seiko Epson Corporation, a global manufacturer and supplier of high-quality technology products that meet customer demands for increased functionality, compactness, systems integration and energy efficiency. Epson America, Inc. is headquartered in Long Beach, Calif.
The Score Card
The scoring below is based on each piece of equipment doing the duty it is designed for. The numbers are weighed heavily with respect to the individual cost of each unit, thus giving a rating roughly equal to:
Performance × Price Factor/Value = Rating
Audioholics.com note: The ratings indicated below are based on subjective listening and objective testing of the product in question. The rating scale is based on performance/value ratio. If you notice better performing products in future reviews that have lower numbers in certain areas, be aware that the value factor is most likely the culprit. Other Audioholics reviewers may rate products solely based on performance, and each reviewer has his/her own system for ratings.
Audioholics Rating Scale
— Excellent
— Very Good
— Good
— Fair
— Poor
| Metric | Rating |
| --- | --- |
| Detail and Resolution | |
| Deinterlacing & Scaling | |
| Contrast and Black Levels | |
| Color Reproduction | |
| Noise Reduction | |
| Calibration Options | |
| Build Quality | |
| Ergonomics & Usability | |
| Ease of Setup | |
| Features | |
| Remote Control | |
| Fit and Finish | |
| Performance | |
| Value | |
See also:

klk posts on October 10, 2008 08:35
When I factor the bulb in though, the Epson is $350 less than the Panasonic!
BMXTRIX posts on October 09, 2008 16:00
I would still be hard pressed to recommend this over the AX200, but it's just so marginally close it seems between projectors these days. Hands down, the issue is that there are to many EXCELLENT choices out there, and this one is not really different. That is, the projectors is top notch and likely blows away projectors from just a few years back that were ten times the price.

What are we talking though... $6 in price difference between the Panasonic and the Epson... Yep, that's going to be a harder decision to make. The Panasonic I've actually put up on a Carada 160 BW screen and was shocked at how bright the image was at that size. So, while the Epson is solid, if you do want the killer bright, it may still be better to go with the Panny.

On the other hand, what are the odds we'll see 1080p dip below $1,500 this year since the Sanyo and BenQ models are basically near $2K already? Heck, the new Sanyo is $1,799... Gotta wonder how solid that model is for only about 500 bucks more.
klk posts on October 09, 2008 11:56
I am really torn between this and the Panasonic PT-AX200U. I am leaning towards the Epson, but have a single concern - Fan Noise. I have read that the Fan is quite loud in the brightest modes (which I would be using most of the time to watch Hockey in a room with lights on.). Is the fan noise that bad in living room or dynamic mode? Thanks.
hifisyd01 posts on July 02, 2008 13:12
I own an HC720 and could not be happier. Granted, I'm a projector noob, but the perforance to value ratio on this unit is off the charts in my opinion. I'd recommend it without hesitation!
ivseenbetter posts on June 11, 2008 19:33
I was looking at this projector to buy for my room. I read a lot of reviews and I really enjoyed this one. Ultimately I decided to go with the Mitsubishi HC1500. The Epson has better placement flexibility but I am more than happy with my choice.