Remote, Calibration and Bench Testing

The remote hasn't changed in years and is the same unit that ships with all current Epson Home Cinema models. The range is still above average and the remote features the direct input selection and discrete power functions for which Epson is known. Direct access is provided to Color Mode, Memory functions, Aspect ratio, Gamma, Contrast, Color Temp, and Skin tone controls. If anything, the remote provides a few too many ways to screw up your image "on-the-fly", but we won't complain too much. A Blanking function lets you quickly black out the screen (but without shutting down the lamp) and a Pattern button brings up a single blue-background crosshair test pattern that seems only useful for setting focus and aligning the edges of the image. The most likely reason there aren't additional patterns, say for setting black and white levels, is that with those calibrations you want to configure the system, not the projector in and of itself. Having the projector put up a gradient does nothing to help calibrate what happens when it is fed a similar-type signal from your DVD or Blu-ray player.
The Menu System
The Epson Home Cinema 720 menu system doesn't differ in any meaningful way from the Pro Cinema 810 model that we reviewed in great detail. Except for a lack of ISF-specific features, feel free to read that review for a specific breakdown of the menu screens and functions you can expect to see. What I will say is that the menu system remains a bit tedious, with multiple button presses required to enter and exit the menu and it's almost endless submenu systems. Each function seems to have to be activated first, and then adjusted rather than simply selected and adjusted. Epson would do well to look at some of its competition and learn a few things about user interface design.
Calibration and Initial Settings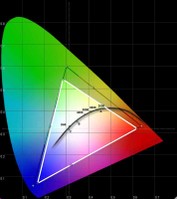 The Epson Home Cinema 720 didn't do so bad out of the box, though with the Auto Iris engaged you'll end up netting a 2.5 Gamma curve overall (we prefer closer to 2.2). When we calibrated the projector we did it with the Iris system 'Off', since leaving it on would severely hamper our efforts at getting any sort of stable results. Once Auto Iris was re-engaged, we double checked our Black and White levels and allowed the system to expand the overall contrast by varying the light output of the projector.
Using datacolor's ColorFacts Professional software to calibrate and measure the grayscale response of the Epson projector, we again found that Epson put out a system which really does well out of the box. The CIE chart showed a deficiency in Green that tended towards Blue and also some slight Blue and Red deficiencies. I've measured some better color reproduction on other projectors, but I can't say that greens didn't look vibrant (plus we'd always prefer a tilt towards Blue over Yellow.)
Technical Note: We could not get the Home Cinema to pass below black signals when sent in YCbCr mode from a Denon DVD-3930CI (a source component we know to be capable of passing Blacker-than-Black). The projector does pass above White, but we had to calibrate Black levels without the aid of a below black signal (leading us to wonder if it was truncating or clipping anything else between 0 and 7.5 IRE. Please see our article on HDMI & Enhanced Black Levels for more information.
Taking a look at the RGB levels, it was apparent that only a slight deviation existed (+/-7%) across the entire spectrum from 30-80 IRE: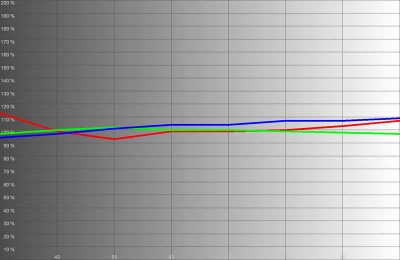 This really didn't translate into anything perceptible on the screen, though I'm sure there are some Hollywood colorists out there shaking their heads. While we did calibrate the system, we didn't find that the end results were enough of an improvement over the original to warrant recommending a third party calibration of the projector as a requirement for satisfactory performance. In addition, Color Temperature was almost spot on from 40-100 IRE only drifting a tiny bit within the midband of light output: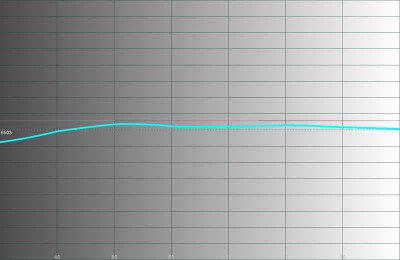 While the target color temperature ended up being around 6600K, the projector's Abs. Color Temperature setting had to be set to 7000K to achieve the results above.
Gamma wasn't the optimal 2.2 we love to see, but the picture quality still looked great and the curve lacked any S-curve issues we've seen with less competent displays and projectors:
Try lifting the Black Level up a notch if you feel that you are losing resolution in the lowest levels of dark pictures.
Light output from the Home Cinema 720 is pretty good. In fact, this 1600 lumen projector output a calculated 1121 lumens in Dynamic mode, taking into account the 1.4 gain screen and the total surface area of the system. Here is how the default color temperature and light output levels measured in our system (using a 100 IRE test pattern):
Dynamic - 62 fL; 6800K (6500K setting)
Living Room - 30 fL; 7900K (8000K setting)
Natural - 15 fL; 5700K (6500K setting)
Theater - 13 fL; 6600K (6500K setting)
Theater Black 1* - 15 fL; 6600K (7000K setting)
Theater Black 2 - 11 fL; 5600K (5500K setting)
sRGB - 18 fL; 5800K (not adjustable)
*We set Black and White levels from the default settings before measuring.
I would highly recommend the use of Theater Black 1 mode for those with light-controlled rooms. In this mode we set Epson Super White to 'On' and our Black Level was set to 1 with the White Level dialing up to 8. We also, as indicated above, configured the Abs. Color Temperature to 7000K. This resulted in a very nice picture overall, with spot-on color accuracy and a beautiful image. For those who can't quite get all the lights out, try the Living Room mode, but dial back some of the Blue by dipping the Abs. Color Temperature control down to 7000K or 7500K. You can also disable the Auto Iris for even more light output.
Audioholics/HQV Bench Testing Summary of Test Results
Perfect Score is 130
Epson PowerLite Home Cinema 720 Benchmark Score: 59 (the Epson Home Cinema 720 gets the job done, but you'll do better with more adept video sources )
Test
Max
Points
HDMI
Results
HDMI
Pass/Fail
Color Bar
10
10
Pass
Jaggies #1
5
3
Pass
Jaggies #2
5
1
Pass
Flag
10
0
Fail
Detail
10
10
Pass
Noise
10
0
Fail
Motion adaptive Noise Reduction
10
0
Fail
Film Detail
10
10
Pass
Cadence 2:2 Video
5
0
Fail
Cadence 2:2:2:4 DV Cam
5
0
Fail
Cadence 2:3:3:2 DV Cam
5
0
Fail
Cadence 3:2:3:2:2 Vari-speed
5
0
Fail
Cadence 5:5 Animation
5
0
Fail
Cadence 6:4 Animation
5
0
Fail
Cadence 8:7 animation
5
0
Fail
Cadence 3:2 24fps film
5
5
Pass
Scrolling Horizontal
10
10
Pass
Scrolling Rolling
10
10
Pass
Total Points
130
59


The projector was sent as 480i via HDMI from a Denon DVD-3930CI.
Comments on Bench Testing
There is a menu function under Image > Advanced > Output Scaling that is defaulted to 'Normal'. This function is very similar to most "overscan" features of other projectors. If you want to defeat any overscan, simply set this to 'Larger'. I preferred the Sharpness setting at -2, however some will waver between that and -3 which seems a tad soft, but actually disables all artificial edge enhancement. Anything below -3 actually seems to blur the image on the screen. If you're attempting to overcome issues associated with screen door effect (something we never noticed on this projector) you would want to opt for manually defocusing the lens slightly, and avoid any software based pixel blurring.
See also:
klk posts on October 10, 2008 08:35
When I factor the bulb in though, the Epson is $350 less than the Panasonic!
BMXTRIX posts on October 09, 2008 16:00
I would still be hard pressed to recommend this over the AX200, but it's just so marginally close it seems between projectors these days. Hands down, the issue is that there are to many EXCELLENT choices out there, and this one is not really different. That is, the projectors is top notch and likely blows away projectors from just a few years back that were ten times the price.

What are we talking though... $6 in price difference between the Panasonic and the Epson... Yep, that's going to be a harder decision to make. The Panasonic I've actually put up on a Carada 160 BW screen and was shocked at how bright the image was at that size. So, while the Epson is solid, if you do want the killer bright, it may still be better to go with the Panny.

On the other hand, what are the odds we'll see 1080p dip below $1,500 this year since the Sanyo and BenQ models are basically near $2K already? Heck, the new Sanyo is $1,799... Gotta wonder how solid that model is for only about 500 bucks more.
klk posts on October 09, 2008 11:56
I am really torn between this and the Panasonic PT-AX200U. I am leaning towards the Epson, but have a single concern - Fan Noise. I have read that the Fan is quite loud in the brightest modes (which I would be using most of the time to watch Hockey in a room with lights on.). Is the fan noise that bad in living room or dynamic mode? Thanks.
hifisyd01 posts on July 02, 2008 13:12
I own an HC720 and could not be happier. Granted, I'm a projector noob, but the perforance to value ratio on this unit is off the charts in my opinion. I'd recommend it without hesitation!
ivseenbetter posts on June 11, 2008 19:33
I was looking at this projector to buy for my room. I read a lot of reviews and I really enjoyed this one. Ultimately I decided to go with the Mitsubishi HC1500. The Epson has better placement flexibility but I am more than happy with my choice.