Overview, Setup and Basic Installation
I got an email the other day from a friend I hadn't heard from in a long time. We caught up with each other about a few things, and then he asked me: What's the best projector out there for under $1500? Wow, that's a good question, isn't it? A couple of years ago the level of quality you'd be able to expect from that price was much different. Today, it's almost amazing what consumers are getting for their money. I told him I was reviewing the Epson Home Cinema 720 LCD projector and that if it even remotely resembled its "bigger brother" the 1080 or 1080UB it would be high on my list. As I launched into the review process I found that some consumers might just do very well to eschew 1080p - especially if they are using smaller screens or sitting back more than 2x the screen width.
Hey, This Projector Looks Awfully Familiar…
It was hard for me to find any tangible differences between this projector and the stock Epson Pro Cinema 810 (sans HQV external video processor, of course.) Epson has loosely indicated that it is using a next-generation LCD panel in the new HC 720, but from the specs alone it's impossible to tell. Even the difference in HQV scores could possibly be attributed to by a slight difference in implementation of the same processing circuitry. In either case, both are excellent projectors and we noticed some exceptional color and black level potential on the Home Cinema 720:
Epson Pro Cinema 810*
Epson Home Cinema 720
HQV Score: 49
HQV Score: 59
0.7-inch TFT Active Matrix
0.7-inch TFT Active Matrix
Inputs:
Composite S-video Component PC (HD15)
HDMI
SCART
Inputs:
Composite S-video Component PC (HD15)
HDMI
SCART
Noise: 26dB (HD/Silver)
Noise: 26dB (HD/Silver)
Contrast Ratio: 10,000:1
Contrast Ratio: 10,000:1
1600 ANSI lumens (max)
1600 ANSI lumens (max)
Video Processor: Pixelworks
Video Processor: Pixelworks
12VDC Trigger
12VDC Trigger
RS-232C: Yes
RS-232C: Yes
No 1080p/24/30/60 support
1080p/24/30/60 support
Warranty: 2 years
Warranty: 2 years
MSRP: $1,599
MSRP: $1,299
*As tested without the external HQV video processing option
There are two things consumer should know. First, Epson recently stopped selling its Pro Cinema models online. Second, this is the first model to come to market that gives a consumer model number to the Pro Cinema 810 (720p) projector. Am I saying they are exactly the same? No, no, no… yes. OK, so there are possibly tiny little differences (aside from the fact that the 810 is black), however for the most part, Epson has brought the $1599 pro model to consumers - and for even less money. To put it bluntly, the incredibly low cost of entry for the new Home Cinema 720 makes it a veritable steal.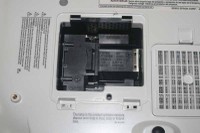 Let's pop the hood. Underneath the Epson you can find easy access to the lamp replacement compartment. While the lid comes off without any screws, its location means that you'll need to remove it from any ceiling mount before you can replace the bulb. We prefer rear- or side-entry locations for bulbs, but this isn't the end of the world. The two front feet screw down for angling the projector upwards from a tabletop location. Epson didn't include a "quick drop" mechanism, so you simply unscrew… and unscrew… and unscrew… until the height is correct. Obviously, the better installs for this projector will have the unit on a level platform so that the lens shift, and not manual or digital keystoning, will be sufficient to hit the screen perfectly.
Basic Setup and Installation
Installation of the Epson Home Cinema 720 was just as simple as can be. Physically, we mounted a universal PRG-UNV Peerless Precision Gear projector mount to the four screw positions located at the bottom of the unit. After putting it into place, it was simply a matter of first dialing in the pitch and then the lens shift. The Epson HC 720 comes with 100% vertical and 50% horizontal lens shift - making it as easy to position as any projector I've installed to date. If you mount the unit anywhere within the projector screen's plane of existence, save the extreme corners, you'll be set for a perfect keystone-free viewing experience. The projector is light and, compared to our reference Marantz VP-15S1, it was a breeze to physically mount. We fed HDMI to the rear of the projector and easily connected it to our standard power feed cable. Focus and Zoom are manual, and with the incredible 2.1:1 ratio of the lens system we could hit our screen at a distance anywhere from roughly 9 1/2 to 20 feet away. Now that's flexibility.
Once installed, it was a simple matter to test the system out and grab the best initial settings, which we found to be Theatre Black 1 with the Absolute (Abs.) Color Temperature set to 7000K. We also recommend the use of the Dynamic Iris since it can only be located in the 'On' or 'Off' position. If left 'Off' it doesn't enable the Home Cinema 720 to reach its Blackest potential. I never found the Epson's iris system to be a nuisance and it certainly wasn't audible to me - even from just 5 feet away from my seated position.
Throw Chart for Distancing the Projector from a 16:9 Projection Screen
The Epson's amazing zoom lens is on this model as well and allows for a very flexible placement. In our room we had the unit positioned at around 11 feet back and projecting onto a Carada Masquerade Projection Screen Masking System with a 92-inch Precision Series Brilliant White Screen.
Screen Size
Diagonal (inches)
Size (Inches)
Distance (Feet)


width
height
wide
tele
70
61.0
34.3
6.2
14.7
80
69.7
39.2
7.8
16.7
90
78.4
44.1
8.3
19.0
100
87.2
49.0
9.8
20.9
110
95.9
53.9
10.4
23.3
120
104.6
58.8
11.8
25.1
130
113.3
63.7
13.1
26.6
150
130.7
73.5
14.7
31.4
170
148.2
83.3
17.2
34.9
200
174.3
98.1
20.3
41.1
Connections
The connections on the Home Cinema 720 are identical to the both the Pro Cinema 720 and the Home Cinema 1080 models. You'll find one each of composite, S-video, component and HDMI, plus an SCART connection left over from the UK model. An RS-232C serial port means that Epson is serious about making this unit available for us in custom home theater systems and a trigger output is present for anyone wanting to signal a dropdown or electric screen system.

Home Cinema 720 rear connections
See also:
klk posts on October 10, 2008 08:35
When I factor the bulb in though, the Epson is $350 less than the Panasonic!
BMXTRIX posts on October 09, 2008 16:00
I would still be hard pressed to recommend this over the AX200, but it's just so marginally close it seems between projectors these days. Hands down, the issue is that there are to many EXCELLENT choices out there, and this one is not really different. That is, the projectors is top notch and likely blows away projectors from just a few years back that were ten times the price.

What are we talking though... $6 in price difference between the Panasonic and the Epson... Yep, that's going to be a harder decision to make. The Panasonic I've actually put up on a Carada 160 BW screen and was shocked at how bright the image was at that size. So, while the Epson is solid, if you do want the killer bright, it may still be better to go with the Panny.

On the other hand, what are the odds we'll see 1080p dip below $1,500 this year since the Sanyo and BenQ models are basically near $2K already? Heck, the new Sanyo is $1,799... Gotta wonder how solid that model is for only about 500 bucks more.
klk posts on October 09, 2008 11:56
I am really torn between this and the Panasonic PT-AX200U. I am leaning towards the Epson, but have a single concern - Fan Noise. I have read that the Fan is quite loud in the brightest modes (which I would be using most of the time to watch Hockey in a room with lights on.). Is the fan noise that bad in living room or dynamic mode? Thanks.
hifisyd01 posts on July 02, 2008 13:12
I own an HC720 and could not be happier. Granted, I'm a projector noob, but the perforance to value ratio on this unit is off the charts in my opinion. I'd recommend it without hesitation!
ivseenbetter posts on June 11, 2008 19:33
I was looking at this projector to buy for my room. I read a lot of reviews and I really enjoyed this one. Ultimately I decided to go with the Mitsubishi HC1500. The Epson has better placement flexibility but I am more than happy with my choice.