Home Cinema 1080 Viewing Tests and Conclusion
1080 looks fantastic, especially with 1080i and 1080p sources. We fed the Epson Home Cinema 1080 both and enjoyed being able to watch a 100-inch screen from only 10 feet away with NO screen door effect. We've come a long way in terms of technology, but each time I watched the Epson I couldn't believe this level of quality was finally available to consumers for under $3000. If we have it this good now - what's next in the world of display technology?
advertisement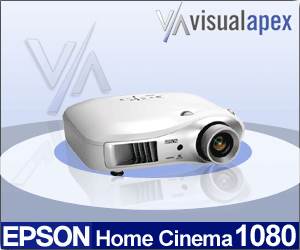 HDTV - DiscoveryHD: Jesse James - Legend, Outlaw, Terrorist
By now you probably know that just about anything on DiscoveryHD is worth watching. True, fast-paced programming will quickly show the awful MPEG-2 compression artifacts present in the signal, but the detail is often quite impressive and a refreshing change from standard definition television. I flipped on the "TV" this week to find a show on Jesse James. It had some great looking shots amidst the blurry flashbacks and retro-ized footage.
Not to be content with just a single show I found the excellent Sunrise Earth series the next day. Talk about detail - wow:
HDTV: CSI - Miami
I like CSI: Miami. Despite its colorized presentation (they color code all the CSI shows in case viewers mistakenly forget which one they are watching. It's a neat gimmick, but it also makes for some boring color palettes after a while. Still, there are moments of genius cinematography and the sets are way above par - as is the lighting. The Epson captured skin tone as well as hair and facial detail in a way that let me know 1080p isn't something that will be going away any time soon. The amount of detail this projector can reveal is astounding - and the lack of any rainbow effect or other issues makes it a dominant choice for home theater.
Xbox 360 at 1080i: Gears of War
I've been hooked on Gears of War for over a month now and play it with one of our writers once or twice a week in co-op mode. Over Xbox Live, and using headphones, it makes for a very cool gaming experience and I think 3rd-person shooters are now my favorite type of game. Regarding the graphics - we would only have dreamed of these types of visuals a few years ago and here we are enjoying not only great textured and modeled characters - but enjoying them in real time! Much of the game is played underground or at night and so there is ample opportunity for noise and banding as well as crushed blacks and a loss of low luminance detail - this didn't happen while I played the game and, indeed, Gears never looked better!
HD DVD: Miami Vice
I happened to be reviewing this HD DVD for April and didn't realize that I had gotten my hands on to what was to be a Reference quality disc. Miami Vice is not only a beautifully-shot movie; it is also pristinely mastered and has a menu system that utilizes almost every function built into the HD DVD format. It's this level of detail that was put into the disc that makes it a stand-out performer amongst its peers. Color, detail, lack of noise - you name it - this disc is superb in just about every way and on the Epson Home Cinema 1080 we were able to see it in all of its glory.
Conclusion
We reviewed the Epson PowerLite Pro Cinema 1080 and gave it 4.5/5 stars for performance and 5/5 stars for value. The Pro Cinema product is indeed a value - for custom installers who need the ISF features to protect their clients and for a product that makes other dealer-centric products pale in comparison. The Home Cinema 1080, however, is what we consider more of a direct-to-consumer product. It is very possible that these won't touch an installer on the way to an enthusiast looking for 1080p due to its low price and incredible value. With the current market I'd give the value rating on this projector a 6 - if we had that rating. It's incredible and brings 1080p into the reach of mere mortals in a way that was never before possible. Epson should be commended for taking this dual approach to their product line - what a fortunate thing for consumers and installers alike!
The Score Card
The scoring below is based on each piece of equipment doing the duty it is designed for. The numbers are weighed heavily with respect to the individual cost of each unit, thus giving a rating roughly equal to:
Performance × Price Factor/Value = Rating
Audioholics.com note: The ratings indicated below are based on subjective listening and objective testing of the product in question. The rating scale is based on performance/value ratio. If you notice better performing products in future reviews that have lower numbers in certain areas, be aware that the value factor is most likely the culprit. Other Audioholics reviewers may rate products solely based on performance, and each reviewer has his/her own system for ratings.
Audioholics Rating Scale
— Excellent
— Very Good
— Good
— Fair
— Poor
| Metric | Rating |
| --- | --- |
| Detail and Resolution | |
| Deinterlacing & Scaling | |
| Contrast and Black Levels | |
| Color Reproduction | |
| Noise Reduction | |
| Calibration Options | |
| Build Quality | |
| Ergonomics & Usability | |
| Ease of Setup | |
| Features | |
| Remote Control | |
| Fit and Finish | |
| Performance | |
| Value | |

Rob Babcock posts on May 14, 2007 16:21
From the scuttlebutt at AVS, it sounds like the Panny may be plagued with some of the QC problems that the A100X has. Personally I've freakin' had it with MIR, too. Panny is apparently taking well over 3 months to send the check in some cases! My experience with MIR is that they do everything they can to screw you out of the rebate (not just Panny, every company that uses them).

If you're counting on that $1,ooo you might be in trouble!
jcPanny posts on May 14, 2007 14:51
Technojay posts on May 11, 2007 15:28
It just requires the correct length of HDMI cable. So a rapid run may be an overkill.
bgrounds posts on May 07, 2007 10:04
Does it run quiet???
Rex posts on May 02, 2007 00:35
Epson is one of the few companies that make the actual LCD panels - they are about as legit as it comes. Up until now they were a bit pricey and I don't think anyone expected them to come out with the first 1080p under $3k.

The LPX-510 Yamaha projector i love and own was/is essentially an Epson with improved optics and chassis.

I am in the market for a 1080p FP and it looks like we have a winner! Two questions: 1) Other than having better resolution, would you recommend this FP over your Yammie 510? 2)Would running the digital RapidRun cable be the right choice for connection? If I were to buy this FP, it would sit a little over 9 feet high on a small shelf I will build for it and slightly less than 19 feet from the screen. I am considering a 100 inch screen. I anticipate the top of the screen at about 7.5 feet off the floor. The room is 25 x 20 open beam gabled. It is all drywalled except for the ridge beam which is partially visible for decoration.

Does anyone know if the new in-wall Klipsch THX Ultra2 speakers can be used in ceiling?

Thanks

Rex