W5000 Throw Distance and Menu System
Once again I called upon my Peerless PRG-UNV Precision Gear universal projector mount to handle the duties of supporting and dialing in the physical orientation of the W5000. The BenQ comes with four threaded mounting holes - which sounds standard except that my reference Marantz VP-15S1 and the even the last projector I reviewed only had three mounting points. No matter how you slice it - four is better than three for mounting projectors over 15 pounds.
Physically setting up the projector is easy, provided your room is long enough. Primarily you want to configure it for front projection (ceiling mount in my case) and then dial in the vertical lens shift until you have it perfectly in line with the screen. Since there is no horizontal lens shift you must do a very good job of getting that lens centered to the screen, or ensure that you can slide the screen left or right as needed (most screens with the exception of Stewart and a few others allow the screen to be slipped horizontally as needed.) We connected both HDMI and component video to the W5000 to ensure we could thoroughly test it out in our system.
The 1.2x Zoom lens on this projector is pitifully weak. It allows for only a cursory zoom and as a result you will have a very strict window in order to hit your particular screen size. This seems to be a trend in DLP projectors and one I find disappointing. Pay close attention to the throw chart below as it will determine where you need to mount the projector in order to hit your particular screen size.
Throw Chart for Distancing the Projector from a 16:9 Projection Screen
As you'll see below, you'll need to be at least 13 feet 5-inches away to hit a 100-inch diagonal screen. That's a pretty long throw distance and one that I find a bit too restrictive for most people. While the image is extremely sharp and clear, the placement requirements of this projector may automatically rule it out for many consumers with smaller rooms.
Screen Size
Diagonal (inches)

Size (Inches)

Distance (Feet)




width

height

wide

tele

70

61.0

34.3

9' 4"

11' 3"

80

69.7

39.2

10' 9"

12' 11"

90

78.4

44.1

12' 1"

14' 6"

100

87.2

49.0

13' 5"

16' 1"

110

95.9

53.9

14' 9"

17' 8"

120

104.6

58.8

16' 1"

19' 3"

150

130.7

73.5

20' 1"

24' 2"

170

148.2

83.3

22' 9"

27' 4"

200

174.3

98.1

26' 9"

32' 2"
Tweaking the Menu System
If I had to describe the menu system on the BenQ in one word I'd say: Simple. Intuitive. Logical. Then you'd say "Hey, that's three words." And I'd say "Whose article is this, anyway - go write your own." The menu system is well laid out and doesn't confuse users with a trendy, pictoral, or otherwise "innovative" (read: frustrating) user interface like so many other models. Menus should be simple, easy to access and logically laid out. This one is and that means you'll spend less time navigating around and more time getting things dialed in.
Picture - Basic
The name of this menu section is accurate. It provides access to the basic picture controls such as Brightness, Contrast, Color, Tint, and Sharpness. You can also select the Picture Mode which is accompanied by any number of presets designed to work well in different scenarios. As you'll see in our calibration section, we highly recommend starting with Cinema Mode. Nearly any time you affect the Picture mode you'll hear the rather "grating" sound of the powered Iris system as it changes to accommodate the new setting.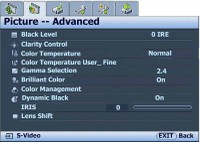 Picture - Advanced
Once you are in the correct picture mode you can make many other adjustments to help bring out the best picture quality possible. Black Level should be set to 7.5 IRE, not 0 in order to get the best response possible. We were not able to achieve below black (blacker than black, or BTB) no matter what we tried, however we weren't unsatisfied with our black level response. The Clarity Control has its own submenu of four functions. Noise Reduction only works on standard definition content (we recommend a setting of +2). Detail Enhancement seemed fine at +1. Both Luma Transmission and Chroma Transmission looked better to us in the Off (0) position, however it will definitely cause colors and high contrast areas to pop. We just felt it added too much edge enhancement and took away the film-like nature of the projected image.
The Gamma can be set, and after calibration we did indeed achieve close to the 2.4 setting we configured. Brilliant Color definitely cause colors to pop, but we felt it to be a tad artificial and not accurate. Skin tones looked oversaturated. We left it off both during and after calibration. The saturation of specific Primary and Secondary colors can be dialed in using the Color Management menu system. We didn't go this far, and indeed our results didn't indicate much of a need to affect global color saturations. Dynamic Black controls the secondary Iris system. We left this off for calibration, but enabled it afterwards. Not once did we notice it engaging during normal use. Of course, with our primary Iris set at just +2 the secondary iris (Dynamic Black) was doing very little overall.
The last item on this menu (which can also be accessed directly via the remote) is the vertical Lens Shift which we found incredibly useful. The W5000 can go +120% and -80% vertically. In our inverted ceiling-mounted position that meant it had more negative (down) range than up. In either case, it's an ample amount of lens shift and should do well for nearly any installation.
Display
The Display menu is well laid out, however the Lens Shift would have been better placed here alongside Keystone and Position functions which both digitally alter the position of the image on the screen. Overscan Adjustment, as we mention below, has a strange interaction with the Silicon Optix video processing engine in that it needs to be set to +2 for best (smoothest) deinterlacing response. We didn't notice any problems when progressive material was sent to the projector. The PIP functionality is cool, however the second source is only possible with S-video or composite sources. You cannot simultaneously run two HD channels using the PIP mode. This is unfortunate; however most of those with digital cableTV set top boxes will find they have that functionality already built in.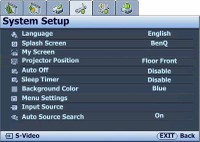 System Setup
This menu contains the items which will likely be configured once and then never used again. This includes the Projector Position, Language, Splash Screen (which can be customized), Sleep Timer, Menu position and Auto Source Search. I tend to disable auto source search, simply because the projector tends to freak out when the cableTV switches resolutions - as it so often does when moving between HD and SD channels. Custom Installers can use a laptop to set a custom client screen with their logo (and perhaps phone number) as the startup screen. Not a bad idea to make sure you get the follow up calls should your client decide to do further upgrades.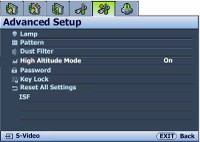 Advanced Setup
Advanced setup contains such items as your Lamp Power level (we recommend Whisper as the fan is noticeably louder with Normal mode). You can activate High Altitude mode if you like excessive fan noise (or I suppose if you live at high altitudes where the fan won't be as successful at cooling down the lamp). The ISF password is also located here (I could tell you what it is, but then I'd have to... you know the rest). You can password-protect the settings and there is also a key lock function (which is terribly easy to engage (too easy if you ask me) that can be turned off by holding down the remote control's Exit button for 5 seconds. Key Lock disables all remote control functions as well as the physical buttons on the projector itself. This is a good idea for presentations or conventions and is certainly better than a black piece of electrical tape over the IR sensor.
The last tab on the menu system is an Info display that shows the current input resolution, Picture Mode, Source, and Lamp and Dust Filter hours of use.
Remote Control

As I hinted, the remote is great, though a tad large in the hand. It is completely backlit and the light can even be deactivated by a second press of the 'Light' button. The remote has direct input buttons for each input and has direct access to Memory settings and common controls such as Brightness, Contrast, Iris and Lens Shift. About the only negative I saw with this remote is the lack of discrete On and Off controls at the top. It's becoming increasingly common to see "Double Tap" power buttons for turning the projector off. I don't particularly prefer this method as it's not as handy as a discrete power system, however it's certainly not a major issue.
See also:
Clint DeBoer posts on January 13, 2009 06:55
I don't typically post or save these unfortunately.
mike infinity posts on January 12, 2009 18:26
I wonder, Clint, if you could post your calibration settings for the w5000? I only noticed the brightness and contrast settings in the review but not the colour decoder control.

Thanks for the great review!
ninedayfall75 posts on October 04, 2008 23:22
One other thing, how many posts do I need before I can post my own thread?
ninedayfall75 posts on October 04, 2008 23:21
I was seriously thinking about the W5000, until all the new projectors were announced. I might be leaning toward the Infocus X10, or Mitsubishi 6000 now.
Clint DeBoer posts on August 18, 2008 14:51
ctac;441225
Thanks Clint.
Do you recommend a particular gain screen? The one I was looking at has 1.1 gain, but considering the throw for a 120" screen will need to be 16+ feet, do I need a higher gain? Also, is grey vs white screen consideration relevant in this case?
I'd do the math but I like to have ~12 fL bouncing off at the screen. You'll want/need a higher gain I think, especially if you crank down the iris.