W5000 Calibration and Bench Testing
As always we utilize datacolor's ColorFacts Professional software with a Spyder2 sensor (tristimulus colorimeter). Our opening measurements were not all that hot, but certainly watchable. Color temperature was around 7500K and there was a noticeably bluish tint to the bright areas of the picture. It's almost as if this ISFccc-certified projector was made to include a calibration from an installer. As you'll see below it dials in quite nicely and we were more than pleased with our final results.
Checking out the various picture modes, we found the following when engaging the Whisper mode of lamp operation and color temperature set to Warm:
Cinema Mode - 7500K, 15 fL
Dynamic Mode - 14000K, 17.5 fL
Standard - 9000K, 21 fL
We found it odd that Standard mode actually provided more light output than Dynamic mode. When turning the lamp to Normal mode, we saw some further light output improvements:
Dynamic Mode - 21 fL
Standard - 24 fL
Crank the lamp to Lamp Native mode and you'll see even more output (but the color accuracy gets thrown out the window). To dial in the best initial picture we chose Cinema Mode, selected the Warm Color Temperature and set Black Level to 7.5 IRE. Brightness needed to be set to +61 and Contrast dropped to +43. The lamp, as expected, was placed in Whisper mode (BenQ's version of Eco mode).
We performed our calibration on a Carada Masquerade Screen Masking system. Their Brilliant White screen material has a gain of 1.4 but is clean and presents no hotspots that we can detect. The grayscale color controls are very sensitive and any changes could be seen immediately on the screen. We knew right away that Blue was a bit high and we'd need to do some work to get the system perfectly dialed in. Fortunately, the system was extremely responsive and the results are some of the best we've ever seen in a projector.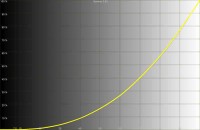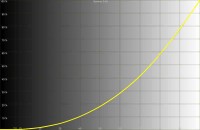 Final Gamma (right) was between 2.4-2.5, a slight but marked improvement over the original 2.6 (left)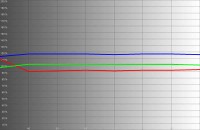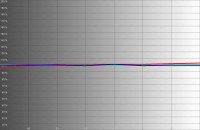 The grayscale, initially dominated by blue (left), ended up nice and smooth after our calibration (right)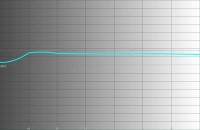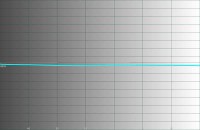 Color temperature dropped from its initial 7500K (left) to an almost spot-on 6500K across the board (right)
It's been a while since I experienced a projector this easy to calibrate and get to a really across-the-board result that I found to be near perfect. The menu system makes it easy to get around and the numerical controls aren't so ridiculously over-delineated that changes take forever to materialize on the screen. The W5000 is ergonomic and will make lots of home enthusiasts and custom installers very pleased.
Audioholics/HQV Bench Testing Summary of Test Results
Perfect Score is 130
BenQ W5000 Benchmark Score: 105 (Excellent performance - throw anything you want at it)
Test
Max
Points
Results
Pass/Fail
Color Bar
10
10
Pass
Jaggies #1
5
5
Pass
Jaggies #2
5
5
Pass
Flag
10
10
Pass
Detail
10
10
Pass
Noise
10
10
Pass
Motion adaptive Noise Reduction
10
10
Pass
Film Detail
10
10
Pass
Cadence 2:2 Video
5
5
Pass
Cadence 2:2:2:4 DV Cam
5
0
Fail
Cadence 2:3:3:2 DV Cam
5
0
Fail
Cadence 3:2:3:2:2 Vari-speed
5
5
Fail
Cadence 5:5 Animation
5
0
Fail
Cadence 6:4 Animation
5
0
Fail
Cadence 8:7 animation
5
0
Fail
Cadence 3:2 24fps film
5
5
Pass
Scrolling Horizontal
10
10
Pass
Scrolling Rolling
10
10
Pass
Total Points
130
105


*Tested with 480i via HDMI from a Denon DVD-3930CI
HD Tests (via Blu-ray @1080i)

Max
Points

Results

Pass/Fail

HD noise

25

0

Fail

Video Resolution Loss

20

20

Pass

Video Reconstruction

20

20

Pass

Film Resolution Loss

25

25

Pass

Film Resolution Loss Stadium

10

10

Pass

Total Points

100

75



Comments on Bench Testing
We encountered two really bizarre events as we calibrated the projector and explored its many features to find the optimal settings. The first we discovered while running the Jaggies #1 test. The rotating bar on the screen, while smooth, seemed to "judder" around rather than smoothly spin on its central axis. Changing the Overscan Adjustment setting to +2 (minimum is +1) fixed this and resulted in smooth spin. As near as we could tell the video processor had some issue with the +1 (lowest) setting.
The second event occurred when we attempted to experiment with the Dynamic Black setting. Once activated, the projector began making mechanical noises (not iris-related) that sounded like it was unable to control the black levels - and indeed the screen bore this out, with a constantly changing light output level. At first, disabling the Dynamic Black fixed it, however soon the noise came back and the Dynamic Black was once again out of control. After power cycling the projector this never again occurred.
In testing for rainbow effect we noticed two things. First, we could easily see RBE with any test pattern that showed a thin white line on black. Second, we couldn't see RBE in most of our real-world test material. This presents the scenario that if the on-screen image shows high contrast white on black you'll likely see it, but with 99% of viewing material this won't be an issue.
Recommendations
I like having Overscan essentially 'Off' so I'd like to see a firmware fix that addresses this particular video processing anomaly. I'd also leave it up to the user as to whether or not they engage Luma and Chroma Transmission in the Clarity Control settings section. My preference was to leave them off to avoid any edge artifacts, however you may prefer the increased color and luminance detail. I have to say, this is one of the most detail-rich, most naturally sharp projectors I've seen in a long time, so my preference for leaving these particular enhancements 'Off' didn't make me feel as if I was missing anything.
Noise Reduction seemed best when set to +2. It did an incredible job of reducing mosquito noise in the picture and I didn't encounter any disjointed "floating object" effects so often experienced when the noise reduction hits the edge of an object and unnaturally "floats" it over the background. There was no blurring on the Motion Adaptive tests we did, in either the HQV disc or real-world examples, so the noise reduction system is good for both static and moving images. Noise reduction does not, however, work for HD sources and it is grayed out when any progressive or 1080i signals are received. The Film Detail lock was as quick as anything I've seen, meaning that the HQV processor can recognize and grab onto an unflagged 2-3 pulldown scene with no difficulties.
See also:
Clint DeBoer posts on January 13, 2009 06:55
I don't typically post or save these unfortunately.
mike infinity posts on January 12, 2009 18:26
I wonder, Clint, if you could post your calibration settings for the w5000? I only noticed the brightness and contrast settings in the review but not the colour decoder control.

Thanks for the great review!
ninedayfall75 posts on October 04, 2008 23:22
One other thing, how many posts do I need before I can post my own thread?
ninedayfall75 posts on October 04, 2008 23:21
I was seriously thinking about the W5000, until all the new projectors were announced. I might be leaning toward the Infocus X10, or Mitsubishi 6000 now.
Clint DeBoer posts on August 18, 2008 14:51
ctac;441225
Thanks Clint.
Do you recommend a particular gain screen? The one I was looking at has 1.1 gain, but considering the throw for a 120" screen will need to be 16+ feet, do I need a higher gain? Also, is grey vs white screen consideration relevant in this case?
I'd do the math but I like to have ~12 fL bouncing off at the screen. You'll want/need a higher gain I think, especially if you crank down the iris.