W5000 Features and Build Quality
If you think you're having a hard time deciding which projector is the best, think about my job... I actually get to see, use, and calibrate most of them and yet I still have a hard time determining which is "best". Let me tell you that I do NOT envy the job manufacturers of projectors have these days. The market is ripe with bargains and price points are all but written in stone, with very clear distinctions between $1000, $2500, and $5000 models - all of which are competing for consumers' wallets. BenQ is clearly going after the custom installer market with its new W5000 DLP projector and that's good - because it gives them some leeway that wouldn't be granted for those pursuing consumers directly.
BenQ has a history of making some very excellent projectors. They now appear to be in a mode whereby they are attempting to really bring some incredible value and quality to consumers with their W5000 and W20000 DLP systems. The two projectors are remarkably similar; however the W5000 lacks some of the optical engine refinements of its bigger sibling and therefore has a slightly lower contrast ratio. The two share the same chassis, menu system and general features, so it's a good bet that many will find the W5000 to be the bargain of the lot.
The W5000 is a bit of an enigma, or a huge deal depending on your point of view, since it sells on the street for less than half its retail price point. In fact, the upper-scale W20000 has a street price that equals the retail price of the W5000. For a brand new product those are some steep discounts.
If you have been reading our reviews you'll find that the important differences which affect picture quality are getting harder to distinguish and lots of manufacturers are really getting it right. I guess that's a good thing, since negatives of late seem to center on obtuse vs. helpful menu systems, excellent vs. average calibration results and the general feature sets. For the W5000 image quality looks to be above average but we found a few surprises worth noting.
Mercedes BenQ?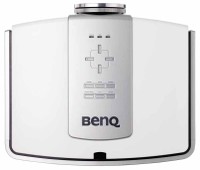 Physically, the W5000 is an impressive projector. While not exactly elegant, it is a true machine. From my first glance at its exterior I had to pop my eyes back in their sockets when I saw the enormously deceptive size of the lens hood. The W5000 exudes high build quality, from its looks, to the 21 pound weight and convenient side-entry lamp replacement.
The top of the projector houses a real slick-looking control panel for menu, power, and source controls. You can also activate lens shift functions and toggle through presets. Three small lamps give you a quick overview of power, temperature and lamp status (you really only want to see one light on.) The enclosure itself is a beautiful mix of white and silver with some black trim thrown in for good measure. I'd easily cast my vote for having this thing show up as a small Decepticon in next year's Transformers 2 movie. Lamp access is via the left side (no need to remove the projector from its mounted position) and the filter can be replaced easily from the right side of the unit. Unlike most projectors I've seen, all four feet are adjustable. If you're not mounting this to a ceiling or other permanent fixture, however I think you'd be doing yourself a disservice.
W5000 vs. W20000
Some may be curious as to what differences there are between the W5000 and the W20000. Near as I can tell, the differences are about $2500 and 0.95-inch DarkChip3 DMD technology. The W20000 uses the new DC3 technology while the W5000 uses the less expensive (but still impressive) DC2 DMD. Both projectors utilize Philips' VIDI lighting technology which helps enhance both red and blue color performance to create a more accurate picture. Both projectors also appear to have identical features apart from the DMD chip, including the dual iris system and HQV Reon-VX video processing.
I Like the Way She Moves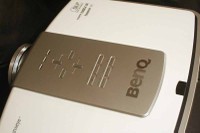 BenQ seems to have spared no expense in equipping the W5000 with a slew of handy features. Some I found useful, but all are very handy in terms of their ability to allow this projector to dial in a nice picture and work well in a myriad of installation scenarios. While DLP has a lot of catching up to do when it comes to lens shift, the W5000 at least provides vertical shifting of the optical system. This means that you have some height flexibility when mounting the system in a front or rear projection scenario. The W5000 allows up to +120% and -80% adjustments, giving you a wide range of placement options. Horizontal shifting is unavailable - so you'll really have to nail your location or ensure that your screen can be shifted slightly to get the perfect projected image.
Other hardware advances include a dual iris system. This is cool, and it's rather complex. I personally like it because it allows me to get better black level output when high lumen output isn't so important. Then, once I choose my fixed Iris position, the Dynamic Black electronic iris kicks in and further refines the image on screen. Here's BenQ's graphical representation of how the Iris system works: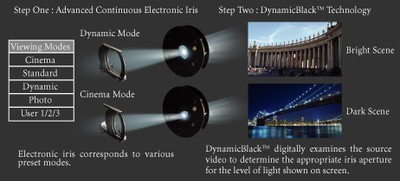 In our case, we dialed the fixed Iris down to 2 and enabled Dynamic Iris after we calibrated the unit to allow it clamp down during truly dark scenes. The way we understand it - you set the light output potential using the fixed iris, then you enable (or not) the Dynamic Black mode to further reduce light output (resulting in lower black levels) during darker scenes. Cool? Yeah it is.
Connections
BenQ provides a pair of HDMI inputs and dual component video connections, though the second is a BNC-style RGBHV input. Composite and S-video are included and should never be used with a projector at this price point. The RS-232 connection is a funky 8-pin din connector that requires a cable in order to connect to most serial control devices. Finally, a 12V trigger allows the projector to control a drop down projection screen or other device based on the status of the W5000.

Dual HDMI, Dual component video (including 1 via BNC), 12V trigger and RS-232C control.
See also:
Clint DeBoer posts on January 13, 2009 06:55
I don't typically post or save these unfortunately.
mike infinity posts on January 12, 2009 18:26
I wonder, Clint, if you could post your calibration settings for the w5000? I only noticed the brightness and contrast settings in the review but not the colour decoder control.

Thanks for the great review!
ninedayfall75 posts on October 04, 2008 23:22
One other thing, how many posts do I need before I can post my own thread?
ninedayfall75 posts on October 04, 2008 23:21
I was seriously thinking about the W5000, until all the new projectors were announced. I might be leaning toward the Infocus X10, or Mitsubishi 6000 now.
Clint DeBoer posts on August 18, 2008 14:51
ctac;441225
Thanks Clint.
Do you recommend a particular gain screen? The one I was looking at has 1.1 gain, but considering the throw for a 120" screen will need to be 16+ feet, do I need a higher gain? Also, is grey vs white screen consideration relevant in this case?
I'd do the math but I like to have ~12 fL bouncing off at the screen. You'll want/need a higher gain I think, especially if you crank down the iris.