BenQ Joybee GP2 Mini Projector Preview
Summary
Product Name: Joybee GP2 LED Mini Projector
Manufacturer: BenQ
Review Date: November 28, 2011 03:00
MSRP: $549
First Impression:

Gotta Have It!

Specifications

Projection System
DLP
Native Resolution
WXGA (1280 x 800)
Brightness*
200 ANSI lumens
Contrast Ratio
2400 : 1
Display Color
1.07 Billion Colors
Lens
F=1.93, f=26.95mm
Aspect Ratio
Native 16:10 (5 aspect ratio selectable)
Throw Ratio
1.13 (44" @ 1m)
Image Size (Diagonal)
20"-160"
Zoom Ratio
Fixed
Lamp (Normal/Economic Mode)*
LEDx3, 20,000/30,000 hours
Keystone Adjustment
1D, Vertical ± 40°
Projection Offset
100%±5%
Resolution Support
VGA (640 x 480) to UXGA (1600 x 1200)
Horizontal Frequency
31~99KHz
Vertical Scan Rate
23~120Hz
Interface
Computer in (D-sub 15pin) x 1 (via CEA 30 pin cable)
Composite Video in (RCA) x 1 (via CEA 30 pin cable)
HDMI (v1.3) x 1 (mini type)
Audio in (Mini Jack) x 1
Audio L/R in (RCA) x 1 (via CEA 30 pin cable)
Audio out (Mini Jack) x 1
iPod/iPhone Universal Dock x 1
Speaker 2W Stereo x 2
USB (Type A) x 1 (USB Reader)
USB (Type Mini B) x 1 (USB Display/File Transfer) Compatible with Win XP SP2 32 bit , Win Vista 32/64 bit , Win7 32/64 bit
Card Reader x 1 (SD, SDHC up to 16GB)
Internal memory 2GB (1.3 GB for user usage)
Dimensions(W x H x D)
140.3 x 52.5 x 129.8 mm (without battery)
140.3 x 93.8 x 129.8 mm (with battery)
HDTV Compatibility
480i, 480p, 576i, 576p, 720p, 1080i, 1080p
Video Compatibility
NTSC, PAL, SECAM
Weight
0.56kg (1.23lbs) (without battery)
1.05kg (2.31lbs) (with battery)
Audible Noise
29/24 dBA (Normal/Economic mode)
Power Supply
AC 100 to 240 V, 50/60 Hz
Power Consumption
45W/34W ( Normal/Eco) , Standby<1W
On-Screen Display Languages
Arabic / Bulgarian/ Croatian/ Czech/ Danish/ Dutch/ English/ Finnish/ French/ German/ Greek/ Hungarian/ Hindi / Italian/ Indonesian/ Japanese/ Korean/ Norwegian/ Polish/ Portuguese/ Romanian/ Russian/ Simplified Chinese/Spanish/ Swedish/ Turkish/ Thai / Traditional Chinese (28 Languages)
Accessories (Standard)
Remote Control w/ Battery
Carry Bag
Adapter (by region)
USB Cable
Power code
User Manual CD
Quick Start Guide
Warranty Card (by region)
CEA 30 Pin Cable
Accessories (Optional)
Battery
(1) 3 hours battery life @ 100 ANSI lumens (1 hour @ 200 ANSI lumens)
(2) Battery life time : 300 cycles charging
(3) Charging time : 3.5 hours in empty condition
Multimedia Formats Supported
Video:
FLV
Music:
MP3, MP2, WMA, APE, ASF, FLAC, OGG, WAV
Photo:
JPG (.jpg/.jpeg) , BMP (.bmp) , PNG (.png)
Subtitle:
MKV built-in, SRT (.srt)
Document:
Adobe PDF 1.0~1.4 (pdf), MS PowePoint 97~2010 (ppt, pptx), MS Excel 95~2010 (xls, xlsx),
MS Word 95~2010 (doc, docx), Text (txt)
Executive Overview
A while back we reviewed the BenQ Joybee GP1 and liked what we saw. What's not to like? For under 5 bones you get a 720p projector that will fit in the palm of your hand. Personally, I've owned a BenQ Joybee GP1 LED Mini Projector for a while. I took it with me in a backpack when I moved to Australia from the United States. I was able to enjoy an 80" picture while waiting the 3 months it took the rest of our stuff to arrive. In that time, I've had some time to really evaluate the Joybee GP1, so I was very excited to see what BenQ would do with the Joybee GP2.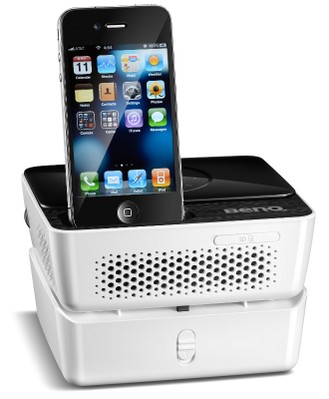 First, let's start off with the obvious. There is now an integrated iPod dock. This Made for iPod/iPhone certified dock allows you to stream your video and audio content directly from your iDevice. For students and business professionals alike, the dock will be worth the $50 premium over the original Joybee GP1. BenQ has included dedicated iPhone/iPod controls on the GP2 Projector's included remote control. There are stereo built-in 2W speakers for audio playback (if they are anything like the Joybee GP1's, they are a last resort audio solution) or you can export the audio via a dedicated 3.5mm Audio Out jack. One of our main complaints of the Joybee GP1 was that the carrying case neglected a spot for the (HUGE) external power supply. BenQ addressed that with a new carrying case that features a dedicated pocket for the power adapter.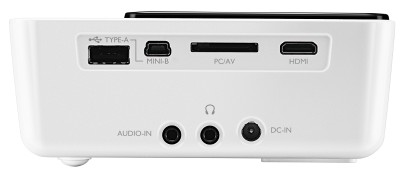 The GP1 had all the connections (such as they were) on the back. There wasn't much there except USB and a breakout cable that handled your composite/RCA audio or VGA. This meant that if you wanted to take full advantage of the 720p capabilities of the GP1, you had to connect a computer to it. No longer. The BenQ Joybee GP2 has USB, Mini-USB, the PC/AV breakout cable, 3.5mm stereo audio in, SD Card, and (most importantly) an HDMI connection. This is a massive improvement over the GP1 and will make this projector much more flexible and useful in a much wider selection of situations. In fact, the VGA input is completely obsoleted because the Joybee GP2 can be connected to your computer via USB - a smart and convenient solution.
The BenQ Joybee GP2 employs high-efficiency 3LED illumination and DLP projection technology in a compact size, measuring just 5.5" x 2" x 5.1" (140.3 x 52.5 x 129.8 mm) and weighing just 1.25 lbs (565 g). It can put out 200 ANSI lumens (double the GP1) and is rated up to 160 inches (we're betting a clear/bright picture tops out well south of that in anything but an absolutely black room). There is also an optional battery you can get for the GP2 that will provide up to 3 hours of life. For business professionals, the GP2 has 2 GB of internal memory (transferable via USB) and an integrated document viewer for Microsoft Office and PDF documents. It's like they read our reviews or something...
Conclusion

Almost every complaint we had with the BenQ Joybee GP1 was addressed with the Joybee GP2. They've greatly expanded the number and types of connections. They've included a carrying case for the power supply (and even added an optional battery). The only thing we don't know is if they've reduced the size of the power supply and if the fan noise is still an issue. With 2 GB of internal memory, an HDMI connection, Made for iPhone/iPod dock, doubling of the brightness, and so much more, it's unlikely to matter. If you thought the BenQ Joybee GP1 sounded like a good deal, for $50 more, the Joybee GP2 is an absolute steal.
For more information, please visit www.benq.com.
BMXTRIX posts on February 21, 2012 06:40
The Casio projectors are terrible for color quality and aren't just noisy, they are outright loud.

I've tested about 5 different Casio laser hybrid engines and they are a very unique breed of projector which Casio has absolutely fallen flat on its face to deliver the best possible product to consumers.

It is still an extremely budget friendly projector concept, but it absolutely has terrible colors on all their mid-sized models or smaller.

They have their A series, M series, and H series - small, medium, and standard size.

In a shootout between a properly color balanced projector, the Casios were way off on color in all modes, and this is a well documented fact from people who have tried to use them for home theater. Likewise, the high pitched whine from the tiny fans is extremely intrusive to any home theater viewing experience.

What's most unfortunate, is that their H series projector doesn't have this issue.

Why is that unfortunate?

Because every OTHER model they produce they have a 1280x800 native widescreen, but the H series is limited to a XGA (1024x768) projector only. The larger case of that model allows for the extra filters needed to produce a projector which has colors that are far more accurate across the board. As well, it gives room for a full sized fan which moves more air, with less noise.

The entire reason lamp based home theater projectors are so large is not because they have to be, but because the larger size allows for more airflow and less noise! Something Pico and micro projectors just don't deliver, yet no manufacturer has figured out that if you build a full size LED/laser projector with 500+ lumens, in at least 720p format, or better yet, 1080p, and get the colors close to accurate with low noise, that the home theater market is really dying to make it their go to product.

As much as I wish I could recommend the Casio projectors for home use, I simply can't, and I was very excited when I saw their projectors for the first time.

Hopefully Casio will release an H series projector with native HD resolution in the next year so I can test that out and start recommending it to those on a budget.

The hard part is that for about $1,000 you can pick up a true 1080p home theater projector with a lamp which will last about a year or two for typical home use. For those using it 'occassionally' then it could last 3-5 years on the first lamp, which means paying a few hundred dollar premium may not make sense for many at this time.

Still, I would like to see what Optoma will deliver with a follow up to their 500 lumen micro projector.
SirPickles posts on February 21, 2012 00:03
I originally bought a pico projector. Returned it the next day as it was clearly the worst purchase I ever made. I used the money to buy a Joybee GP1. It was great. I bought it in the winter, and here in Oslo Norway, that means you can use it in a normal room nearly 20 hours a day. There was one additional issue which wasn't mentioned in the review which was that the scaling engine struggles and causes odd scanning issues. And since the native resolution of the projector is 858x600, it is a real problem. When summer came around and instead of 20 hours of use per day, ther were 20 hours you couldn't use it, I covered the windows with black cloth which helped a lot, but it was still dim.

I purchased a XJ-240a this summer and when I hooked that up, I started getting full picture quality on a matte medium gray wall with the windows open in summer. That being said, this projector is a 2500 lumen LED/Laser projector and other than not being full HD is the worlds best projector ever. It's half way between the Joybee and a bulb projector in size, and it makes a little too much noise, but the picture quality is the best I've ever seen from any projector.

Now my son and I use both projectors in the same room at the same time to play video games together, but the Joybee is almost entirely unviewable when the XJ-240 is showing mostly bright colors. So I'm currently trying to find whether I should buy the xj-230a as a second projector or the GP2.

Your comment about whether led projectors have caught up would be entirely valid except for the Casio Slim Green projectors which are in a league of their own. By mixing LED and Laser, Casio has produced what must be the greatest product ever. LED doesn't need to catch up to bulb, they have already passed them on nearly every front.
Patrick G. posts on February 17, 2012 09:55
Good review.
bsomerville posts on February 12, 2012 15:50
To connect this projector with my girlfriend's MacBook Pro, we ended up going with the mini DisplayPort to HDMI option (beware, if you go this route, that the projector is HDMI Type C (mini)--not type A as I thought).

However, a very strange thing happens when we connect the projector to the MacBook. All the open windows on the computer become neon purple, or sometimes aqua. The movie itself looks normal, but in order to get the computer back to normal afterwards we have to go to System Preferences > Displays > Color > Calibrate.

I would love to know why this is happening and if there's a fix for it.
RollTide22 posts on January 29, 2012 23:20
BmxTrix...

Whatd you think is best in this class of new LED Mini Projectors? And what should someone like me a total KNOOB be looking for when it comes to this type of projector.