Acer H6500 DLP Projector Review
Summary
Product Name: H6500 DLP Projector
Manufacturer: Acer
Review Date: May 23, 2012 07:30
MSRP: $899.99
First Impression:

Pretty Cool

Specifications

Projection System: DLP
Display Panel: 0.65" DarkChip 2 DMD
Resolution: 1,920 x 1,080 (1080p)
Maximum res: 1,600 x 1,200 (UXGA)
Video Compatibility: NTSC (3.58/4.43), PAL (B/D/G/H/I/M/N), SECAM (B/D/G/K/K1/L), HDTV (720p, 1080i, 1080p), EDTV (480p, 576p), SDTV (480i, 576i), Aspect Ratio: 16:9
Contrast Ratio: 10,000:1
Displayable Colors: 1.07 Billion
Brightness: 2,100 ANSI Lumens (Standard), 1,680 ANSI Lumens (ECO)
Projection Lens: F = 2.55 ~ 2.85, f = 22.41mm ~ 26.82mm
1:1.2 Manual Zoom and Manual Focus
Projection Screen Size (Diagonal): 38" (96cm) ~ 300" (762cm)
Projection Distance: 4.9' (1.5m) ~ 32.7' (10.0m)
Throw Ratio: 60"@2m (1.50 ~ 1.80:1)
Horizontal Refresh Scan Rate: 30k ~ 100k Hz
Vertical Refresh Scan Rate: 50 ~ 85 Hz
Lamp Type: Osram 240 W user replaceable P-VIP lamp
Lamp Life: 3,500 Hours (Standard), 5,000 Hours (ECO), 6,000 Hours (ExtremeEco)
Keystone Correction: +/-15 Degrees (Vertical ), Manual
Projection Mode: Front, Rear, Front-Ceiling, Rear-Ceiling
Ceiling Mounting Capability
Weight: 5.6 lbs (2.54 Kg)
Dimensions (W x D x H): 269 x 206 x 84 mm (10.6" x 8.1" x 3.3")
Remote Control: IR remote control
Zoom: Digital: 8X
PIP
Power Supply: AC input 100~240V auto-switching power supply
Power Consumption: 305 Watts (Operation), <1 Watts (Standby)
Operating Temperature: 5°C ~ 35°C / 41°F ~ 95°F
Operating Humidity: 80% RH (Max.)
Noise Level: 35 dBA (Standard mode)
31 dBA (ECO mode)
I/O Connectors: Analog RGB/Component Video (D-sub), Composite Video (RCA), Component (3 RCA), HDMI (Video, Audio, HDCP) x 2
Control Interface: USB (Type B), 12V DC (Screen control)
Executive Overview
I'm always keeping my eyes on inexpensive 1080p projectors. Why? Because it seems like my friends are constantly asking me about the best display they can buy for their money. And honestly, if you can accommodate it, I believe the answer is a front projection system.
Now before you start to think about all the reasons why a front projector may not be the best solution for you, let's take a look at this model, the Acer H6500. It's a 1080p DLP projector with 2100 lumens and it only costs $899. Given that you can pick up a starter screen for around $300, or even roll your own, that's a bright 100" display for $1000 or so. Where are you gonna find that kind of value in a flat panel TV?

Ok, if your interest is piqued let's look at some of the other specs, and then we'll talk about our experiences with the H6500. First, it's bright. With 2100 lumens of max output, we found that it's got more than enough light to fill a big screen, even with some ambient light. And with that amount of output, the H6500 still managed to reveal an above-average black level for the price. There's a Dynamic Black system that varies the lamp power. It's nifty but it's slower than an auto iris system and it also varies the fan noise during use, so if your ear is near the projector you might want to keep it off. The remote control was easy to use and featured a straightforward user interface for getting around and configuring the Picture mode and minimal settings available. All of the inputs are also directly accessible, which we liked.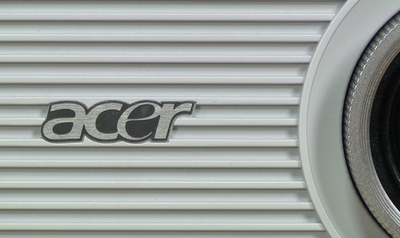 The more we used the Acer H6500, the more we went back and forth on who this projector is perfect for. It's fast, really fast, actually, so if you're into gaming you're going to appreciate what you get for the price. And it's quick because, well, there's not much to it. The picture is really sharp - naturally so. It really looks great. The color is what it is - meaning you can't really calibrate it given the controls Acer gives you. And what it is, is actually pretty decent. We used the Movie Mode with the lamp in the Eco setting. Measurements told us that color was a tad cooler than reference, but we actually liked it and unless you're doing a side-by-side comparison it's likely you won't notice.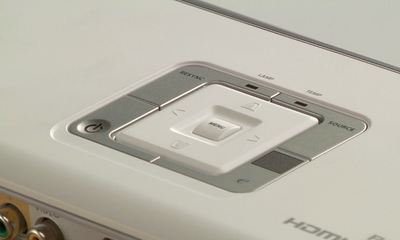 So back to our question: who's this projector for? Well it lacks some home theater functions that might be important to you, like advanced video processing and auto-iris. At the same time it's ultra-portable, super-bright, and puts out a beautiful picture. It doesn't have lens shift or much zoom on the lens, so you're looking at a tabletop or ceiling mount installation. A rear shelf probably won't work. We think the H6500 is a great solution for those looking for a living room system - an inexpensive TV killer. If you want only the best, then keep shopping, but expect to pay a lot more as well.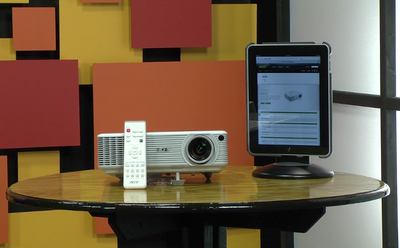 If you're comparing it to other models on the market, the H6500 beats the BenQ W1200 in cost of entry, plus it seemed a tad sharper to us. Now if you put this up against the Epson Home Cinema 8350, the Epson has slightly better black levels and a lot more flexibility for installation and video processing, but it also costs about 50% more. Run the numbers and features and we think the Acer H6500 DLP has serious price and quality appeal. At under $900 it's easy to recommend if you know what you need - and more importantly - what you don't.
So our question for today is: What kind of audioholic are you? Are you a bang-for-the-buck person, a no-holds-barred buy-the-best-you-can-get type of person. Comment on our YouTube channel so we can be sure to bring you more great reviews. Also reach out to us at Facebook.com/audioholics or Twitter @AudioholicsLive.
BMXTRIX posts on May 24, 2012 10:52
Also, there have been recent complaints that the black level from this native DLP unit just isn't what it should be. Acer has truly gone entry level, and apparently this projector exemplifies that.

Quality for cheap can be had with the Optoma HD20 (also DLP) for about $100 more. Or the entry level Panasonic AR100 (bright rooms) or Epson 8350 (traditional theaters) can be had for just about $300 more.

I would recommend, at this time, any of those three projectors over the Acer for image quality and overall satisfaction.
westcott posts on May 23, 2012 12:43
My wife and I are unable to watch DLP projectors due to the effects created by them for any length of time. It varies from mfg to mfg but it is still a problem for some of us so I recommend that anyone looking into DLP technology, sit in front on a system for a movie or two before plunking down your hard earned money.