Emotiva UMC-200 A/V Processor Listening Tests
SACD: Grover Washington JR – Prime Cuts
This SACD is a sonic masterpiece and a must have in your collection if you're serious about sound and a jazz aficionado like myself. Track #1 "Take Five" has a lot of stuff going on at once, including a deeply rich bass track. Grover's saxophone came through with excellent clarity while the percussive effects popped out into a very three dimensional landscape. When directly comparing the HDMI digital input to the analog connections using the 7.1 analog bypass, I did prefer the analog. The Oppo BDP-105 DAC portrayed greater clarity than the internal UMC-200 DAC's. This wasn't surprising considering the BDP-105 costs 2X the UMC-200 and utilizes some of the very best DAC's in the industry (ESS Sabre 32 bit). Don't get me wrong, the UMC-200 sounded just fine via HDMI but in analog bypass, it was just magical. I was hearing all of the great detail of the recording like I was listening on a high dollar separates rig. Track #6 "Summer Nights" bore a similar resemblance to "Pyramid" from another great album called Close Up by David Sanborn. I loved the ping pong effect of the percussion instruments between the speakers. The Emotiva combo was driving the Pioneer speaker system with an ease and fidelity that defies the asking price of this setup. You could hear the triangles slowly decay instead of just sharply fading away. Very nice.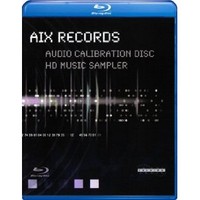 Blu-ray: AIX Records Audio Calibration Disc
If you've never heard an AIX recording, you're truly missing out. Although most of the music is a bit obscure or not mainstream, the artists are generally good and the fidelity is unbeatable. The UMC-200 delivered excellent clarity in Track #5, "Primavera". The flutes were reproduced with realism. The vocals were a bit honky at loud listening levels but this was a limitation of the Pioneer center channel, NOT the Emotiva gear. Bass was well extended despite the modest driver compliment of the Pioneer speaker system. Channel separation was great and the noise floor was dead silent at all listening levels.
Blu-ray: Avengers
This was the ultimate popcorn flick of 2012 and I'm a proud owner of it on Blu-ray. The DTS HD soundtrack is rockin' on this disc and it's sure to test the limits of even the very best home theater systems. The UMC-200 was able to place me into the middle of the battleground of the opening scene of Avengers when Loki stole back the Tesseract causing the secret S.H.I.E.L.D. installation to implode. The little Pioneer sub was unable to handle the bass dynamics of this scene so I switched over to one of my Velodyne DD-15+ subs and presto, I was engulfed into the experience.
See also:
j_garcia posts on May 07, 2013 15:43
Zed333 posts on May 01, 2013 06:48
The Emotiva UMC-200 seems to be a fine Pre/Pro in many ways. I would point out that the implementation of Dolby Pro Logic IIz is lacking, if not out of compliance with the Dolby spec.
To quote from:
Dolby Pro Logic IIz for Professionals
[dolby.com]
"Dolby® Pro Logic® IIz adds front height channels to surround sound, creating a 7.1 or 9.1 playback system for home music, movies, and video games
Enables increased flexibility for expanding a 5.1 playback system to a 7.1, or a 7.1 system to a 9.1"
The UMC-200 does not expand a 7.1 system to a 9.1 system instead it becomes a 5.1 system with height or as some would say a 7.1 system. The UMC-200 in Dolby IIz mode reconfigures it output so that the right and left front height channels now come out the outputs formally used as right and left rear. That is to say using the UMC-200 it is impossible to achieve a 9.1 system as called for in the Dolby specification.
While I have not examined all 7.1 Dolby Pro Logic IIz implementations, of the ones I have looked at none have chosen this method. In my limited sample all others have kept with the Dolby spec and allowed users to realize 9.1 outputs from 7.1 devices when operated in Pro Logic IIz mode.
Even given rear panel hardware limitations I believe that Emotiva could have easily chosen to have the height outputs reconfigure the Zone 2 outputs and replace Zone 2 outputs with height channel outputs allowing for compliance with Dolby IIz specified up-mixing of a 7.1 device to a 9.1 device.
Conjecture on my part
A possible reason for this choice on Emotivas' part might be that their DSP ran out of power and can not realize a 9.1 system.
Flame retardant
Please note I am NOT addressing the pros and cons of Pro Logic IIz. I am simply calling attention what may be misleading statements on the part of Emotiva regarding their otherwise well reviewed UMC-200.
j_garcia posts on February 17, 2013 10:58
Not saving the settings is a confirmed bug. I've been a Marantz guy for over 10 years and I had to adapt to their menu system, but even without the manual I was able to figure the majority of it out pretty quick. It can be a bit cumbersome, but once you get the hang of it, it isn't too bad. What took me about 2hrs of poking around last time to find what I wanted took me less than 30 min after the factory reset.

What I've found in comparing over the last few days is interesting. In stereo, my 83SE is clearly better. However in multichannel, the EMO-Q setup does seem to have a cleaner overall sound, though the 83SE still has a bigger sound stage.
Nomo posts on February 17, 2013 07:06
One thing that seems to have helped, but not eliminate, the TV audio issue was to turn off Viera link on my Panasonic. This turns off the HDMI ARC function. This way, if the TV loses audio, I can regain audio by turning the TV off and on again. So far anyway. It's a very sporatic issue.

I haven't had much time to use the UMC in the past week, but it does seem to have trouble retaining it's last used sound parameters. Hopefully a firmware update will fix this. Whenever it gets released.

One thing I do feel is that I'm getting a better sound stage and imaging than I did with my Yamaha 1800. Speculation, because I can't compare them side to side. An example: Henley's voice on The Eagles Long road out of Eden seems to be much more centered and clear on the UMC in direct than it was on the Yamaha in Pure direct. I had to double check to see if I had accidently turned on a different sound parameter because I could swear the center speaker was on. It wasn't.

I've been using Yamahas for the past 7 or so years, so getting used to the UMC's way of doing things has been a bit frustrating. Very minor differences, but enough to throw me off at times.
j_garcia posts on February 16, 2013 22:04
I got the URC to accept the UMC-200 codes finally. Kind of dumb actually: it works if I drop them into a device instead of directly on the main menu.

For the sound to the TV, I occasionally have that issue too. What I noticed is that the mode that was set seems to be retained even when the device is off which in turn affects the audio sent to the TV. Yesterday I switched from the UMC to the TV speakers because it was late and was missing portions of the audio. If I turn it back on, switch it to direct and then turn it off, it works again, however yesterday it kept switching back to stereo and leaving out the other channels (multichannel audio). I had to turn everything off and back on to get it to work again.