Emotiva UMC-200 A/V Processor Bass Management
The Emotiva UMC-200 has some of the most flexible bass management options I've seen in an A/V processor regardless of price, but this can also be its Achilles Heel. Not only are you are able to independently adjust crossover frequency for each speaker group (ie. fronts, center, surrounds) but you're also able to select the slope (12 dB/octave or 24 dB/octave). The crossovers are adjustable in 5Hz step sizes from 40Hz to 80Hz, 10Hz step sizes from 80Hz to 150Hz and 25Hz step sizes from 150Hz to 250Hz. All of this setup flexibility is a welcomed surprise but being the propellerhead that I am, I had to bench test it to ensure it all worked correctly. I mean come on, how could all of this be type of power be packed into such a modest product and function correctly? Let's find out.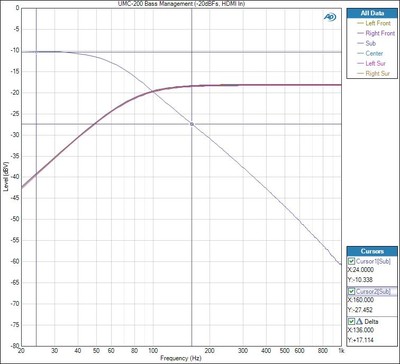 Emotiva UMC-200 Bass Management Frequency Response (HPF: 12dB/oct; LPF: 24dB/oct)
I found the HPF slopes and crossover frequencies to all measure as expected based on setting. For example an 80Hz crossover set to 12dB/octave followed a 12dB octave slope attenuating the signal 12dB at 40Hz for the speakers set to "small". The same followed for the subwoofer output until I injected multiple simultaneous signals into all channels set to "small" with the subwoofer LPF set to 24 dB/oct. The summed response increased the subwoofer output by the sum of the six channel correlated audio source as expected, but also narrowed the slope of the response. It decreased the 24 dB/octave slope to about 17 dB/oct. With just the main channels driven, the subwoofer LPF response maintained a 22dB/oct rolloff rate.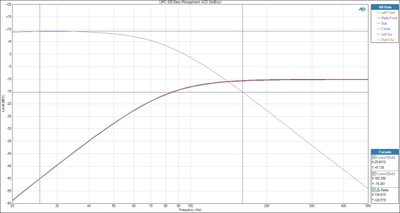 Emotiva UMC-200 Bass Management Frequency Response (HPF: 24dB/oct; LPF: 24dB/oct)
Emotiva designed their bass management to have a symmetric rolloff for the HPF and LPFs so if you want 24dB/oct slope on the subwoofer, you need to set all of the other channels HPF's to 24dB/oct as well. In fact, I'd further recommend if you want a truly symmetric rolloff of the subwoofer's LPF that you stick with the same crossover frequency for all speaker groups and not vary any of the channels more than 20Hz. For example, set all "small" speaker groups to 80Hz but perhaps if you have smaller surround back channel speakers which you may want to set to 100Hz. My testing confirmed you would still maintain the proper LPF slope if you follow these recommendations.
Emotiva UMC-200 Bass Management Frequency Response Enhanced Bass Mode (Front Speakers: Large)
The "enhanced bass" setting is a great option for those that want to have their subwoofers engaged while having their main front speakers set "large" listening to two-channel music. Other manufacturers often call this "double bass" or "LFE + Main". However, in my testing, I found the UMC-200's "Enhanced bass" mode does a bit more than the typical feature found on most competitor products.
With "enhanced bass" turned on, I fed the UMC-200 an HDMI 192kHz PCM signal to the front main channels and subwoofer channel. The output produced a -32dB notch in the response of the main front channels at the crossover point followed by a slight elevation at 20Hz. The notch and elevation varied depending on the number of channels driven. With ACD, the notch was under -10dB. I was a bit surprised by this until I realized what was happening. Emotiva has given the customer something I've always wanted and thought would be a great idea. They allowed the end user to simultaneously send LFE info to the subwoofer channel and front main channels if they were set "large". I didn't think at the time there would be a downside to this provided the main speakers were capable of handling the bass but the summing of the subwoofers LPF into the main channels causes this undesirable anomaly. However if the LFE channel contains correlated audio from the main front channels, it can produce a notched response like this (though likely at a much lower amplitude) in those channels.
I informed Emotiva about my findings and they are working on a firmware update to disable the option of combining LFE signal back into the main channels with the "enhanced bass" feature turned on. In the meantime, I suggest enabling "enhanced bass" mode only for two-channel sources if your front main speakers are set to "large". Disabling "enhanced bass" when playing back multi-channel sources containing LFE content will also prevent potentially overloading your main channels with too much bass. It's important to note this will NOT be an issue in multi-channel if your front speakers are set "small" however.
I was happy to note if you set the main channels to "small", the UMC-200 does NOT allow you to set the center and surround channels to "large". I've seen so many products in the past not recognize the logic that if a user is using "small" main speakers, then the rest of the channels should also default to "small" to protect them from bass overload. Props to Emotiva for paying attention to details like this.

Emotiva RM-100 Remote Control
Remote Control
Emotiva is not going to win any awards with their RM-100 remote control. It has no backlighting, and no LCD screen. It's basic but functional which is to be expected for a product of this price range. The audio modes of operation are neatly located in the top row of the remote control followed by two rows of input selectors and two rows of buttons to operate the tuner. The center of the remote contains a circle layout of OSD operational buttons with the central rotational button allowing you to navigate around the OSD. There is also a quick up/down input selector button just below the central buttons next to the volume up/down buttons. The following two rows of buttons allow you to do on the fly channel trim adjustments and the last two rows of buttons are for CEC controlled devices.
Functionality
Ope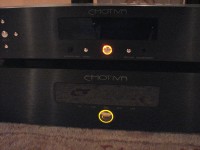 rationally the UMC-200 worked nearly flawlessly. Aside from the "enhanced bass" glitch I found, the UMC-200 front panel display indicated "no audio" for DTS HD audio sources despite the fact that it outputted audio just fine. Emotiva is aware of this issue and is working on a firmware update to fix it. Luckily you can update the UMC-200 via USB with their updater program and a laptop so this should be an easy fix once they release it.
Powering up the UMC-200 connected to the UPA-500 I had on hand momentarily power cycled the UPA-500 until the trigger line stabilized after a couple of seconds. Emotiva informed me the trigger is set a bit too sensitive on their UPA series of amplifiers and this is something that will be tweaked in future production units.
The only other oddity I noted was the slight color mismatch of the off cycle LED on the Emotiva power button for the UMC-200. It has more of a shade of orange than other Emotiva products. In pinging Emotiva on this, I discovered Lonnie's dark secret of being color blind and not seeing this during the development phase. Although the LEDs are all the same color, the transparent cover plate is a slightly different shade on the UMC-200, causing this discrepancy. This will be fixed in the next production cycle of the UMC-200. I also requested that they implement some sort of status display so you can hit a hot key on the remote and instantaneously get info on the audio signal's sampling rate, bit depth and number of channels it's being broadcasted in.
See also:
j_garcia posts on May 07, 2013 15:43
Zed333 posts on May 01, 2013 06:48
The Emotiva UMC-200 seems to be a fine Pre/Pro in many ways. I would point out that the implementation of Dolby Pro Logic IIz is lacking, if not out of compliance with the Dolby spec.
To quote from:
Dolby Pro Logic IIz for Professionals
[dolby.com]
"Dolby® Pro Logic® IIz adds front height channels to surround sound, creating a 7.1 or 9.1 playback system for home music, movies, and video games
Enables increased flexibility for expanding a 5.1 playback system to a 7.1, or a 7.1 system to a 9.1"
The UMC-200 does not expand a 7.1 system to a 9.1 system instead it becomes a 5.1 system with height or as some would say a 7.1 system. The UMC-200 in Dolby IIz mode reconfigures it output so that the right and left front height channels now come out the outputs formally used as right and left rear. That is to say using the UMC-200 it is impossible to achieve a 9.1 system as called for in the Dolby specification.
While I have not examined all 7.1 Dolby Pro Logic IIz implementations, of the ones I have looked at none have chosen this method. In my limited sample all others have kept with the Dolby spec and allowed users to realize 9.1 outputs from 7.1 devices when operated in Pro Logic IIz mode.
Even given rear panel hardware limitations I believe that Emotiva could have easily chosen to have the height outputs reconfigure the Zone 2 outputs and replace Zone 2 outputs with height channel outputs allowing for compliance with Dolby IIz specified up-mixing of a 7.1 device to a 9.1 device.
Conjecture on my part
A possible reason for this choice on Emotivas' part might be that their DSP ran out of power and can not realize a 9.1 system.
Flame retardant
Please note I am NOT addressing the pros and cons of Pro Logic IIz. I am simply calling attention what may be misleading statements on the part of Emotiva regarding their otherwise well reviewed UMC-200.
j_garcia posts on February 17, 2013 10:58
Not saving the settings is a confirmed bug. I've been a Marantz guy for over 10 years and I had to adapt to their menu system, but even without the manual I was able to figure the majority of it out pretty quick. It can be a bit cumbersome, but once you get the hang of it, it isn't too bad. What took me about 2hrs of poking around last time to find what I wanted took me less than 30 min after the factory reset.

What I've found in comparing over the last few days is interesting. In stereo, my 83SE is clearly better. However in multichannel, the EMO-Q setup does seem to have a cleaner overall sound, though the 83SE still has a bigger sound stage.
Nomo posts on February 17, 2013 07:06
One thing that seems to have helped, but not eliminate, the TV audio issue was to turn off Viera link on my Panasonic. This turns off the HDMI ARC function. This way, if the TV loses audio, I can regain audio by turning the TV off and on again. So far anyway. It's a very sporatic issue.

I haven't had much time to use the UMC in the past week, but it does seem to have trouble retaining it's last used sound parameters. Hopefully a firmware update will fix this. Whenever it gets released.

One thing I do feel is that I'm getting a better sound stage and imaging than I did with my Yamaha 1800. Speculation, because I can't compare them side to side. An example: Henley's voice on The Eagles Long road out of Eden seems to be much more centered and clear on the UMC in direct than it was on the Yamaha in Pure direct. I had to double check to see if I had accidently turned on a different sound parameter because I could swear the center speaker was on. It wasn't.

I've been using Yamahas for the past 7 or so years, so getting used to the UMC's way of doing things has been a bit frustrating. Very minor differences, but enough to throw me off at times.
j_garcia posts on February 16, 2013 22:04
I got the URC to accept the UMC-200 codes finally. Kind of dumb actually: it works if I drop them into a device instead of directly on the main menu.

For the sound to the TV, I occasionally have that issue too. What I noticed is that the mode that was set seems to be retained even when the device is off which in turn affects the audio sent to the TV. Yesterday I switched from the UMC to the TV speakers because it was late and was missing portions of the audio. If I turn it back on, switch it to direct and then turn it off, it works again, however yesterday it kept switching back to stereo and leaving out the other channels (multichannel audio). I had to turn everything off and back on to get it to work again.