7/2100 7-channel Amplifier Overview and Setup
We have to eventually reach a point in home theater where enough is enough! Just how many channels can us home theater enthusiasts support, and more importantly, how many of us have racks or cabinets that can physically support the weight of these mega metal multi channel monster amps (uh oh, tongue twister)? I would venture to say that Sherbourn has approached this limit with their new 7/2100 200 watt/ch x 7 channels, 110lbs heavy power amp. What is interesting about the 7/2100 is it shares the same footprint as their new 5/2100 ($2250) five channel power amp (3u height by 17.7" width). Also, should you decide on a 5/2100, you can always send it back to the dealer to upgrade it to a 7/2100 for an additional $900 or so, when the wife and/or room accommodations allow for a seven channel home theater configuration.

I literally almost ruptured myself hoisting the 7/2100 on my top shelf of my entertainment center and prior to doing so, I had to verify with the manufacturer of my cabinetry to ensure it could handle such weight. (See Staff Reference System 1)
The 7/2100 is a mono block construction, just like its five channel predecessor 5/1500A previously reviewed here, which essentially means each amplifier has a dedicated power transformer and associated supply. Sherbourn feels the advantage of this type of construction is better channel to channel isolation and power reserves since each channel has a dedicated power supply not taxing a common supply like many single supply multi channel amplifiers tend to do. While this can often be true, I have mixed feelings about this, especially since I am an owner of a power amp that shares one huge supply for all three channels. Grant it, my three channel reference power amp has a retail price similar to the Sherbourn so it is really not a fair comparison. However, to prove my point, if budget allows for an amplifier construction to utilize a very large power supply, with separate rectification for each channel, then each individual channel would have the potential for more reserves at any given time, assuming the output devices are robust enough to take advantage of it. This is especially true since in most instances, home theater does not demand nearly full power to all channels simultaneously. However, in reality, when we reach power levels this high, we begin splitting hairs. Given the retail price of the 7/2100 of about $2850, I haven't been able to find a single alternative manufacturer that offers this much power, especially in 4 ohms with all channels driven. In fact only a few other amplifier manufacturers offer similar power capabilities for all seven channels, but at a premium of at least $1000 more money. There are cheaper seven channel alternatives to the 7/2100 with alleged similar power ratings into 8 ohms, but what some of these manufacturers don't tell you is that their solutions are not rated with all channels driven, or they don't specify the total power output into 4 ohms loads.
One point of interest about the 7/2100 is its multi biasing scheme that keeps the amp biased at Class AB for lower power levels and then switches to Class G for high power output to maintain high efficiency and reduce power and heat consumption. Class G operation involves changing the power supply voltage from a lower level to a higher level when larger output swings are required. There have been several ways to do this. The simplest involves a single class AB output stage that is connected to two power supply rails by a diode, or a transistor switch. The design is such that for most musical program material, the output stage is connected to the lower supply voltage, and automatically switches to the higher rails for large signal peaks. Another approach uses two class AB output stages, each connected to a different power supply voltage, with the magnitude of the input signal determining the signal path. Using two biasing schemes improves efficiency enough to allow significantly more power for a given size and weight. I suspect Sherbourn has employed the first method in their design. Employing Class G biasing schemes could arguably not be a preferable option for audiophiles who commonly insist on the linear and usually lower distortion Class A or AB amplifiers, but it never presented a problem in my critical listening tests. In fact, had I not questioned Sherbourn as to why the 7/2100 ran so cool in my rack compared to my reference amps, I would have never known they employed this multi biasing scheme. In any event, the Sherbourn 7/2100 is a true mono block constructed Class AB/G multi channel power amp. Based on their competition, I certainly could agree that their mono block construction does have its advantages.
The Set-Up of the Sherbourn 7/2100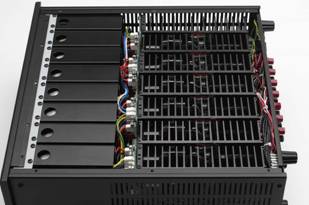 The 7/2100 is by far the heaviest amplifier we ever reviewed, and consequently the most challenging to install into my entertainment center. Placing the 7/2100 on the top shelf of my rack brought me back to the days of standing 225lbs overhead shoulder pressing. It seemed like a good idea at the time, it yielded excellent shoulder growth, but eventually wrecked havoc on my rotator cuffs in the later years to come. My advice here is to place this amplifier as close to the ground as possible, or get one or two people to help you set it up. The 7/2100 comes with all the fixings demonstrating it is truly a high end amplifier meant for the most serious custom installs demanding gut wrenching power reserves. The backpanel consists of single ended and balanced inputs for all channels, a 12V trigger, quality binding posts for the speaker level connections, and the Sherbourn patent pending LDS switch. The LDS feature allows installers to speedily check the correctness of their speaker connections without needing an ohm meter or a walk-through inspection. I found this particularly useful when configuring my system and wished more amplifier companies would offer a similar feature.
The 7/2100 can also be configured in bridged mode to yield a whopping 400 watts/ch for three channels into 8 ohm loads, or 600 watts/ch x 3 channels into 4 ohm loads. However, use this feature with caution, as Sherbourn also states in their manual, when connecting to low impedance speakers. In a bridged configuration, each amplifier see's half the load impedance, thus if you are connecting an 8 ohm speaker for example, each bridged amp would see an equivalent 4 ohm load. Sherbourn explicitly cautions against bridging with speakers less than 8 ohms. I of course didn't listen and attempted to bridge my 4 ohm RBH 1266-LSE towers. When I turned the system on, I was greeted with a psychedelic light show as all the lamps in my living room began dimming due to the 7/2100 short circuit protection circuitry tripping on to protect the amplifiers. I immediately shut the unit off and waited about 10-20 seconds for the lightshow to stop and the DC pulses to stop pounding my speakers while the power supply capacitors discharged. Luckily the 7/2100 and my speakers suffer no damage, but I learned a hard lesson. Later I found out through Sherbourn that they set the impedance threshold on their amplifiers to about 2 ohms, thus the reason why they originally recommended 8 ohm minimum speakers when bridging the amps. I also noted that the manual had a technical error about bridging the 7/2100. It stated for line level connections to use channels 1,3 and 5 for respected speaker level connections of channels 2, 4 and 6, when in fact the line level connections should have been 2,4 and 6 respectively. Sherbourn claims they have corrected this misprint on all new manuals shipping with their current products. I was unable to connect the 12V trigger to the PT-7000 since I only had a cable with plugs that fit the PT-7000 side.

It didn't make sense to me that the PT-7000 employed a headphone type connector for the 12V trigger, but the 7/2100 implemented a bare wire connection 12V trigger mating connection. It didn't really affect my set-up however since the 7/2100 had an auto on detect mode (set to music) that powered the amplifiers immediately after they detected an audio signal. This was another great feature commonly employed on subwoofer amps, but rarely on multi channel power amps. What initially surprised me about the 7/2100 was its usage of dual power cords. However, it made perfect sense considering that under heavy loading, with all channels driven, the 7/2100 could easily consume greater than 15 amps on the primary, thus splitting this current consumption amongst two power cables reduces resistive losses to allow for maximum power transfer when it's needed most. It was obvious to me that the 7/2100 was quite a feature packed amplifier not meant for the typical neophyte looking to set up their first home theater system. The consumer would really benefit from having someone familiar with this type of amplifier to do the install for them, especially since in all likelihood they could have them do the lifting. In fact, I strongly recommend connecting this amplifier and associated audio equipment to a dedicated 20A line to ensure maximum power availability as the 7/2100 could surely deliver if tasked.
In my application I wasn't testing the Sherbourn combo in seven channel configuration, but I didn't want to let those two extra channels simply go to waste. Therefore, I decided to biamp my main speakers since this was something I never did before, mostly because of unavailability of extra amps or shelf space. I realized that I wouldn't be able to achieve the full benefits of biamplification since I had no plans, or means, to physically separate my loudspeakers crossovers and apply active filtering line level to each amplifier.