Marantz Announces New Flagship AV8801 A/V Preamp & MM8077 Amp
Summary
Product Name:

AV8801 & MM8077

Manufacturer:

Marantz

Review Date:

December 07, 2012 06:30

MSRP: $3,599 for AV8801 & $2,399 for MM8077
First Impression:

Pretty Cool

Specifications

| | | | |
| --- | --- | --- | --- |
| | AV8801 | MM8077 | |
| Number of Channels | 11.2 Channels | Number of Channels | 7 |
| Audyssey | Audyssey MultEQXT32, SubEQHT, DSX, Dynamic EQ Dynamic Volume | Power Output (8 Ohm) | 150W (20Hz - 20kHz, 0.08%) |
| Current Feedback Topology | Preamplifier Stage | S/N Ratio | 105dB |
| Power Transformer | Toroidal | Freq. Response (Analog In) | 8Hz - 100kHz (+/- 3dB) |
| D/A Conversion | 192kHz/32-Bit | Current Feedback Topology | Yes |
| Digital Signal Processing | ADSP21487 x 3 | Discrete Amplification | Yes |
| Chassis | Copper Plated, Full Size | Power Transformer | Toroidal |
| Auto Calibration by MIC | Audyssey MultEQXT32 (upgradeable to Pro by Installer) | Chassis | Copper Plated |
| Satellite Radio Ready | SiriusXM StreamingNetwork | Main Amplifier In | Balanced & Unbalanced |
| AM/FM tuner | Yes (HD) | DC Triggers | 1 In / 1 Out |
| HDMI In | 7 (including front HDMI input) | D-Bus Remote (RC-5) In/Out | 1 In /1 Out |
| Component In | 3 | IR Flasher In | 1 |
| Composite In | 4 | Number of Channels | 7 |
| HDMI Out | 3 (2 x Simultaneous, 1 x Zone 4) | | |
| Component Out | 2/Incl. Zone 2 output | | |
| Composite Out | 3/Incl. Zone 2 output | | |
| Analog L&R In | 8/Including 1 x XLR | | |
| Analog L&R Out | 3 | | |
| Digital Optical In | 2 | | |
| Pre-Amplifier Out | 11.2 (RCA & XLR) | | |
| Multi-Channel In | 7.1 | | |
| Multi-Room Audio Out | Zone 2 & Zone 3 Preout (Variable) | | |
| Multi-Room Video Out | Zone 4 HDMI, Zone 2 Component and Composite | | |
| Multi-Room Speaker Out | Yes (Selectable) | | |
| Networking | AirPlay, DLNA 1.5 certified Audio/Photo Streaming, Internet Radio, Streaming service capability (Spotify/Pandora/SiriusXM/flickr) | | |
| External control | RS-232C / IP | | |
| DC Triggers | 2 | | |
| D-Bus Remote (RC-5) In/Out | Yes | | |
| IR Flasher In | 1 | | |
| Front Panel A/V Inputs | Front HDMI, USB and A/V inputs | | |
| Headphone Out | 1 | | |
| Multi-Room Speaker | Yes (Selectable) | | |
Executive Overview
Marantz is beefing up their lineup with the release of two new flagship products, the AV8801 11.2ch preamp and MM8077 7ch amp. Like with other Marantz products, these two are made to complement each other, and from the specs alone they look pretty solid.
AV8801 A/V Processor

The AV8801 retails for $3,599 and sits at the top of Marantz's non-reference line. It supports everything that you would expect from a modern preamp/processor, such as 3D ,4K, video upconvsersion, and network connectivity. It also has a number of features that take it from a run-of-the-mill product to a top performer. The AV8801 is equipped with Audyssey's best calibration system, MultEQ XT32 (upgradable to Pro). It also supports Audyssey Sub EQ HT, a feature we are really excited to see. Sub EQ HT integrates two subwoofers into a system by adjusting level, delay, and EQ independently for each sub. Of Course, careful subwoofer placement is still critical to best performance.
The AV8801 isn't light on connections either. It has both balanced and unbalanced outputs for all 11.2 channels, and supports DSX and DTS Neo:X so you can actually use all 11 channels. It also supports 3 additional zones of audio and video. A phono input should make many audiophiles happy and a 192Khz/32-bit DAC should keep audio coming in from any digital signal sounding pristine. There are a total of 7 HDMI inputs and 3 outputs. Two of the HDMI outputs are mirrored but the 3rd is fully independent and supports instapreview for convenient source selection. We are glad to finally start to see multi-zone support for HDMI as this can make video distribution much cheaper and easier than before. The AV8801 can be controlled via an iPhone app and a 4 port switch allows you to connect three additional devices to the internet via Ethernet. A wide variety of network features, including AirPlay, DLNA, SiriusXM, Spotify, and Pandora round out the AV8801's network connectivity.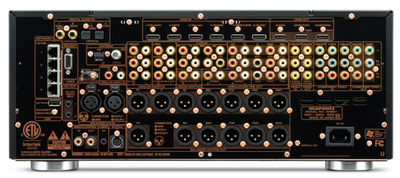 Marantz AV8801 Rear View

MM8077 Seven Channel Power Amplifier

The MM8077 retails for $2,399 and is marketed as the perfect companion for the AV8801. That seems a little odd to us because it is only a 7 channel amp and the AV8801 supports 11 channels. If you want to have an 11 channel system and still keep all the gear Marantz you would need to purchase the MM7055 5 channel amp or two MM7025 2 channel amps in addition to the MM8077. The MM8077 is rated at 150W (20Hz - 20kHz, 0.08%) into 8 ohms and 180W into 6 ohms. The total capacitance is a respectable 100,000µF. The unit is cooled by heat sinks arranged in a tunnel design and a quite fan that automatically kicks in when needed. The MM8077 features both unbalanced and balanced inputs and 5-way binding posts accept bare speaker wire, spade lugs, or banana plugs. Finally, the chassis is copper-plated and part of a multi-layer bottom panel and triple-layer top cover for isolation.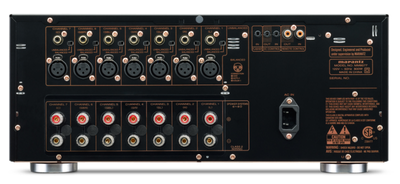 Marantz MM8077 Rear View
Conclusion
We have liked Marantz Reference Series products for quite some time so it is nice to see some of the design features trickle down to more affordable product. Then again, we say "affordable" in comparison to some of the other products we have recently reviewed, such as the Pass Labs X350 stereo amp for $11,000. The feature list of the AV8801 is impressive, but now many receivers for half the price offer similar features. The same goes for the MM8077, similar equipment can be had for less. But, that isn't really the point with these two products; they are not designed for budget consumers. The AV8801 and MM8077 are made for people who want the performance of extremely high-end gear without the price tag, and we think these products fit that niche nicely.
For more information visit Marantz
Bat22tle posts on March 19, 2013 06:48
I think it is a matter of time before one will be sitting exactly where my AV7005 is right now.

Albert588 posts on March 18, 2013 22:16
$3600, huh? Ouch!

Don't worry guys. In a year, you can get it for only $1800 from A4L.
panzeroceania posts on March 18, 2013 15:45
As far as I'm aware the
AV8801, is the only preamplifier that is a dedicated 11.2 system, and it has Audyssey DSX and DTS Neo X. There are a few other products that support an 11 channel mode, but it's the only preamplifier that is 11.2 by default, and isn't 7.1 or 9.1 system with additional preouts. an 11.2 preamp is what I've been waiting for, hopefully Denon and Onkyo will get with the program and finally make an 11.2 preamp.
Warmonger posts on February 11, 2013 17:26
Warmonger;950441
We're both lucky to be blessed to to be ones we are with.
Correction "We're both lucky and blessed to be with the ones we are with.
Warmonger posts on February 10, 2013 22:07
brianedm;950439
Well, that gives you 6 years on my right hand and I, but we still mange to make it work
We're both lucky to be blessed to to be ones we are with.