History of Integra Research
Few people understand the structure of Onkyo and their related companies. Onkyo Corporation, located in Osaka Japan , has two other divisions, each with more refined products that meet the performance expectations of Audiophiles. These two divisions include Integra and Integra Research. Many confuse Integra and Integra Research as being one in the same, but that's not the case. Integra Research is the newest division of Onkyo that specializes in high-end audio products. Since their inception, they have introduced three home theater components which were jointly developed with several US companies. The line-up consists of the Integra Research RDC-7, a 7.1-channel THX Surround EXT audio/video preamplifier/processor; the RDA-7, a US-designed and manufactured seven-channel THX power amplifier with each channel rated at 150 Watts; and the RDV-1, a premium DVD player with a broadcast-quality video section. All three models are THX Ultra® certified. The A/V processor and DVD player are IEEE-1394 capable, and the processor's operating system and surround formats are upgradeable via software that can be uploaded from a PC. The RDC-7 processor's electronics have also been modularized for future hardware upgrades. This ensures that these products will not be rendered obsolete by the introduction of new surround formats.
The three Integra Research Home Theater components were jointly developed in partnership with two U.S. audio and video technology firms: Apogee Electronics Corp., Balanced Audio Technology. Integra Research also worked closely with a team of custom installers to ensure their products meet the needs of that customer base.
The RDC-7 Past, Present and Future
Integra Research has paved the way and set the standard for audiophile products with the design and creation of the RDC-7. Recognizing that there are a number of people hoping to purchase something that will last and not become obsolete by new formats or technologies, Integra Research designed the RDC-7 for both hardware and software upgradeability. The unit has an RS-232 Port for easy software upgrades and to Communicate with AMX, PHAST, Crestron or Other Similar Control Systems. Where the RDC-7 stands apart from many other software upgradeable products is that it was designed and built with modularized electronics for hardware upgrades. When looking under the cover of the RDC-7, it's obvious that Integra Research modularized the PC boards and hardware so they can be easily removed, upgraded or replaced by an authorized technician. In fact, the inside of this unit is reminiscent of today's modular PC's.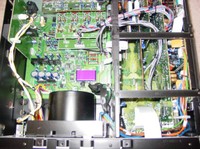 By modularizing the RDC-7, Integra Research has increased the service life of this processor by reducing the chance of obsolescence. The first upgrade to the RDC-7 happened two years ago with the addition of DTS-ES and Dolby ProLogic II. This upgrade was provided at no charge. The second upgrade included THX Ultra2, DTS 96/24 and variable subwoofer crossover at a cost of $500. All RDC-7's currently being sold now include both upgrades. Future hardware related upgrades will be market driven and may include additional IEEE connectors.