Digital Architecture (continued)
Integra Research's RDC-7 implements a Vector Linear Converter (VLC) which utilizes a unique D/A conversion circuit to minimize deterioration caused by conventional high-order analog filters. Unlike conventional methods, which simply convert the sampled data into discrete analog values, the VLC circuit converts the data between the sampling points, and joins the discrete sampling points with analog vectors in real-time.
Non-Scaling Configuration
Integra Research's RDC-7 implements a non-scaled circuit design so the LFE signals are added using analog circuits after the digital to analog conversion process to ensure that the music data is preserved. This also eliminates the possibility of digital domain clipping, thus the summed signal integrity is preserved by adding it in the analog domain.
For more information on Non-Scaling Configuration: download the following Technical Paper
Build Quality
The 36-lb, 18" x 8" x 17 ½" RDC-7 is a giant when compared to most other processors on the market. With a quick peek inside this beast, it was notable to see that components are tightly packed within the chassis. The RDC-7 is a multi-dimensional product that offers refinement not only in its digital and analog architecture, but also in its build quality, as portrayed by its sleek and formidable front and back panels and display.
Front Panel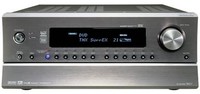 The front panel is laid out in typical form but the distinguishing characteristics of the RDC-7 are noted by some of its mechanical features. For starters, the volume knob is large and robust with a ratchet-like tactile feel. The input source buttons are partially recessed with enough protrusion to allow easy selection. The pockets of each input source button are light with an esthetically pleasing blue light coupled with a red indicator light directly above. A nice feature, these lights only come on when a specific input function is selected either manually, or via remote. To keep the front panel from looking cluttered, the RDC-7 has a motorized lower panel. Behind this panel are other functions such as radio station pre-selects, DSP selection, Zone 2, dimmer, and manual menu functions. The top edge of the front panel is beveled to provide a modern, sleek design.
Display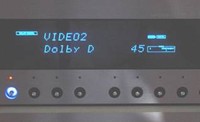 The display colors match that of the blue recessed lighting found in the mode switches. The size is sufficient for easy reading of source selection mode, digital surround mode, and direct mode while viewing from across the room. But as with most other receivers and processors, there are many other secondary items displayed that are too small to read unless you are up close. With the RDC-7's ability to automatically identify an incoming source signal and set the processor to the exact mode of operation, most of these smaller features are for informational purposes only and not critical to normal operation.
There is one point of criticism that can be identified with respect to the front panel, and it concerns the mode selection and power on lights. Both are significantly brighter in their blue lighting than the blue text on the LCD display. They are so bright, in fact, that they can overshadow the display in a dimly lit room. Also, if the processor is located on a rack next to the TV monitor, as is the case in Audioholics' Reference System 2 , these lights can be seen with peripheral vision while viewing movies at night and are a bit of a distraction. These lights remain on even when you implement the dimming feature, which seems to dim only the LCD display.
Back Panel
The back panel of the RDC-7 is laid out in a concise, logical manner which ties into its modularized internal electronics. All balanced connections are located in the mid section with component video inputs nestled above. Digital coaxial and optical connections are in a straight line down the unit. There are five video, one monitor, one DVD video and one Zone 2 video inputs (a total of 8 video inputs) all with an optional S-Video connection. All analog inputs for two-channel sources are located on the left side of the panel. The far most left corner is where the 6-channel input DB-25 and RS-232 connections are located.
The DB-25 connection used for the 6-channel input provides a simplified connection with the Integra Research RDV-1 DVD Player or other players that have matching connector. But when connecting DVD players with standard RCA's, it somewhat complicates things. Since there are no well established standards for color coding the 25-pin connector cables (except for a THX guideline that few cable companies follow let alone know about) it can become a challange to connect. The processor comes with an adapter that combines a DB-25 male connector with 6-female RCA's to allow the user to connect via standard RCA's. If you care to attempt a simplified connection, there are a few cable manufacturers that actually make a DB-25 male connector directly to 6 RCA males to allow direct input to your DVD player. But with no governing standard for the color codes, you'll need a pin-out diagram to ensure your connections are accurate. Furthermore, due to the nature of the DB-25 connector, these cables can not be easily shielded like quality RCA cables. In our opinion, a DB-25 connector for 6-channel input offers few advantages over standard RCA's, save the space savings on the rear panel.
The bottom left corner of the back panel includes an IR in Main , IR in Zone 2 and two 12-volt triggers. The two 12-volt triggers are a useful feature when tied to the Integra Research RDA-7 power amplifier, for example. This feature allows for instant power-up of an amplifier with matching trigger input. The second trigger is useful for tying into any other devices that have a 1/8" mini-jack 12-volt connection.