Comparison to the RDC 7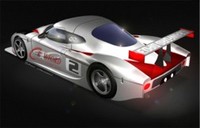 Everyone is familiar with the old saying "too much of a good thing is NOT a good thing".  But how many of us actually live by that saying?  I am one person that usually doesn't, always demanding more - especially when it comes to performance cars and A/V equipment.  With that said, I am always looking for the "ultimate" A/V processor, or at least one that can compete with today's excellent high performance super-receivers.  In the $2-3,000 price range this is a tough find and can even be difficult at $4000 when factoring in all of the latest surround formats, A/V switching, bass management flexibility, etc.  About a year and a half ago we reviewed Integra Research's flagship A/V Processor, the RDC 7.  At the time this was one of the best A/C controllers on the market and it scored very high marks on our A/V Processor Checklist.  Much has happened since then, thus we revamped our Checklist to reflect recent advances in technology and consequently made it more difficult for manufacturers to reach high marks.  We don't do this to be cruel (or at least we don't think so) but to pay tribute to progress. We feel the constant pressure forces manufacturers to strive to reach the pinnacle of perfection and value demanded by the serious Audioholics want more for their money. This is especially important in an ever increasingly competitive marketplace that in our opinion seems to be changing more rapidly than even the computer industry these days.  Integra Research did a fine job with the RDC-7, but it was time to move onto a new platform that would deliver an easier path for hardware and firmware upgradeability as well as incorporate the latest chipsets, processors and technologies.
The major difference of the new RDC-7.1 is its modular card design that allows you to customize its configuration options to suit your needs.  I ordered our review sample with the following optional modules, hoping a future addition would incorporate the very impressive Audyssey Room Correction System we previously reviewed.  Integra Research said they are investigating many such systems and are considering integrating this feature in future upgrades.
Included Modules

Optional Modules

Digital Audio Module
Analog Audio Module
I.LINK Module

Net-Tune Ethernet Module
Video Module
HDMI Module
RCA Component Module
Multi-channel & AES/EBU Module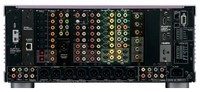 Integra Research RDC-7.1 Back Panel