RSP-1 Build Quality and Setup
Emotiva's RSP-1 is a 2-channel pre-amplifier that operates almost solely in the analogue domain. You won't find any digital audio inputs, video inputs or outputs, and you won't have to worry about what version HDMI you have. For all of you true audiophiles that are only interested in 2-channel, this is the unit for you. Especially for you vinyl freaks as the RSP-1 has a precision low noise phono input with moving magnet or moving coil capability, a functionality that, in recent years, has been harder and harder to find.
Build Quality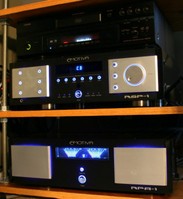 As you delve more and more into the world of the audiophile, you'll find that items tend to be uni-taskers - components that do one and only one thing. The thought being that a component that is dedicated to one purpose in life is much more likely to be successful that that purpose than one that tries to be all things to all people. There seems to be a bit of face validity to that argument even if I don't completely buy into it. Still there are plenty of people that need AV equipment that only performs one or two tasks and feel that the other functionality included may degrade the performance on those tasks.
Just looking at the pictures of Emotiva gear gives you a good idea of how well built it is. Prominent metal faceplates, brushed aluminum chassis, high gloss black side panels, pretty blue lights… they all work together to give the impression of quality and endurance. The RSP-1 just looks like a piece of gear that will outlive you. Something that you'll pass down to your son or daughter (let's just hope they appreciate it).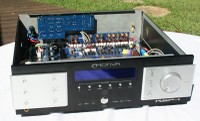 The front of the unit is adorned with various buttons and knobs, all highlighted in blue. The three knobs on the right for Balance, Bass, an Treble all extend with a press and retract with a second which helps maintain the clean lines of the face plate. There are buttons to select the various functions on the left including Mute, Mono, Direct (bypasses the tone controls), Panel Dim, Tape, and Ext Proc (exterior processor) with the input selection buttons in the middle below the LCD readout and above the power button. The headphone jack is nearly hidden below the left metal faceplate. The Panel Dim button has four settings - High, Medium, Low, and Very Low. There isn't an "off" setting for those that want to eliminate that source of light completely from their listening environment.

The back of the unit is full of gold plated Tiffany style RCA jacks for each of the inputs (phono, CD, aux 1 aux 2, tape (in and out), and external processor (in and out)) and speaker and subwoofer outputs. The all-important ground connection for your record player is also gold plated. There is an input and output for IR (which may be important as we'll learn in a moment), a 12 volt trigger, and balanced outputs for those interested in making such a connection. Next to the phono input is a switch to select moving magnet or moving coil depending on your player. At the top, there are two small switches to select High Pass Filter (80Hz or 120Hz) and Low Pass Filter (80Hz, 120Hz, or bypass).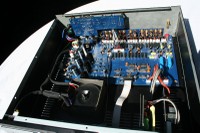 Opening up the RSP-1, we find a really well laid out interior with a separated power supply (utilizing torroid power transformer) from critical audio circuits, glass epoxy PCB boards, and low noise op-amps. But the quality doesn't stop there. We also find a toroud power supply, instrumentation grade inert gas filled relay switching with silver contacts, and 1% tolerance resistors. Film caps show up in all critical signal paths and the list goes on. This is truly a no expense spared unit. How Emotiva can put this quality of components in a $699 unit begs the question of what the other manufactures are doing with all that money they are making.
Setup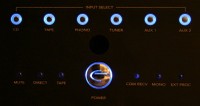 The "setup" for the RSP-1 is remarkably simple (as one would expect from an analogue only unit). All you need to do is to connect your transport or transports to the RSP-1 to the provided inputs, an amp to the outputs, and a 12 volt trigger (if you use it) to the amp. Remember, with a unit like the RSP-1, you'll need a good transport with exceptional DACs. The RSP-1 isn't meant to do much other than pass the signal along unaltered. The bass management ability is pretty rare in a unit such as this.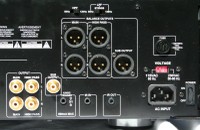 One of the interesting choices that Emotiva made with the RSP-1 is that the crossovers are selected via a switch rather than an onscreen menu and by which output you use to connect the amplifier. This is done because the bass management is done entirely in the analogue domain via active filter networks eliminating the need for DACs. For each channel there is a set of outputs labeled "Main" and a set labeled "High Pass". Both of these outputs receive a signal simultaneously so you can the theoretically connect two amplifiers and sets of speakers to the unit and have them play at the same time. Of course, they'll be playing the same source material (you can't send one signal to one set of outputs and a different signal to the other). There is also an output for a subwoofer if you choose to use one.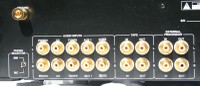 When setting up the RSP-1, you'll want to take into account a couple of things: first the size of your speakers. If you have true full range speakers, you'll want to hook them up to the "Main" output. This setup will send a full range signal to the speakers and is completely unaffected by the High Pass and Low Pass filter switches. If you have nearly full range speakers or if you just want to use a sub, connect your speakers up to "Main" and set the Low Pass filter to 80Hz with the sub connected to the subwoofer output. Your main speakers will still get a 20kHz-20Hz signal but it will allow your sub to reinforce notes 80Hz and below. If you have bookshelf speakers or speakers incapable of handling low frequencies, you can connect them to the High Pass outputs and set the High Pass and Low Pass filters accordingly. Lastly, if you would like to use the crossover in your subwoofer in any of the above configurations (which gives you more control than an 80Hz/120Hz switch), select "Bypass" on the LPF switch. This sends a full signal to the sub with allows you to use the subwoofer crossover. You wouldn't want to select 80Hz on the RSP-1 and set the sub's crossover at the same time else it can result in frequency response variation and too much attenuation. Either use the sub LPF or the RSP-1's, but not both.
If you have an external EQ or similar that you'd like to use, you connect that up through the Ext Proc input and output. Your transports will still be connected to their appropriate inputs. When you want to engage the external processing, all you need to do is hit the button on the front of the unit or on the remote. This will completely bypass the "Bass" and "Treble" controls of the RSP-1. The Tape monitor works in exactly the same way.
Lastly, if you have the ability to use a 12 volt trigger or external IR control, you'll want to make sure you hook those up as well. In my setup, the RSP-1 was connected to the RPA-1. The 12 volt trigger was nearly instantaneous and significantly faster than the RPA-1's "auto on" feature. I highly recommend using this ability if your amp supports it. I connected the RSP-1 to the RPA-1 with the "Main" speaker outputs. This allows my TK-5CT's to run full range without a subwoofer. Since I mostly use the RSP-1/RPA-1 combo for music playback, the TK's play plenty low enough to justify the forgoing the use of a sub. The Denon DVD-3910 was on transport duty - something it is well equipped to do.
Remote Control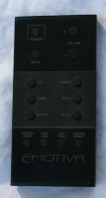 Plastic is anathema to audiophiles so Emotiva obliged and provided a very sturdy, very industrial looking remote. Brushed black aluminum with grey writing, backlighting is nonexistent. The button layout would make any OCD person happy with the straight lines and uniform shape. While it would be easy to hate this remote, I don't. While it isn't that great of a remote (in the grand scheme of remotes), I personally like the aesthetics of it (all those little screws are kinda cool) and the metal keeps the remote cold in your hand (a huge bonus in muggy Florida in August). The 14 buttons would be easy enough to remember even though a unit like the RSP-1 would probably be used mostly in a somewhat lighted room. The downside? You need a screwdriver to change the batteries.
Since I have gear flowing in and out of my room all the time, I am in a unique position to discover (usually quite by accident) shared IR codes. If you've read anything about the RSP-1 online, you've surely heard that it has some IR crossover with other components. During my evaluation of the Pioneer PDP-5070HD, I found the unit turning on. If you have a universal remote, and rely on IR control, you may have a problem depending on what components you own. If you use an RF remote (and you should) with an IR blaster, then you'll find yourself avoiding any and all hassles. Since this is a unit designed for a dedicated two channel rig, I can't really imagine that this "issue" would affect too many people negatively.
metalisrael posts on June 16, 2008 04:44
does anyone else have any actual experience with this?
Metal Israel @
Jemsite
[jemsite.com]
Da Boss @
Metal Israel
[metalisrael.com]
davidtwotrees posts on September 02, 2007 20:37
Excellent review. Not a product I am in the market for, but your article was spot on. I love how you Audioholics always mention that you won't be going into ecstatic audiophool drool like "choclatly midrange" or "liquid highs"....especially from a preamp. And Emotiva really seems to be putting out a solid product for insanely affodable prices.
I am, (yes I know, I know:eek a subscriber to Stereophile, and the Emotiva ads look out of place when they have the MSRP at the bottom of the page.

So once again, good work, well written and informative without the flowery audiophoolia or the EE tecnobabble.
mike c posts on August 31, 2007 21:06
now I'm very curious what's behind the 'aux 2' sticker in the back.
Kitsum posts on August 31, 2007 12:00
Are all the buttons-knobs plastic or aluminum?
amp74 posts on August 31, 2007 08:52
And havent looked back. got the combo pre and power amps.