DMC-1 First Impressions
This was my first time using an Emotiva product, however I have thought their new line was quite beautiful and well-polished, putting form up there with function. Their upcoming Ultra-Lite series seems to extend this trend with an affordable "budget" multi-channel solution that has the appearance of a product that should cost a whole lot more. Regarding the DMC-1, first impressions abounded. The unit was simply stunning to look at. The front brushed aluminum accent panels are "lifted" from the chassis and accented by a blue LED backlight. The amount of backlit buttons and features are initially disturbing, but can be tempered or eliminated completely via a "Panel Dim" button on the front (there are three levels of dim as well as an 'off' setting).
Speaking of buttons, there seem to be a lot of them on the front of the DMC-1. But really, it's the methodical arrangement of the buttons which gives one the feeling of having a science-fiction computer device at your fingertips. The volume control is very cool in that it functions digitally and allows volume to be changed in a non-linear fashion. The faster you turn the dial, the more dramatic the volume will ramp up or down. If you turn the dial slowly, you can easily adjust volume gradually in 0.5dB steps.
Setting Up the Processor
I would have to say that this is one of the easiest processors I have ever had the pleasure of setting up. My "pre flight check" recommendations prior to configuring the system follow the normal suggestions: run your power and audio/video source interconnects, connect your preamp outputs (XLR recommended) to your power amplifier and ensure that your loudspeakers are correctly placed within your room. Once the externals are in place you will be ready to configure the processor and get everything set to run smoothly.
The Emotiva software has 5 main setup pages with various submenus. They are, in order of appearance (but not importance): TRIMS, MODES, TONE, INPUTS, and SETTINGS. The Setup Menu is accessed by pressing the " Menu" button on the M X-500 while in the EMO device control area. The Setup Menu does not, unfortunately, "loop" when you hit the bottom of any of the lists, so you'll have to up arrow all the way to the top if you are at the bottom of any particular screen or selection.
To start your setup adventure, begin with the SETTINGS submenu where you can adjust various options for your Main Zone, Zone 2, speakers, video, and RS-232C/IR controls. Jump into the SPEAKERS submenu first and set the SIZE, DISTANCE, level CALIBRATION, and crossover settings. A separate crossover frequency (40 - 160Hz in 10Hz increments) can be set for the Left and Right speakers and for the Center and Surround speakers.
Editor's Note on DMC-1 Bass Management
We strongly recommend setting your crossover's within 20Hz of each other to avoid bass recombination issues andor truncated LFE bass with this processor. There are various ways to handle LFE channels and bass management within processors and several schools of thought populate the marketplace. When the corresponding speakers are set to "Small", Emotiva has chosen to allow the Center/Surround crossover settings to truncate the LFE track frequency information. What this means is that if the LFE track contains frequency information going up to 100Hz, but your center/surround crossover is set at 40Hz for larger, floorstanding speakers, that LFE track will also be rolled off at 40Hz at a rate of 24dB/octave. The LFE track info from 40Hz - 100+Hz is greatly attenuated from the system. If you think about it, this will largely only affect those subscribing to the ITU 5.1 speaker configuration with larger (but not full range) speakers all around. If this describes you, you can select a higher LFE setting, or you can opt to try using your system with all speakers set to "Large" to see how well the bass integrates in your room. Bass management is largely about options, and simply knowing what is happening is the first step in making sure you get the best sound possible in your listening room.

In our configuration, we were using a THX Select 2 System with both crossovers set to 80Hz. Setting the crossovers to 80Hz eliminated the truncation issue and resulted in well-balanced system integration. Simply keep these issues in mind as you configure your bass management and, particularly, select the crossover frequencies for your center and surround speakers.
When all crossovers are set to 80Hz, we see a perfect 12dB/oct HPF rolloff and -3dB @ 80Hz for all speakers set to "small", and 24dB/oct LPF rolloff and -6dB @ 80Hz for the sub/lfe channel as per THX recommendation. In most cases, this is the optimal configuration that you should at least use as reference point, only varying if your particular speaker system and/or room integration requires it.
Once you have set SIZE and the two L-R and C-SURR CROSSOVER frequencies, you can glance at the SUBWFR MODE setting, which allows a "double bass" or ENHANCED feature that sends signal to the Subwoofer even when your main speakers are set to "Large". This only affects 2-channel audio and has no effect with respect to 5.1 or 7.1 surround modes.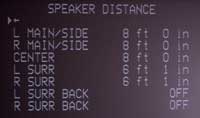 DISTANCE can also be set for your loudspeakers and is adjustable in 1" increments. This exceeds most processors I've seen, who generally only go as low as .1 foot increments. Take a ruler out and carefully measure the distance from the tweeters to the listening position (where your head would be). Do this for all speakers and enter that info into the Emotive DMC-1 so that delay compensation for your speakers can be set. Since the Side Axis speakers are really just derivatives of the Main Left/Right channels, they share delay settings and should not affect your measurements. Conspicuously absent is any delay settings for the subwoofer. I wouldn't think this to be a big issue as anyone spending this much on a high-end processor would have a subwoofer with variable phase to solve any room integration issues but keep this in mind when picking the right subwoofer(s) for mating with this processor.
Editor's Note
We inquired with Emotiva about the Side Axis channels to get some additional information on how they are derived. Here is their informative response:

The side-axis is an analog steering circuit fed from the analog L/R signals after the DSP (and all bass management) and is simply an L+R/L-R matrix circuit that provides roughly L - 0.28R to the Left side axis and R - 0.28L to the right side axis circuit. As such, it does provide needed fill for a video scene where a sound is panning from the front to the back. It makes the pan much smoother. Being in the analog domain after the DSP, it always tracks the speaker size and crossover points of the M ain L/R outputs. It has its own volume control chip and noise calibration trim, however.
Our settings looked a little something like this:
Speaker

Size

dB SPL

Distance

LEFT M AIN

Small

0

8 ft 0 in

RIGHT M AIN

Small

0

8 ft 0 in

CENTER

Small

0

8 ft 0 in

LEFT SURROUND

Small

+2.0

6 ft 1 in

RIGHT SURROUND

Small

+1.5

6 ft 1 in

LEFT SUR BACK

Off

--

--

RIGHT SUR BACK

Off

--

--

SUBWOOFER

Yes

+0.5

NA

L-R CROSSOVER 80 Hz

C-SURR CROSSOVER 80 Hz

Reference Level Calibration to 75 dB SPL (SUBWFR M ODE = NOR M AL)