AVP-A1HDCI Design Overview
Introduction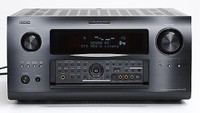 Maybe you should wait another 3-4 years until Denon comes out with a replacement to the AVP-A1HDCI A/V processor. While you're at it, you might as well wait on purchasing a new car. By then, the car industry would be releasing an affordable sports sedan that gets 100mpg running on plant algae with a 0-60 time in under 5 seconds and Denon would have added yet another must have feature not currently found on this model. After all, this bad boy won't network with your "smart" refrigerator or stove top despite it has an Ethernet port and is WiFi capable, nor will it run on solar power as going "green" hasn't hit the A/V marketplace yet as it's barely reached out to the car industry. You can wait, and wait or be content with the fact that the AVP-A1HDCI will decode and process every current A/V format unadulterated and leave room for future ones via external inputs and/or firmware upgrade options to ensure what you buy today won't double as an expensive door stop tomorrow or the days that follow shortly thereafter. As for the fuel efficient sports car….don't hold your breath….
Denon took a hiatus from making dedicated pre/pros for longer than I can remember. Instead, their focus was on bringing to market some of the most feature packed performance receivers in efforts to become one of the dominant players in the receiver market. Their efforts have paid off and they proved they could dominate market share at all price levels and even push the envelope with their introduction of the $6k AVR-5805 multi functional "super receiver" which to date, in my opinion, is still one of the best performing A/V receivers ever built! The AVR-5805 had a good run for 4+ years but has since than been replaced by a scaled back successor – the AVR-5308CI. While the AVR-5308CI has virtually all of the same features found on this processor, it lacks the balanced circuitry design, class A audio drivers and a host of other component upgrades (some of which I found measurable differences during my preamp testing of the two units). Considering the AVR-5308CI sells for about $2k less than this preamp and has nine respectable built-in power amplifiers, I'd say it makes it quite a bargain.
Denon has aimed its sights higher with the introduction of their AVP-A1HDCI (A/V pre/pro) and POA-A1HDCI (10 channel power amp) separates solution which goes up against the likes of Krell, Lexicon, Classe, etc. These are not value products, but instead statement pieces to show off Denon's engineering prowess and legitimize their brand into the high end market segment. The question remains however, will this separates solution deliver the goods and carry enough prestige to justify the $14k price tag? Read on to find out….
Design Overview & Key Features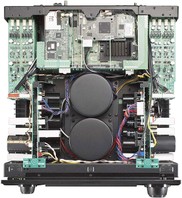 Weighing in at nearly 60lbs, the AVP-A1HDCI is more massive than most flagship receivers, including their very own AVR-5308CI. Typically when I pop the cover off a so called "high end" processor, I see a lot of empty space. This is not the case with the AVP-A1HDCI. This baby is packed full of components and its packed in there so snuggly, that I'd venture to say Denon could have went with a larger chassis to give it an even more "audiophile" appeal to it. The AVP-A1HDCI actually uses the same casing from the venerable AVR-5803 receiver but sports all new electronics including two large shielded torroid transformers. The AVP-A1HDCI utilizes a traditional linear power supply and there are tons of high quality power supply capacitors stacked to the sides of the chassis to ensure clean stable power is never an issue. The finned heatsink near the top of the chassis and below the WiFi card is utilized for the Realta / HQV processor
Denon boasts the AVP-A1HDCI is the world's ONLY fully balanced processor from input to output (see left pic above). This can be seen by the large array of balanced outputs (9 for the mains and center/surrounds, and 3 for independent subwoofer outputs). You can configure for two different pairs of surround speakers for optimized positioning for music vs movies or run two pairs of side or back channels for larger theater installs to increase coverage. Denon doesn't just stop with balanced outputs, they also sport two balanced inputs via the CD input and follow the balanced topology from input to output of the entire product. The advantages of fully balanced circuit designs include significant reduction in distortion and noise / RFI/EMI pickup. The only disadvantage is cost and complexity in circuit design as you need double the components and occupy more internal real estate. Denon utilizes a direct mechanical grounding scheme with independent transformers and power supplies for each block as can be seen in the above right pic. The preamp drivers are all high current pure class A for the best fidelity and signal drive possible. Like with past flagship Denon products such as the AVR-5805CI, the AVP-A1HDCI uses the very best Burr Brown PCM-1796 dual differential DAC's (four per channel), coupled with Denon's own proprietary DDSC-HD digital audio technology and Advanced AL24 processing for the highest linearity and lowest noise floor possible.
Video Processing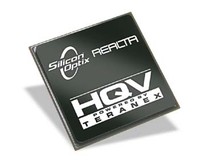 On the video side, Denon uses Silicon Optix Realta HQV processing and scaling with built in multi-cadence detection for accurate i/p conversion when standard interlaced video is viewed on progressive scan displays. The Realta sxT2 HQV 10-bit processor converts standard interlaced signals into progressive scan signals in order to eliminate the stair-casing effect that conventional up-converters can introduce to diagonal edges. In addition, this unit's Full 10-bit video processor can pass a 1080p/24fps signal through its HDMI input/output and supports Deep Color up to 36-bit and xvYCC broader color spacing via HDMI while also supporting full conversion of all analog signal types including composite video, S-Video, and component video to HDMI up to 1080p. If you were to put all of the video features and processing the AVP-A1HDCI has on board into a stand alone box, it would easily sell for $2500 or more. Consider it a bargain that Denon lumps this technology with independent configurability per input into this processor.
Audyssey MultEQ XT & Dynamic EQ (DEQ)
The AVP-A1HDCI sports Audyssey MultEQ XT with eight-point auto setup and a new feature called Dynamic EQ. Unlike conventional loudness controls, Dynamic EQ is NOT based on the Fletcher & Munson curves. Instead it works in tandem with Audyssey equalization using proprietary methods for real-time calculations of differences between reference level and playback level curves to ensure proper tonal balance correction regardless of listening level. There are plans to upgrade AVP-A1HDCI with Audyssey Dynamic Volume and Pro Installer which would enable the installer to use Audyssey's own calibration kit, boost measurement points from 8 to 32, and allow curve editing per channel. I will be reporting on my experiences with these upgrades later in the year when they become available assuming I still have the pre/pro at my disposal.
Network Streaming, Wifi, XM Radio, iPod and more
The Denon AVP-A1HDCI is packed with networking features typically found on media PC's and unheard of in A/V receivers and processors only a couple of years ago. Not only does the AVP-A1HDCI sport an Ethernet port for a direct internet connection to handle firmware updates and audio streaming, but it can also connect wireless via a WiFi (802.11b/g) connection for even further flexibility. The AVP-A1HDCI defaults to the Ethernet connection once you plug the cable in and I found it a breeze to connect to my network whether wired or wirelessly.
As with most of the latest generation of upper echelon A/V receivers, the AVP-A1HDCI integrates XM Radio and iPod connectivity, but it also boasts the ability to do internet radio, Rhapsody and HD radio.
Internet Radio
Net Radio is a free (for the time being) internet radio program that allows you to stream stations off the internet to your receiver/processor.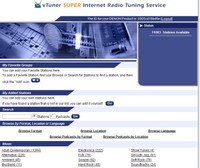 For Setup goto: http://www.radiodenon.com and follow the procedure below:
1. *Select the "Net" input on the AVP-A1HDCI
2. Push the "MENU" button.
3. Select the "MANUAL SETUP".
4. Select the "NETWORK SETUP".
5. Select the "Network Info".
6. Display Shows the MAC Address.
7. Enter the MAC address online
* make sure you don't forget to do step 1, else the website won't identify your product even if you type in the MAC address for it.
What's really cool about Denon's Net Radio, is you can program all of the stations you want online. The website breaks down over 11k available channels by location, genre and streaming quality. You can group stations which will automatically update on the AVP-A1HDCI once/day though my unit was updated almost instantly. Audio quality varies from 64kbps MP3 to 128kbps WMA even some AAC for jazz stations but those seemed mostly limited to 64kbps.
When you select the "Net" input, you are brought to an OSD (left image) where you can make your choice between Rhapsody, Internet Radio or Media Server. I selected Internet Radio and within minutes, I was chilling to tunes from stations all around the world. I found an all Beatles channels and also happened on some Billy Joel in the process. Too bad you can't search by artist but perhaps they can add that feature in the future.
Rhapsody
Rhapsody is a paid music broadcast system that gives you access to millions of song for a $12.99 monthly access fee. There is supposedly a free 30 day trial accessible to Denon users by signing on to: http://www.rhapsody.com/denon/signup but I was unable to take advantage of it. I even emailed them to see if I could get temporary access to this service for my review but received no response. Perhaps I will revisit this music service in a later review.
Music Server
The AVP-A1HDCI's Music Server function lets you stream audio and still image files from your PC via Windows Media Player Network Sharing Service or Windows Media Player 10 (or higher). To access iTunes library and playlists you need to install TwonkyMedia software to your PC. Twonky Vision is a software program needed to network and manage your iTunes database and can be downloaded from www.twonkyvision.com for a one time fee of $29.99.
Enhancing Sound Quality Through "Restorer"
To ensure the best fidelity possible, there are three proprietary DSP music enhancer modes labeled as "Restorer 1, 2, 3" which attempt to improve the fidelity of compressed music sources making them more palatable to listen to. This is a good feature to have and was beneficial in usage, especially via Internet Radio and MP3 copied music. I tried them out and found modes 1 & 2 to sound nearly identical whereas mode 3 labeled "HQ" seemed to over boost the highs and seemed more appropriate on stations that were severely lacking high frequency response. You can even overlay PLIIx Music Mode when using the "Restorer" sound enhancer which really adds further intricacies to the music.
Multi Zone Audio – A Total Home Solution
The AVP-A1HDCI is armed to the teeth when it comes to audio and video support for up to three additional zones. Although the AVP-A1HDCI doesn't do a second zone of 5.1 DD/DTS decoding (a feature only found on the AVR-5805 receiver) it does offer digital optical outputs for zones 2 and 4 to interface with additional A/V receivers and stream its sources to them for decoding and processing. Zones 2 and 3 offer stereo line-level audio outputs with volume, balance HPF option, and tone control where Zone 2 features composite, s-video and component video output and Zone 3 has composite video output. Zones 2 and 3 also boast conversion of optical or coaxial digital signals to analog audio output for 2nd and 3rd rooms (PCM signals only) so you don't have to run additional analog audio cables from each source should you desire them to play on those two zones. Combine this with Denon's music streaming capabilities, RS232 functionally for external control, and four high current (250mA / 12V) triggers assignable to zone, input source, surround mode, HDMI monitor, etc ensures that the AVP-A1HDCI can intelligently operate your entire home theater system and serve as the demarcation point for entire home A/V solution.
It's good to know that when you're buying a high end processor from Denon, you aren't buying a hollow box with a lot of hot air in it like many esoteric companies tend to offer. This product is built like a tank and utilizes some of the very best analog and digital components the industry has to offer.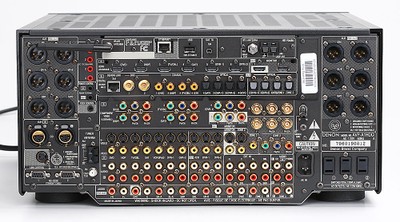 Back Panel View of the Denon AVP-A1HDCI
The AVP-A1HDCI rear end's impressive stature would make even Jennifer Lopez envious. With every conceivable connection type supported including two BNC's digital outputs, one set of BNC component video inputs and outputs, six HDMI inputs, two HDMI outputs, 12 balanced outputs and 2 balanced inputs; the AVP-A1's got you covered with enough goesintas and goesoutas to serve even the most sophisticated home theater and multi zone audio installations.
AcuDefTechGuy posts on May 19, 2013 09:36
Hannibal_CPS;968989
Hello gene,

I have a Asrock Vision X 312 and was wondering if I can use the USB outlet and connect directly with a USB cable QED Performance Graphite USB Type A to Type B USB Cable 2m in the Denon AVP-A1HDCI DAC to listen to files in FLAC \ SACD and will have a quality sound?
I've used a USB thumb-drive w/ my AVP-A1 in the past and it worked fine. But I think my files were WAV and WMA Lossless.
So I would guess your case could also work. I don't know about USB-FLAC/SACD, though.
Now I am just streaming Apple Lossless Audio Files (ALAC) from my iPad to my AVP-A1.
Hannibal_CPS posts on May 18, 2013 16:46
gene;923571
If you're not running the POA in bridged mode, you only need 1 unit to power all 9 of you speakers since it's a 10CH amp. If you do want to run both units with each channel in bridged mode than simply assign each bridged channel to a channel from the AVP and make the connections accordingly.
Hello gene,
I have a Asrock Vision X 312 and was wondering if I can use the USB outlet and connect directly with a USB cable QED Performance Graphite USB Type A to Type B USB Cable 2m in the Denon AVP-A1HDCI DAC to listen to files in FLAC \ SACD and will have a quality sound?
Hannibal_CPS posts on May 14, 2013 19:28
Hello,

I have a Asrock Vision X 312 and was wondering if I can use the USB outlet and connect directly with a USB cable QED Performance Graphite USB Type A to Type B USB Cable 2m in the Denon AVP-A1HDCI DAC to listen to files in FLAC \ SACD and will have a quality sound?
gene posts on November 16, 2012 09:52
giuseppe001;923494
Hello Gene
many thanks for the answer.
I don't have 20 speakers, lol
I have a 9.1 system and when i say 20 channel is because the totale channels of the 2 POA's are 20.
But i have not understand how to set the AVP, connect the AVP to the 2 POA's and connect the speakers (9) to the 2 POA's.
COuld you pls help me ?
Tks
Giuseppe
If you're not running the POA in bridged mode, you only need 1 unit to power all 9 of you speakers since it's a 10CH amp. If you do want to run both units with each channel in bridged mode than simply assign each bridged channel to a channel from the AVP and make the connections accordingly.
giuseppe001 posts on November 16, 2012 02:09
Hello Gene
many thanks for the answer.
I don't have 20 speakers, lol
I have a 9.1 system and when i say 20 channel is because the totale channels of the 2 POA's are 20.
But i have not understand how to set the AVP, connect the AVP to the 2 POA's and connect the speakers (9) to the 2 POA's.
COuld you pls help me ?
Tks
Giuseppe