Anthem Statement D1 Q and A
Anthem was kind enough to answer some of our questions and fill out our A/V Processor Checklist with respect to the functionality of the Statement D1.
Q&A with Anthem Engineering
How and when Anthem plans on supporting DSD and DVD-A via i.link.
Anthem: Scheduled for end of this year, IEEE1394 will be added, and all AVM 20s, AVM 30s, and D1s can have the retrofit. DSD and DVD-A can both go over 1394 (HDMI is DVD-A only).
Will there be a DAC upgrade to AKM 4396?
Anthem: No. A white paper explaining various issues with DSD and PCM will appear on our site soon.
What are the plans for DVI/HDMI support?
Anthem: DVI - use HDMI/DVI adapter, audio sources will be assignable to HDMI inputs. HDMI - same as #1, details in Audioholics A/V Checklist.
Additional Notes From Anthem Engineering
Additional Notes: The Statement D1 is the world's first upsampling multichannel pre/pro (even DD /DTS go through the upsampling chain) - the upsampling provides elimination of digital noise byproducts (reduces them by 120 dB and up, and 120 dB is already below system noise).
Additional Features
AES/EBU input
Pro-quality A/D conversion via coax out
Simulcast (select one video source and a different audio source)
3 zones plus two record loops (Zone 2 also has OSD via composite and s-video)
Center channel EQ that we created by measuring how TV screens affect response (in Paradigm's anechoic chamber) and programming inverse curves in setup according to screen sizes
Level matching for each audio inoput source
Other extras include timers, triggers, and IR hub with 12V supply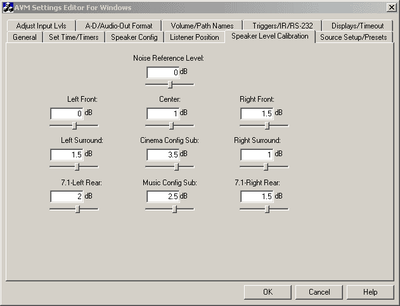 Anthem Settings Editor for Windows
Closing Comments
Audioholics is looking forward to a more in depth investigation of the latest Anthem Statement product offering.
The Anthem Statement D1 SSP offers some very noteworthy features such as:
Flexible bass management and configurability.
High current +12V (200mA) triggered output.
THX Ultra2 Certification and Processing.
Balanced Outputs.
Premium components.
Multi room audio/video support.
Room Resonance Filter.
Bass management and digital delay compensation on analog multichannel inputs.

Our "First Look" mini-review of the Anthem D1 will be updated regularly once we examine this A/V Processor in more detail.
Feel free to discuss the new Anthem D1 in our forums. Once the Anthem Statement D1 SSP is upgraded with active IEEE 1394 (i-Link), HDMI, DVI and/or proprietary interface, we are confident that the $5,000 Anthem D1 Preamplifier A/V Processor / Tuner will prove to be a noteworthy addition to the ever changing and highly competitive A/V Home Theater market. Either way you look at it, this is a hot platform with much potential for future expansion and should remain on your short shopping list when comparing high performance processors..
To understand the benefits of i.link / digital connection for DVD-A/SACD, please check out our commentary in the following review excerpt from the Yamaha RX-Z9.