AV550SC Full Review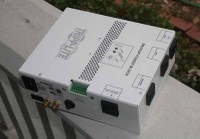 It's easy to think of UPS battery backup systems as products intended for use with home theater systems, PC systems and servers. But what happens when you have a remote area that houses your routers and cable modem? For this, Tripp Lite presents their AV550SC, a 300W (550VA) device with 4 outlets that provides basic battery backup protection for your cable modem, router, switch and/or other devices that are just as important to your home theater or office setup, but don't necessarily require a fancy box and tons of power output.
Build Quality & Installation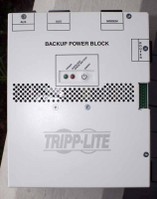 The Tripp LIte AV550SC is a small metal box, approximately 8x7x3 and can sit on one of three sides. There are four power outlets available, marked as Router, Modem, Aux and Aux. The Power button exists on the large side of the UPS and two LEDs (green & red) indicate power and overload/check battery states. On the one side (where the router power outlet is) exists the 10A breaker reset button, cable protection (2.2GHz loop through), and an in/out port that will only support phone line protection (not Ethernet). There is also a 12VDC output (1A max) voltage bank for use with controlling other trigger-ready devices.
The unit is heavy, about 7.8 pounds, and will sit securely where placed. The only downside is I would have liked to see some sort of mounting system. This is a UPS system I'd like to see mounted on the wall so that the wiring and power cabling could be installed all around it. It seems perfectly suited to this, though I'm guessing the overall form factor was due to the size of the battery and not to optimize the layout of the product, About the only good thing from the multi-sided layout is that wall-warts (large transformers) will fit much more easily around the chassis.

We installed the AV550SC in the equipment closet and plugged in a cable modem, 8-port gigaswitch, Universal Remote Control MSC-400 and a Denon iPod dock system. There are two screw holes on the rear of the unit that means it could theoretically interface with a wall-mount system, however no hardware is included and the user manual and website offer nothing in terms of helpful information. Additionally, if you open up the system to access the holes from within (to bolt or screw it to a wall) you void your warranty. Since we couldn't easily wall mount it, we set it on the shelf so that the power button was facing up and we had access on the other two sides to the power outlets. It fit snugly into the corner and gave us plenty of room for our plugs. We powered the entire unit by plugging it into a 20A wall outlet. Next we connected our cable modem line through the in and out ports, which gave us protection from the frequent electrical variations we encounter here in the lightning capital of the world. If you have all of your products power protected, but don't break the cable line, you're likely to suffer damage should a spike ever come through that "hole" in the system. Believe us, we've seen it happen and it's not pretty.
Conclusion
We used the AV550SC for several weeks, using enough of the power draw to adequately test the system so that it ran 24/7 and we could monitor it for any anomalies. What we found was that the AV550SC ran flawlessly and handled power outages quite well. In fact, at one point we actually took it off the home power and plugged in a small corded power tool. What we especially like about this system is that the AV550SC isn't "whiny". It doesn't beep or make noise when it loses power or switches to battery mode during spikes or drops - all that happens is that the Overload/Check Battery light comes on. Finally, a silent UPS! For anyone who needs battery backup in a remote area or for light duty power management, the Tripp Lite AV550SC seems like an excellent product to fill the void. For the price we recommend it heartily.
Tripp Lite World Headquarters
1111 W. 35th Street
Chicago, IL 60609
(773) 869-1111
www.tripplite.com
About HD-Products, Inc.
Enhanced service and industry-exclusive products have been Tripp Lite trademarks for more than 80 years. Tripp Lite's innovations include the world's first UPS system designed specifically for personal computers, and the world's most trusted premium surge suppressor—the Isobar®—with more than 15 million in use. Tripp Lite maintains the highest level of ready-to-ship inventory in the industry with more than 1,000 different products, including UPS systems, surge suppressors, inverters, KVM switches, cables and connectivity products, power strips and PDUs, notebook accessories, rack systems, network management accessories and more. Headquartered in Chicago, Illinois, Tripp Lite maintains a global presence with fully staffed offices worldwide. Additional information, including a list of Tripp Lite's sales offices and authorized reseller partners, can be found by visiting Tripp Lite's Web site: www.tripplite.com.
The Score Card
The scoring below is based on each piece of equipment doing the duty it is designed for. The numbers are weighed heavily with respect to the individual cost of each unit, thus giving a rating roughly equal to:
Performance × Price Factor/Value = Rating
Audioholics.com note: The ratings indicated below are based on subjective listening and objective testing of the product in question. The rating scale is based on performance/value ratio. If you notice better performing products in future reviews that have lower numbers in certain areas, be aware that the value factor is most likely the culprit. Other Audioholics reviewers may rate products solely based on performance, and each reviewer has his/her own system for ratings.
Audioholics Rating Scale
— Excellent
— Very Good
— Good
— Fair
— Poor
| Metric | Rating |
| --- | --- |
| Performance | |
| Function | |
| Versatility | |
| Build Quality | |
| Ease of Setup/Programming/Integration | |
| Fit and Finish | |
| Performance | |
| Value | |