PR1500LCD Software and Conclusion
The PR1500LCD features eight battery and surge protected receptacles (NEMA 5-15R). Of these, four are designed to serve as "fail-safe" options for protecting critical loads. What's cool about this is that the system will actually shut down the other 4 receptacles first in the event of a power interruption, leaving you a precious few minutes on more critical equipment to get it powered down in a worst-case scenario. The UPS has four maintenance-free, user-replaceable 12V/9Ah batteries. Typically, batteries last around 4-5 years, and CyberPower provides a limited warranty for 3 years.
Included Software
The included PowerPanel Business Edition software not only monitors the UPS status, but can be configured to shut down up to two servers* connected via RS-232 - even without user intervention. In this way you can make sure that your servers shut down properly at a certain point of power depletion, rather than allowing the system to exceed its limits and cause a hard shut-off.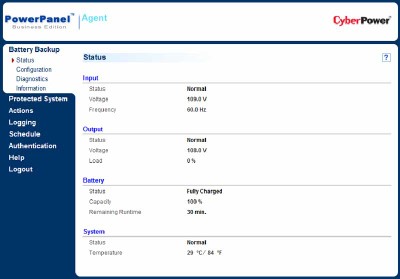 *requires that PowerPanel Business Edition be installed on the second server as well.
The software shows the same information as the LCD panel, but in the case of remote use, you can monitor that information without having to go into the equipment room and check the rack. You can also set the thresholds at which point the system will provide voltage regulation and engage the battery system. The software is compatible with all modern flavors of Windows. Linux users can download the PowerPanel Linux software and is not natively Mac compatible at this time. If you are using a Mac, just use the Apple-provided Energy Saver UPS manager which will allow you to configure a number of options for the PR1500LCD.
Conclusion
The PR1500LCDRTXL2U is a mouthful of numbers, but this is one product whose name is actually less complex that the product it represents. We don't mind complexity as long as it's hidden under the hood. In the case of this product from CyberPower, the PR1500LCD series UPS can be setup as easily as plugging it in and prioritizing your downstream equipment. You don't even have to install the software to make it work. If, however, you want to tweak the settings, then go ahead and install the included PowerPanel Business Edition and play to your heart's content. This is a sophisticated system that is perfect for power users, network administrators and other professionals who want superior power management capabilities in a streamlined package. This may be overkill for home theater use (plus it doesn't address high bandwidth RF protection), but compared to some other "high-end" power protection units we've seen for nearly 4x the price (and more) this product will flatten the competition. Highly recommended.
CyberPower PR1500LCDRTXL2U
MSRP: $736
www.cyberpowersystems.com
About CyberPower Systems, Inc.
CyberPower Systems, Inc. designs, manufactures, and markets state-of-the-art power protection equipment for corporate, business, home, government and educational markets. CyberPower is an industry leader by surpassing customer expectations in the development, design, construction, durability and functionality of uninterruptible power supply (UPS) products for computers, peripherals and connected devices. CyberPower Systems operates in the Asian Pacific, North American, and European markets. To learn more, visit cpsww.com.
The Score Card
The scoring below is based on each piece of equipment doing the duty it is designed for. The numbers are weighed heavily with respect to the individual cost of each unit, thus giving a rating roughly equal to:
Performance × Price Factor/Value = Rating
Audioholics.com note: The ratings indicated below are based on subjective listening and objective testing of the product in question. The rating scale is based on performance/value ratio. If you notice better performing products in future reviews that have lower numbers in certain areas, be aware that the value factor is most likely the culprit. Other Audioholics reviewers may rate products solely based on performance, and each reviewer has his/her own system for ratings.
Audioholics Rating Scale
— Excellent
— Very Good
— Good
— Fair
— Poor
| Metric | Rating |
| --- | --- |
| Performance | |
| Function | |
| Build Quality | |
| Ease of Setup/Programming/Integration | |
| Features | |
| Fit and Finish | |
| Performance | |
| Value | |

zumbo posts on November 26, 2010 20:29
I use a Cyberpower PR2200LCDRT2U. There is no noise added to my system. Fans only run if there is a power outage. Of coarse, I shut my system down after the outage. SAFELY.
I can't imagine how many times this component has saved another component in my system. It is priceless. It will also kick on during crazy insane volume levels. Usually rocking by myself when that happens. If the fans come on then, there is no way I could hear them.
http://www.pcnation.com/web/details.asp?item=T14236
[pcnation.com]
ZIPPO posts on November 07, 2010 13:11
Did the PR1500LCDRTXL2U have an audible hum/buzz? What about fan noise?
I recently purchased a CyberPower UPS( OR500LCDRM1U ). I had to return it, because it was too loud( audible hum ).
nibhaz posts on June 09, 2009 08:57
Am I missing something...there appears to be just the intro?