PR1500LCD Build Quality and Outlets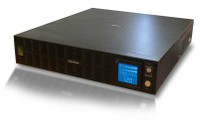 When you invest in electronics, be it for the home theater or for the home office, battery backup is something that should not be left out of your budget. In these days, when time equals money, it's unthinkable that a lightning strike, random brownout or other electrical snafu could cost you hours of work or even thousands of dollars in equipment. While many people connect some sort of surge protection to their systems, nothing less than a UPS (Uninterruptible Power Supply) will guarantee your work doesn't get wiped out when someone down at the local power station decides to trip over an extension cord, or a squirrel forgets that running the Nutty 500 race across a wet power line might not be the best decision he's made all week.
Florida, where this reviewer lives, is considered the lightning capital of the U.S. Florida Power & Light stated that there were more than 330,000 lightning strikes in its service territory (which covers about half the state) during 2002. Of course, according to the department of energy, there are over 100 lightning strikes per second across the face of the earth, or 8.5 million per day. Battery backup is starting to look pretty good to me these days. It was with this mindset that I opened up the CyberPower PR1500LCD to take a look at what it could do. The full product model number for this device is PR1500LCDRTXL2U, but I find that almost repulsively too long and will hereby refer to it as the PR1500LCD to keep it simple.
Features & Build Quality
The PR1500LCD series comes in two "flavors". The RTXL2U is the model being reviewed and the RT2U is rated at slightly less power and without the ability to add the expansion battery for extended runtime. This is only the second UPS system we've ever seen with the ability to expand runtime with an external battery pack - a feature we can really appreciate and one we use in a competing brand powering our home theaters. Both models can be used in either a vertical (tower) or horizontal (2U rackmount) configuration. Hardware is included for rack mounting the UPS to a standard equipment rack.
The PR1500LCDRTXL2U is geared towards protecting mission-critical servers, telecom equipment, VOIP and networking hardware. This is a serious device and it outputs both a Pure Sinewave waveform as well as providing full Automatic Voltage Regulation (AVR). For smaller surges and undervoltage situations, the AVR is instantaneous. When the input voltage drops below or rises above the set UPS limits, the PR1500LCD flips the loaded equipment over to clean AC from the battery in less than 4ms. That's quick enough to handle any spike, brownout, or blackout scenario without resetting your system. The UPS not only boosts voltage during low (under) voltage scenarios, it also cuts voltage during spikes or periods of excessive voltage - all without switching to battery mode. This conserves battery life (a big plus) and allows the PR1500LCD to deliver a very stable signal to your connected equipment.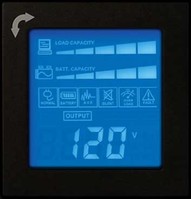 There is a multifunction LCD display that we found extremely useful. It provides constant monitoring of the power and battery condition including Run Time, Load, Temperature, Fault condition, and even whether the unit is operating in silent mode (with the internal speaker off). The PR1500LCDRTXL2U includes three rear ports (which CyberPower refers to as a battery expansion interface) that will handle the addition of a battery pack that increases run time in the event of a power failure.
For those into saving energy, the GreenPower UPS circuitry reduces UPS energy costs by up to 75% by bypassing the transformer when incoming power is coming in at sufficient levels. Since this occurs on average 88% of the time, the benefits are tangible. If you work in a more sophisticated environment, there is an optional SNMP/HTTP Remote Management adapter (RMCARD201) which supports remote management and control of the PR1500LCDRTXL2U through a web browser.
One thing we like to see on UPS systems is UL approval. It turns out that all CyberPower manufacturing facilities are ISO-9001 certified as well as stamped by the FCC, UL (Underwriters Laboratories), and cUL (UL for Canada).

zumbo posts on November 26, 2010 20:29
I use a Cyberpower PR2200LCDRT2U. There is no noise added to my system. Fans only run if there is a power outage. Of coarse, I shut my system down after the outage. SAFELY.
I can't imagine how many times this component has saved another component in my system. It is priceless. It will also kick on during crazy insane volume levels. Usually rocking by myself when that happens. If the fans come on then, there is no way I could hear them.
http://www.pcnation.com/web/details.asp?item=T14236
[pcnation.com]
ZIPPO posts on November 07, 2010 13:11
Did the PR1500LCDRTXL2U have an audible hum/buzz? What about fan noise?
I recently purchased a CyberPower UPS( OR500LCDRM1U ). I had to return it, because it was too loud( audible hum ).
nibhaz posts on June 09, 2009 08:57
Am I missing something...there appears to be just the intro?