APC AV H15: Menus, Use, and Conclusion
If you hit the Select button on the front of the H15, it will cycle between four different displays. The Power display shows you how much power your equipment is drawing and what percentage that is of the total power available. The Vout/Iout screen will let you know the voltage and amps going out to your equipment. The Vin/Freq screen tells you the incoming voltage and frequency. Lastly, the Serial Number and Firmware Version Display is pretty self-explanatory.

By far my favorite display was Power. I had my display, receiver, and SMS-1 plugged into the H15. With everything on and at a normal listening volume (able to carry on a conversation at the same time) the power draw was about 20% (of the 1440 voltage-amps (VA) available). Being a bit of a sadist, I decided to see just how much power I could pull with the Denon AVR-2307CI using the DVD-A of Porcupine Tree: Deadwing. Deadwing is a multichannel music disc with tons of information. I felt that I could be sure that I was taxing my receiver (and the APC) as much as possible. Jacking the volume up to +6.5 (which is LOUD), I found I tended to pull around 50% (or about 750VA) with spikes up to about 65%. What does this mean? At pretty much max volume I had plenty of headroom for just about every non-amp component in my home (which is a lot). It also makes you realize how little continuous power you draw. It's all in dynamics which the APC display is too slow to track. Plus, it was fun to try and overload the H15.
There are a few menus on the H15 that are accessed by hitting the Setup button. Once you get to the menu you want, you must hit the Select button until you get to the correct setting. Each menu has a number of options so I'll run through them individually:
Dimmer: There are a total of eight options (Off, Dim3, Dim2, Dim1, Normal, Bright1, Bright2, Bright3) with Dim3 being the lowest (other than 'Off' of course) and Bright3 the brightest. You're going to want to adjust this based on your love of pretty blue lights and the placement in your room. In my room I preferred the lowest setting which gave me just enough light to see the indicator lights but not so much that the display was distracting me.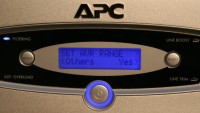 AVR Range: There are only three setting here - Wide, Normal and Narrow. Narrow regulates to 120 volts plus/minus 5% (or 102-132 Volts). Normal is 120 +/- 10% (97-139 Volts) and Wide is 120 +/- 15% (92-145 Volts). We suggest you start with Narrow. If you find that the H15 is running into boost/trim issues too often, bump it up. I had mine set to Narrow and almost never had it adjust.
Delay Time: Here you can select the delay time for the two delayed outlets. You have the option of 0-12 seconds in 1 second intervals
Beeper: Turn the beeper on and off. The beeper only sounds when you are controlling the unit so this isn't much of an issue.
Language: If you don't speak/read English (so I'm guessing this review isn't helping you much) you can choose French or Spanish.
Set-Up & General Use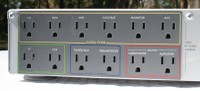 You almost don't need the manual or anything else to setup this unit. Plug everything into the appropriate outlets, plug the unit into the wall, and turn it on. That's pretty much it. During my evaluation period, I almost never heard a sound out of the thing. Once I dimmed the front display I pretty much forgot it was there. It looked pretty, it did its job, and it didn't bug me.
That's not to say that it was a glorified surge protector. It was far more than that. I was surprised to note how often I'd see the Line Boost light lit. Occasionally on power up and would hear it click indicating that there was a dip in the available power as all those components were powering on but that would subside after a moment or two. The Line Boost however was indicative of a systemic (albeit minor) problem with my power. It didn't so much as hiccup at this issue but it was nice to know that it was doing something.
What I found particularly reassuring was that the APC AV H15 was designed to inform me of any wiring problems in the house. As most of us haven't built our houses from the ground up, there is always this nagging doubt that there might be a problem somewhere - not any more. Add to that the fact that the H15 is UL approved and will perform well above the stated specs gives me piece of mind that my gear will be safe even in the worst of Florida's weather (save floods of course).
The only issue I had with the H15 was its interaction with a subwoofer. Some amps are designed such that they will fool the H15 into thinking that it is in a low voltage situation. The H15 will naturally boost the voltage to accommodate. This can blow the fuses on the sub amps which have very tight operational tolerances (provided they have them). I had this happen twice before I discerned it was the H15/sub interaction. From the standpoint of blame - it's hard to find a culprit. The amp is doing what it is supposed to be doing and the H15 is doing its job. My suggestion is to connect the H15 to a subwoofer with caution. Under normal circumstances this shouldn't be an issue, but if you find a similar experience when you plug your subwoofer into this unit, disconnect it and plug it into a standard surge protector (APC makes plenty of these as well).  I would like to note that I had a number of receivers plugged into the H15 without a problem so my issue may be isolated specifically to the subwoofer I was using in this review.
Note from APC
The problem Tom experienced is probably the sub-woofer drawing a large in-rush of current, causing the line to sag.  Some types of AV equipment (Class-A amplifiers, sub-woofers, etc.) have extremely large capacitor banks.  If the voltage increases suddenly on these capacitors (when the H15 makes a correction) they demand a large current pulse. Poorly designed equipment has a current limiter that acts only when the equipment is first turned on, or not at all.  This is likely the case for this sub-woofer (which is why they designed it with replaceable fuses - any dramatic voltage change after initial turn-on will likely damage the fuse).
Viewing/Listening Evaluation
I'd love to wax poetic about how much cleaner the sound was or how better realized the picture was on my display but I just can't. Not that you won't notice a difference. Depending on the state of your power in your home, you very well may. But for someone like me with very few power issues, the H15 mostly provided top of the line protection and regulation along with the piece of mind that can't be beat at this price point.
Conclusion

The APC AV H15 performs its every job superbly - of that there is no doubt. I can find no real flaw that I can attribute to it. Depending on your need, the H15 may be a purchase of necessity or just the cherry on the top of your dream system. Personally, the H15 embodies the perfect marriage of form and function. It looks as good as it performs. If you really want to make sure that your system is fully protected or if you have power issues, take a close look at the H15. It's hard to give a value rating to such a product. Should I compare it to surge protectors that cost much less but don't give you the conditioning or feedback that the H15 does? Should I compare it to the high dollar esoteric conditioners that may or may not be of any help in your system? Either way, the performance of the H15 can't be beat... maybe matched but not beat. By that measure, this product is a great value as those that might match it cost vastly more and, in my experience, are inferior on other metrics.
APC AV H15 Power Conditioner
$449.99
APC
132 Fairgrounds Road
W. Kingston , RI 02892
877-272-2722
About APC-MGE
In February 2007, APC and MGE UPS Systems combined to form a $3 billion (€2.4 billion) Critical Power & Cooling Services business unit of Schneider Electric. Together, APC and MGE offer the industry's most comprehensive product and solution range for critical IT and process applications in industrial, enterprise, small and medium business and home environments. APC and MGE solutions include uninterruptible power supplies (UPS), precision cooling units, racks, and design and management software, including APC's InfraStruXure® architecture the industry's most comprehensive integrated power, cooling, and management solution. Backed by the industry's broadest service organization and an industry leading R&D investment, the combined company's 12,000 employees help customers confront today's unprecedented power, cooling and management challenges. Schneider Electric, with 112,000 employees and operations in 190 countries, had 2006 annual sales of $18 billion (€13.7 billion). For more information on APC and MGE, please visit www.apc-mge.com. All trademarks are the property of their owners.
The Score Card
The scoring below is based on each piece of equipment doing the duty it is designed for. The numbers are weighed heavily with respect to the individual cost of each unit, thus giving a rating roughly equal to:
Performance × Price Factor/Value = Rating
Audioholics.com note: The ratings indicated below are based on subjective listening and objective testing of the product in question. The rating scale is based on performance/value ratio. If you notice better performing products in future reviews that have lower numbers in certain areas, be aware that the value factor is most likely the culprit. Other Audioholics reviewers may rate products solely based on performance, and each reviewer has his/her own system for ratings.
Audioholics Rating Scale
— Excellent
— Very Good
— Good
— Fair
— Poor
| Metric | Rating |
| --- | --- |
| Build Quality | |
| Ergonomics & Usability | |
| Features | |
| Fit and Finish | |
| Ease of Setup | |
| Performance | |
| Value | |

lakedmb posts on March 22, 2009 10:37
Amazon has the APC H15 for $99 plus free shipping right now.
PopDisplay posts on December 09, 2008 21:51
Thank you Circuit City!

Their Atlanta stores are being liquidated. I was able to buy a $500 APC #J15 UPS and power conditioner for 60% off, or $200. (complete model # is J15BLK)
ldragun posts on October 03, 2008 13:24
I just got the Rotel RLC 1040 which is similar to the H15 in function
but not looks. I am wondering if anyone with either unit has the
"filtering" LED in the OFF state for the majority of the time. I only was the LED
come on once for a short period of time. I am not sure if my unit is working
properly or if this is normal if the AC line is clean and the filtering is OFF
by default. I have only a few days left and don't want to get stuck with a
lemon.

Thanks
Beans posts on September 18, 2008 22:53
Has anyone done an A/B test with a high quality amp plugged into the "high current" AC input on this model? I just bought a Classe 5100 and I want to plug it in for voltage regulation an proximity reasons, but I dont want to loose ANY sound quality. I have read that with some amps its better to plug directly into the wall, but I have never read that is the case when taking into consideration the high current input on an unit like this.


Am I ok to plug my amp into this or should I figure a way to go directly into a wall?

thanks!
Beans posts on April 23, 2008 20:07
gene;404036
Set it to normal. As long as the line doesn't drop below 108Vrms you will be fine. USA Consumer gear is made to work between 108-132Vrms and the H15 will keep you well above 108Vrms if you set it to normal.

The analog power input likely has more current capability and low frequency filtering so you should try to use the appropriate connection when you can.
Unfortunately my cable box reset issue has returned even when using the 1040. I had the 1040 set to normal so I am little stumped and thought one of three things could be happening.
1.) The cable box settings resets at votlages fluctuations +/-10% of 120
2.) the 1040 is not working 100% and even when set to "normal" it alows votlage fluctuations great then +/-10%
3.) Voltage fluctuations is not what is causing the cable box to reset.
For "fun" i set the 1040 to "narrow" and watched the Vin and Vout to see what it would read when the "boost" or "trim" would kick in and here is wht I noticed.
The 1040 clicked and the "boost" light flicked on and off pretty quick. The display however only showed the Vin stay at 119 V and the Vout jumped up to 125V. Why would this be? Wouldnt the "boost" light come on when the Vin is less then 5%, shouldnt the Vin have read 114V in order to trigger the line boost?