DPF-1021 - How It Works
I'm a huge fan of digital photo frames. In fact I can't understand why this technology hasn't dropped further in price to-date so that more people can enjoy this technology. Digital photo frames allow more than just the single photo available in traditional picture frames. In fact, the Westinghouse DPF-1021 lets you view up to 4 at once with its MosaicView Slideshow feature. This model is a 10-inch unit that works with most of the available flash memory storage devices available on the market. While it boasts PC connectivity, we were never able to get it to connect - even using a variety of current and older machines. Forced to use one of the USB or Flash media options to transfer files we began our review of this product.
Build Quality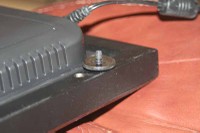 The DPF-1021 seems to be well-built. It is only 1-7/8" thick (not including desk stand) which means it won't look ridiculous should you decide to hang it on the wall. The downside of course is that you'd need to wire it for 12VDC power (1.5A) since Westinghouse currently makes no models that utilize rechargeable lithium polymer batteries. The frame can be easily detached from the display unit by removing four thumb screws that can be easily turned with a quarter. Once separated, the core of the DPF-1021 measures 8" x 11.5", making it a custom size that will not fit standard 8x10 frames. This is unfortunate, but Westinghouse chose a wider stance in order to more easily implement its MosaicView slideshow system. Were it narrower, two side-by-side portrait photos would not easily fit without being unnecessarily cropped.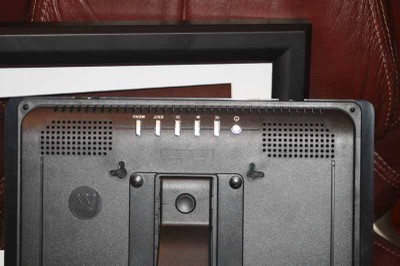 The controls for the unit are located on the back and are oriented so that when you look down on the frame from the top the controls are readable. This means they are upside down when you turn the unit around. This makes sense since you need to be looking at the screen in order to control it. What is a bit difficult is simply the non-uniqueness of the controls (with the exception of a round power button.) I kept flipping the Exit and Menu buttons when using the product. To be fair, the only other option would be to use a 4-way arrow pad for navigation of the menu system and that would have its own share of difficulties. A remote control would be the best addition to this product. If Westinghouse doesn't want to clutter the frame or remove the customizability of their product then a "flip-up" IR receiver could be used in place of the more commonly found fixed IR receiver.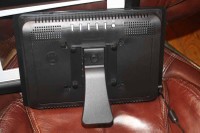 The DPF-1021 can be wall-mounted or placed on a desktop and there is a removable stand that comes with the digital photo frame. It has four mounting locations that would allow it to be set at varying heights - something which would be helpful only if the unit could be rotated to portrait view (it cannot). Setting #4 is the optimal setting. It seems solid enough and I never worried about the frame breaking or falling over. The twin groupings of holes found on the back of the unit are vents and not holes for speakers. While the unit apparently supports video, that's only true if you like to watch silent films. Why Westinghouse missed this small but important detail eludes us.
How It Works
Digital photo frames all work in basically the same way, with a few exceptions. The idea is to get your photos stored in the unit and have the unit display those photos for all to see. Sounds simple. It should be. In practical use, however, we quickly discovered that even a simple device like this can cause loads and loads of frustration if the user interface isn't intuitive and the product doesn't work as advertised.
Loading Pictures
The most basic function of the DPF-1021 is to load up your pics and let it fly... What we quickly found was that it took 76 clicks of the manual controls to accomplish loading up 10 photos. 76 clicks! It took 3 clicks of the 'Exit' button to get back to the 'Select a Card' screen: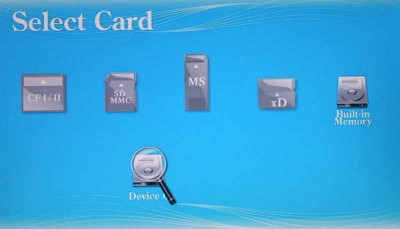 2 more clicks selected my USB thumb drive. From there another 2 clicks got me into the Photo view page where I could see the individual contents of the USB thumb drive: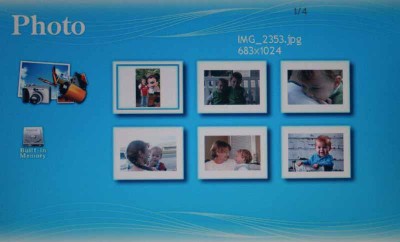 At this point I figured there would be a simply select all, or copy all function. There isn't. Unbelievably, the DPF-1021 - after failing to allow me to drag and drop photos to its 128MB internal storage - now forced me to load up pictures 1 at a time. Picking up where I left off it took another 9 clicks of the controls to copy my first photo. Each additional photo to be copied took 6 more clicks as we had to exit the menu system, navigate to the next photo and bring up the menu system again to initiate the next Copy: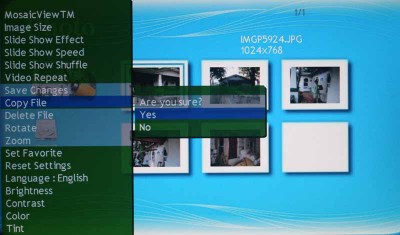 Each time you initiate a Copy there is a confirmation screen, so you must confirm it before the system will pull the photo into its internal memory.
Seventy six (76) clicks to get 10 photos loaded into the Westinghouse is absolutely ridiculous. It's made even more ridiculous by a couple of factors: 1) there is no remote control to aid in faster menu access and control, and 2) the system makes it equally difficult to delete files from its internal storage.
That's correct, photos must be deleted one at a time and there is no function to simply format or delete the entire contents of the internal memory. I suppose some people might indicate at this point that it's not a big deal since once the photos are loaded they will remain for some time. While that may be true, the advantage of a digital photo frame is supposed to be convenience and flexibility. With the DFP-1021 neither is present. If I want to update my photos every month or two to the internal memory, I am in for a lengthy, endurance marathon of clicking around using the cumbersome controls on the back of the unit. There is one saving grace for this product, however. By ignoring the 128MB of internal memory and using a Flash memory card, you can easily update your photos from any PC. The DPF-1021 is fast enough to play directly from the card reader and you can forget about the hassle of Copying and Deleting files using the onboard controls and menu. Now if only users could get a discount for not using the storage...


Pick a flash card... any card.
The digital photo frame's feature set states that the unit has "Auto-play after memory card insertion". We found this to not be true. After inserting a memory card (we used Compact Flash II and an SD card) the system eventually got us to the source selection page. Three (3) clicks later and we were running our slideshow. I think that somewhere at Westinghouse there is a developer who gets $0.01 every time someone clicks on a DPF-1021 button.
Set Favorite - Don't Use This Feature
One of the features of the DPF-1021 is 'Set Favorite' where you can "select images to appear more often." Not so. What this feature actually does is select images which will be displayed exclusively. No unchecked images will appear once you've set any images to Favorite. We tried this multiple times, including selecting just a single image as a favorite. After its selection it was the only image to be displayed on the screen - even with MosaicView turned on. We recommend you use this feature only to deselect images you don't want viewed without deleting them from the picture frame.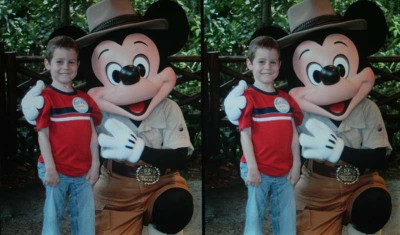 Sure I like this pic, but enough's enough!
There are three modes for viewing files: Photo, Slide Show, and Video. Photo gives you the thumbnail view of all the images on your storage device, 6 at a time. In this view you can activate the menu to Delete images, Copy images from your storage device to the 128MB of internal memory, or even Rotate images as needed.