How It Looks
Photos looked great on the DPF-1021 and for that the little photo frame seems to do a fine job. Images were bright (blacks were mostly a medium to dark gray) and only lost a little contrast once you got off axis to the frame. Overall it was a nice image that really appealed to guests coming to our home and seeing the numerous photos that traveled through the MosaicView interface. Our youngest son also delighted in seeing himself come up over and over again on the screen - reminding us of who we were watching as if we'd forgotten seeing it 90 seconds previous.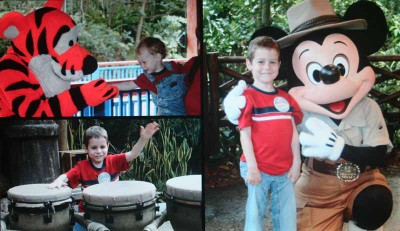 Colors are vibrant and images are crisp
One thing I noted was how fast the digital photo frame transitioned from one photo to the next. There are 10 different transitions, not including the straight cut, and even with files "weighing in" at over 3MB, the wipes, fades and dissolves were instantaneous. I have seen other photo frames that need to have the pics reduced in file size before they can quickly load them up and play them back without lag. This is NOT the case with the Westinghouse DPF-1021 - it's as fast as anything I've seen to date.
When using MosaicView for the first time, be aware that the system must first "load" the pictures into place. This means there will be some black on the screen until the first 2, 3, or even 4 pictures are pulled into the display for viewing. Once this is complete the images cycle continuously without any blanks.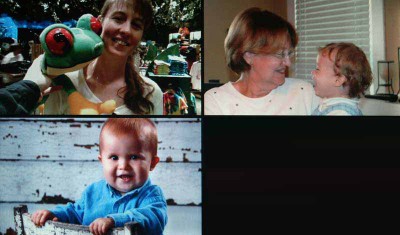 MosaicView loading up one pic at a time
Videos
The Video selection brings up a list of available videos. The system supports AVI Motion-JPEG, MPEG 1, and MPEG 4 videos. We tried a small MPEG-4 movie file and it played it, but at about a 30 percent speed increase over its native frame rate. It also came up at the bottom of the screen and didn't stretch at all to fill the available pixels, either width- or lengthwise. Scaling videos to fill the screen or at least fill from top to bottom seems to be a good idea in our view, however perhaps Westinghouse was figuring on only larger size videos (ours was natively 160x120 in size). In either case, videos without sound have limited appeal, though I wouldn't write off this functionality - just question why a system that doesn't have a battery (so it has no concern with increased power drain) decided to forgo even a small speaker.
Conclusions
The Westinghouse DPF-1021 is a mixed bag, but mostly a disappointment. Many of its features either don't work or don't work as expected, leaving the unit difficult to enjoy using. 76 clicks to load up 10 images is inexcusable and the lack of a remote means that the system's failure to work with PCs is catastrophic. Even if it did work, since the unit doesn't have a battery you'd have to move it and the power supply and tote it to your nearest PC for image loading. Right now the workaround is to use a compatible Flash memory card (which you can load at your PC) and ignore the 128MB of onboard memory. Consumers can find better deals in digital photo frames from some other manufacturers. Westinghouse is a solid brand and we like their LCD TVs, but this particular product has some maturing to do before we can recommend it to consumers.
Westinghouse Digital DPF-1021 10-inch Digital Photo Frame
MSRP $249.99
Westinghouse Digital Electronics
Santa Fe Springs, CA
(866) 287-5555
About Westinghouse Digital Electronics
Westinghouse Digital Electronics is one of the top five LCD TV manufacturers in the U.S. (2007). The company offers a complete suite of innovative LCD displays for the professional and consumer markets as well as LCD-based consumer electronic products that deliver the latest digital content for the ultimate entertainment or commercial display experience. Westinghouse Digital's award-winning consumer HDTV line up includes a complete family of 720p and 1080p LCD HDTVs and HD 1080p monitors in a wide range of sizes and formats, HD Grade computer standard and widescreen monitors, and a full line of digital photo frames. Westinghouse Digital's Commercial Business Unit offers a full suite of high-end LCD HDTVs and video monitors targeted to meet the demanding needs of the Pro A/V business sector, including digital signage applications.
The Score Card
The scoring below is based on each piece of equipment doing the duty it is designed for. The numbers are weighed heavily with respect to the individual cost of each unit, thus giving a rating roughly equal to:
Performance × Price Factor/Value = Rating
Audioholics.com note: The ratings indicated below are based on subjective listening and objective testing of the product in question. The rating scale is based on performance/value ratio. If you notice better performing products in future reviews that have lower numbers in certain areas, be aware that the value factor is most likely the culprit. Other Audioholics reviewers may rate products solely based on performance, and each reviewer has his/her own system for ratings.
Audioholics Rating Scale
— Excellent
— Very Good
— Good
— Fair
— Poor
| Metric | Rating |
| --- | --- |
| Detail and Resolution | |
| Contrast and Black Levels | |
| Color Reproduction | |
| Build Quality | |
| Ergonomics & Usability | |
| Ease of Setup | |
| Features | |
| Fit and Finish | |
| Performance | |
| Value | |