V-Moda Vamp Verza DAC and Metallo Case Preview
Summary
Product Name:

Vamp Verza DAC and Metallo Case

Manufacturer:

V-Moda

Review Date:

March 19, 2013 21:05

MSRP: $598
First Impression:

Pretty Cool

Specifications

Vamp Verza Features

Designed in Italy, Made in Japan
Verzadock Compatible (patent-pending)
Hi-Fi 150mW x 2 (USB Mode), 130mW x 2 (iOS Mode) amplifier
2200 mA/h battery with up to 7 hours of playback
Charges iPhone, iPod and USB devices
2 Dedicated DACs (USB/iOS)
6-Layer PCB for low noise, anti-interference
Rotary dial volume control/on-off switch
Variable Gain Switch
Optical Audio Output
3 Distinct Sound Enhancement Modes

Pure Audio
Bass Enhancer (iOS Mode Only)
3D (Optimized for Home and Car stereos)

Lightweight 190g

Metallo Case Features

Designer protection for your phone
V-Angle Lightweight Machined Metal
Interchangeable Verzadock Plate (patent-pending)
Sliding lock mechanism (patent-pending)
Compatible with Vamp Verza AMP/DAC/Battery Pack
Executive Overview
I'll just be honest—I can't explain what this thing is in 15 words or less. V-Moda invented these two things it's calling the Vamp Verza and Metallo. Basically it's a hi-fi amplifier, DAC, battery and docking metal case... And it's compatible with the Samsung Galaxy S III, S IV, and iPhone 5. The idea is that it's a mobile hi-fidelity system whose Verzadock will bring audiophile-level fidelity to Android and iOS smart phones in addition to Windows and Mac computers. That's a tall claim, so let's investigate some more...
Designed in Italy and made in Japan, the Verza takes your smartphone and enables it to output hi-fi, building off of the original Vamp for iPhone 4/4S. It features an integrated 150mW x 2 headphone amplifier, 2 DAC (digital-to-analog converters) and a 2200mAh battery pack. Vamp Verza one ups the original by adding the new Verzadock which seamlessly integrates with popular smartphone and tablets. Because of this, Vamp Verza can be used as a standalone Hi-Fi USB Audio amplifier, or mobile audiophiles can dock it with the machined Metallo case built specifically for the Samsung Galaxy S III. (Future cases for the Samsung Galaxy S IV, Note II and iPhone 5 will be available in the upcoming months.) The Metallo case slides and locks onto Verza's high-performance audio engine with a rail mechanism. The case can also be used independently with the included back cover.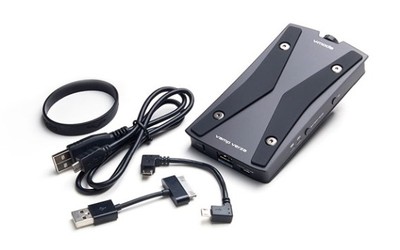 "Today's smartphones offer an array of robust features, but for the 'prosumer,' it leaves something to be desired. For example, photography enthusiasts still need a DSLR and several additional lenses. Comparably, for the avid audiophile, Vamp Verza supplements the poor audio quality produced by smartphones and delivers the purest fidelity imaginable. We shrank the analog-age component spirit into a sleek, spy-like multifunction gadget that is portable enough to use anytime, anywhere. When you combine Vamp Verza, Metallo, M-100, and the new Samsung Galaxy S III/S IV, Note or iPhone 5, you achieve the ultimate technology trifecta that truly stands apart from the crowd."
- Val Kolton, Chief Visionary Officer at V-Moda
Since the Vamp Verza uses its own dedicated Burr Brown, AKM DACs, it can take the digital output from your computer, Android, or iOS device via USB/micro-USB and convert it into analogue audio for your hi-fi system. Verza's 150mW x 2 amplifier also powers your headphones and provides up to 7 hours of playback. The Vamp has a cool rotary volume knob which allows you to finely control the output, and a hi/lo gain switch adjusts the output level.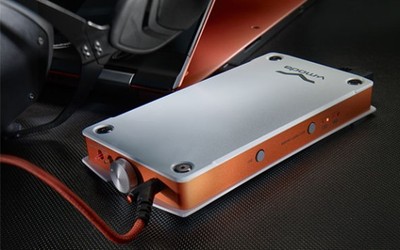 Remember we mentioned a 2200 mAh lithium-ion battery? Well it can be used as a backup power source for virtually any USB powered device. For a typical smartphone, you'll get twice the talk time. Another unique, but welcome, feature is an optical audio output that lets you connect the Vamp Verza to your A/V receiver or other audio device via Toslink or SPDIF optical audio. Poof! Your smartphone or computer just became a hi-fi grade audio source.
The new designer Metallo cases provide some protection, but they just plain look cool, too. They're machined and anodized from a single aluminum metal block. (Apparently the process takes nearly an hour per case.) The lightweight Metallo can be used independently of the Vamp Verza since one of the back plates is designed for ultra-portable use. The second back plate, the Verzadock, lets you bolt the Metallo case right onto the Vamp Verza. And get this: V-Moda engineered the system so that when you dock or switch the plates, the resulting sound emulates unsheathing a sword.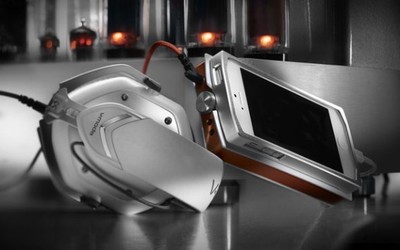 The Metallo is available for pre-order for the Samsung Galaxy S III and is scheduled to ship within 2 weeks. The Metallo for iPhone 5 case will be available in limited quantities for crowd-sourced beta testing within a couple weeks as well. For those with the Samsung Galaxy S IV or Note II the Metallo will be made available in the near future.
All of this advanced technology comes at a price, however. The Vamp Verza is priced at $598 and will be available in Matte Black, Shadow (Red and Brushed Black Metal) and White with Orange accents. The Metallo case is priced at $101 and is available for pre-order.