Checkthrough Overview and Build Quality
Beginning in Fall 2008, the Transportation Security Administration (TSA) began phasing-in new security protocols that allowed "checkpoint friendly" bags to be screened with the laptop still inside. These bags had to be designed in such a way that the scan of a laptop was not interfered with and nothing would be piled on or near that part of the bag as it passed through the x-ray machine. The goal of the new program is to reduce inconvenience to travelers, speed up the security screening process, and reduce the congestion now plaguing the system. During the development stages the TSA provided a list of guidelines and technical requirements for prospective bags and Skooba Design submitt4ed multiple designs and their Checkthrough Brief is the result of their efforts. For more information please visit http://www.tsa.gov/blog/2008/07/evolution-of-bag-going-checkpoint.html.
The Checkthrough Brief is a full-sized laptop case that is designed, first and foremost as a business-class product. It also has one other thing that frequent travelers will appreciate: it's checkpoint-friendly. With the Checkthrough Brief, travelers can simply unzip the bag, flop it onto the x-ray machine's conveyer belt and breeze through most airport security screens without having to remove the laptop from the bag. That's not to say that this emasculates the TSA or in any way forces them to adhere to the checkpoint-friendly guidelines. It does, however, mean that you have a better than average chance of running into well-trained individuals who are up on the latest procedures for these bags - introduced last Fall.
Build Quality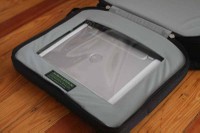 The Checkthrough Brief is made with 1680 Denier Ballistic nylon on the outer shell and a smooth nylon interior that protects as well as pads your laptop and accessories. All metal accessories, like buckles and zippers are made with a brushed nickel-finish and we found all the hardware to be very robust, having made it through no less than 6 flights in our short review period. I liked the shaped of the zippers. They fit well between your first finger and thumb and have a smooth and gentle curve to give them some resistance when being pulled or pushed.
The laptop compartment is well-padded and you insert the computer from the top after unzipping the storage area. This bag will easily accommodate most 15-17" laptops and we even used it with a small 13.3" Dell PC. When we weren't going through a security station we could easily fit our charger beside the smaller laptop, though those with older, bulkier units might not find the bag as accommodating.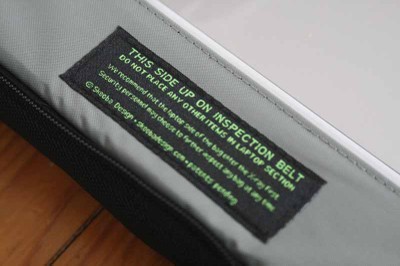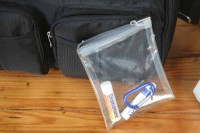 The front of the bag sports two double-zippered pockets which reveal netting and storage for accessories or smaller clothing items. The right pocket comes with an integrated clear plastic bag that is designed to hold liquid containers well within the TSA regulations. Behind the twin front pockets lies a compartment I used quite frequently. It unzips to reveal a letter-friendly storage area for paperwork or other items that need to be accessed easily and quickly. A couple shallow pockets allow for easy access to business cards or airline boarding passes.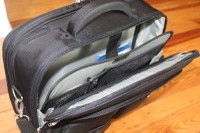 The main compartment is deceptively large. In fact, it accommodates a TON of materials. On one side there are four matched elastic pockets overtop two zippered netting pockets. Opposite you find three more netted pockets. But wait... there's more. Peel back the hook and loop fastener and you get access to a large storage area a full 4-inches deep and the full height and width of the Checkthrough Brief. I went on two separate business trips where I was able to roll and store my clothing in this area. It's truly versatile and makes this bag a nice travel product for short jaunts and weekend getaways.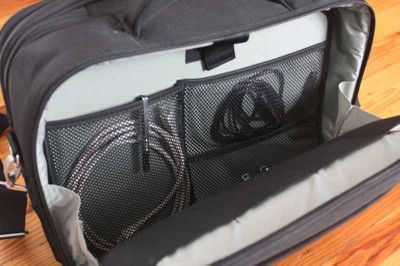 See also:
DollsBags posts on July 22, 2009 06:14
The Skooba Design Checkthrough bag is really an awesome design and well worth the reasonable cost. Some laptop bags are much more expensive but don't have half of the features that Skooba has included. I carry one myself. Doll prefers something a little more feminine and lighter, she likes the Luxe series laptop bags - she has the pink one. We are an authorized retailer for Skooba Design and they are amongst our best selling items. Skooba Design orders ship free also.
Clint DeBoer posts on March 18, 2009 15:09
It makes a huge difference when you're in "carry-on only" mode...
majorloser posts on March 17, 2009 13:43